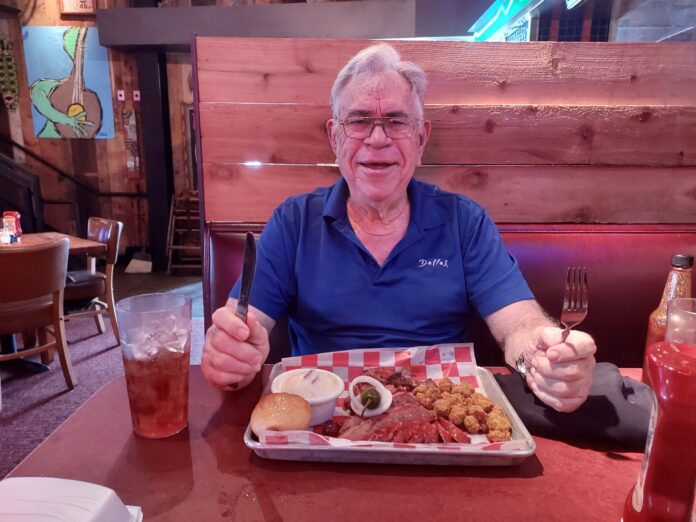 If you want to make your dad happy this Father's Day, skip the tie and socks routine and take him out for a man-pleasing meal at one of these North Texas restaurants. A happy Father's Day is guaranteed if you visit Bone Daddy's BBQ for fall-off-the-bone ribs, sausage, brisket, burnt ends, and other great entrees. The closest Bone Daddy's to our Best Southwest cities is in Arlington, just off I-20 East at the Collins Street exit.
Bone Daddy's opens at 11 a.m. every day, and stays open to 10 p.m. Sun.-Thurs. and to midnight Fri. and Sat. I took my meat-and-potato-loving husband to lunch there for his birthday. We ordered Smokin' Tailpipes for an appetizer, (brisket, pulled pork, peppers, and veggies rolled up and deep fried) and they were the perfect start to a Texas-style BBQ meal. We brought half the order home, since they were so filling. I especially loved the spicy dipping sauce that accompanied them.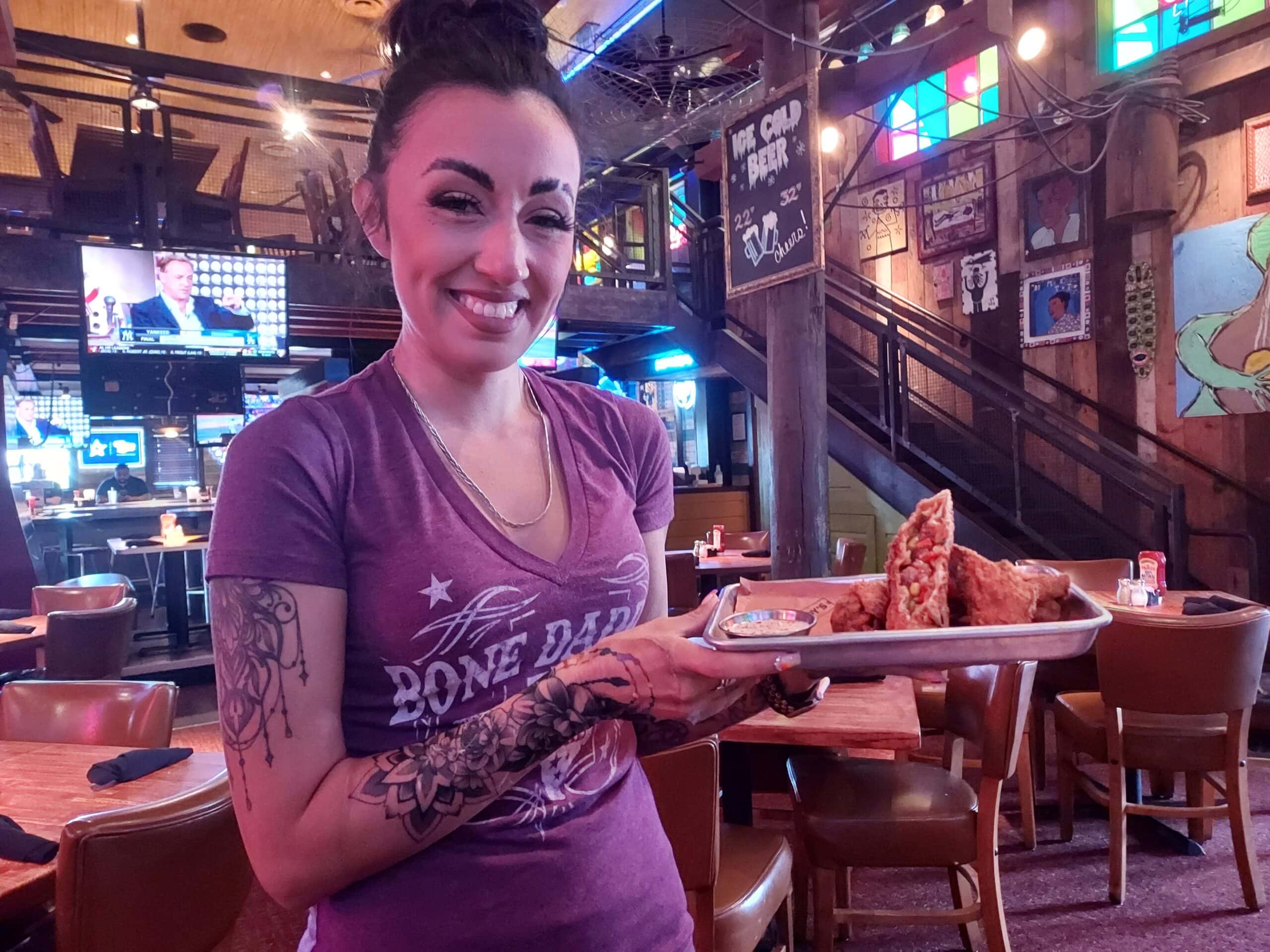 Happy Husband Happy Wife
My husband ordered a three-meat platter with chicken thighs, pork sausage, and prime brisket with mashed potatoes and fried okra. I ordered the two-meat platter with burnt ends and pulled pork, with flavorful roadhouse spuds (loaded mashed potatoes) and okra. Their yeasty house-made rolls were so good I could have easily eaten more of them.
For dessert, we split a bowl of banana pudding…actually, they brought out two spoons but I could only take a few bites after all that food. Bone Daddy's gets my vote for best place to take your Dad for a fun Father's Day outing. They feature great service and an inviting, laid-back atmosphere so no need to dress up. Check out their menu, happy hour, and other special events plus locations at bonedaddys.com.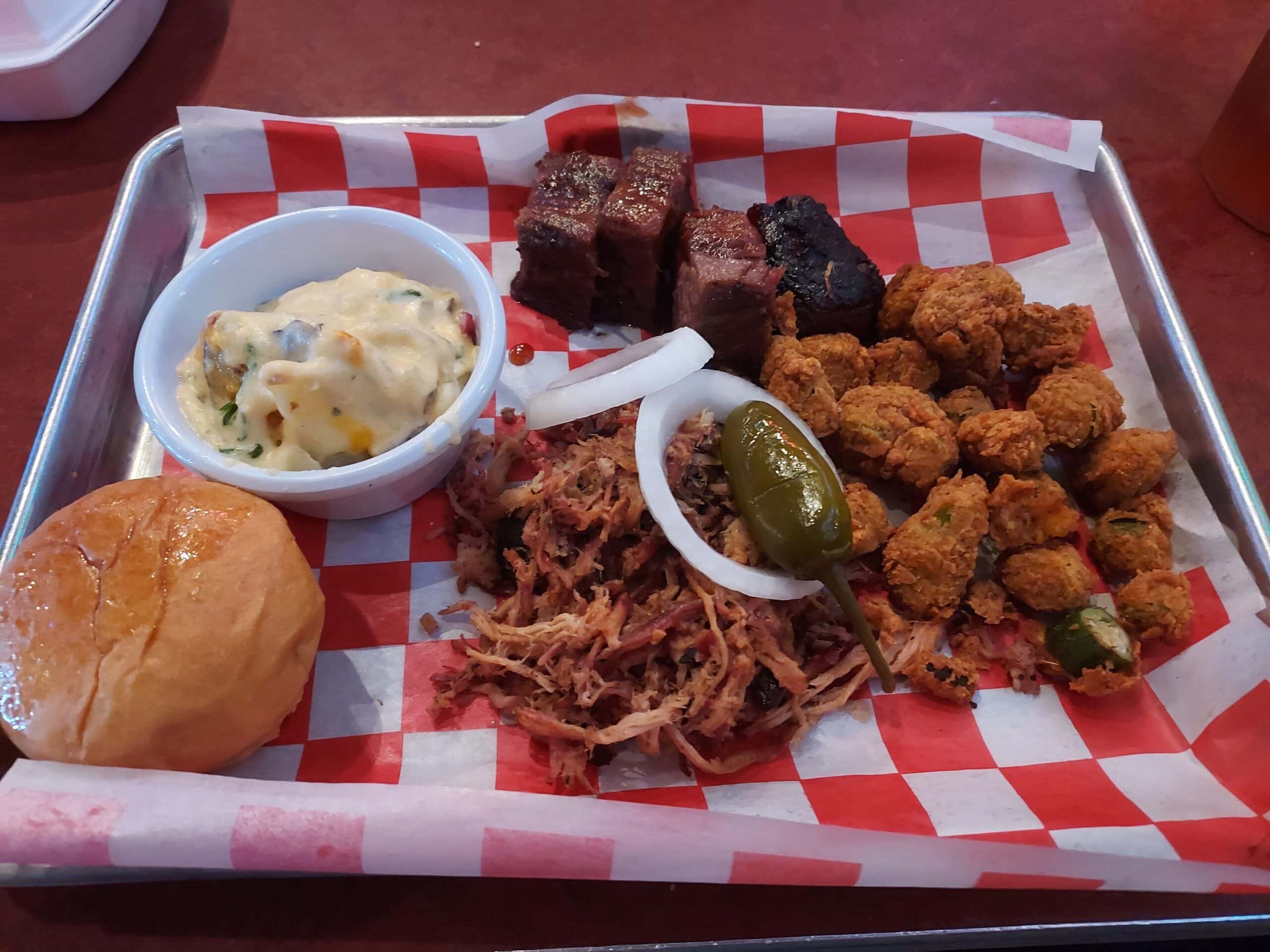 Happy Father's Day at Windmills
The new Grandscape brewery (+restaurant, +library, +live entertainment venue) is welcoming Dads with a $20 Burger & Beer special for Father's Day. Enjoy a classic cheeseburger (8oz wagyu beef patty, pickle, sliced onions, tomato, lettuce, cheddar cheese) or a Wagyu Burger (8oz A-Bar-N wagyu beef patty, aged white cheddar, confit onions, chili aioli, brioche bun, and rosemary-garlic fries) paired with your choice of house-brewed draft beer. For more info, visit windmills-usa.com/.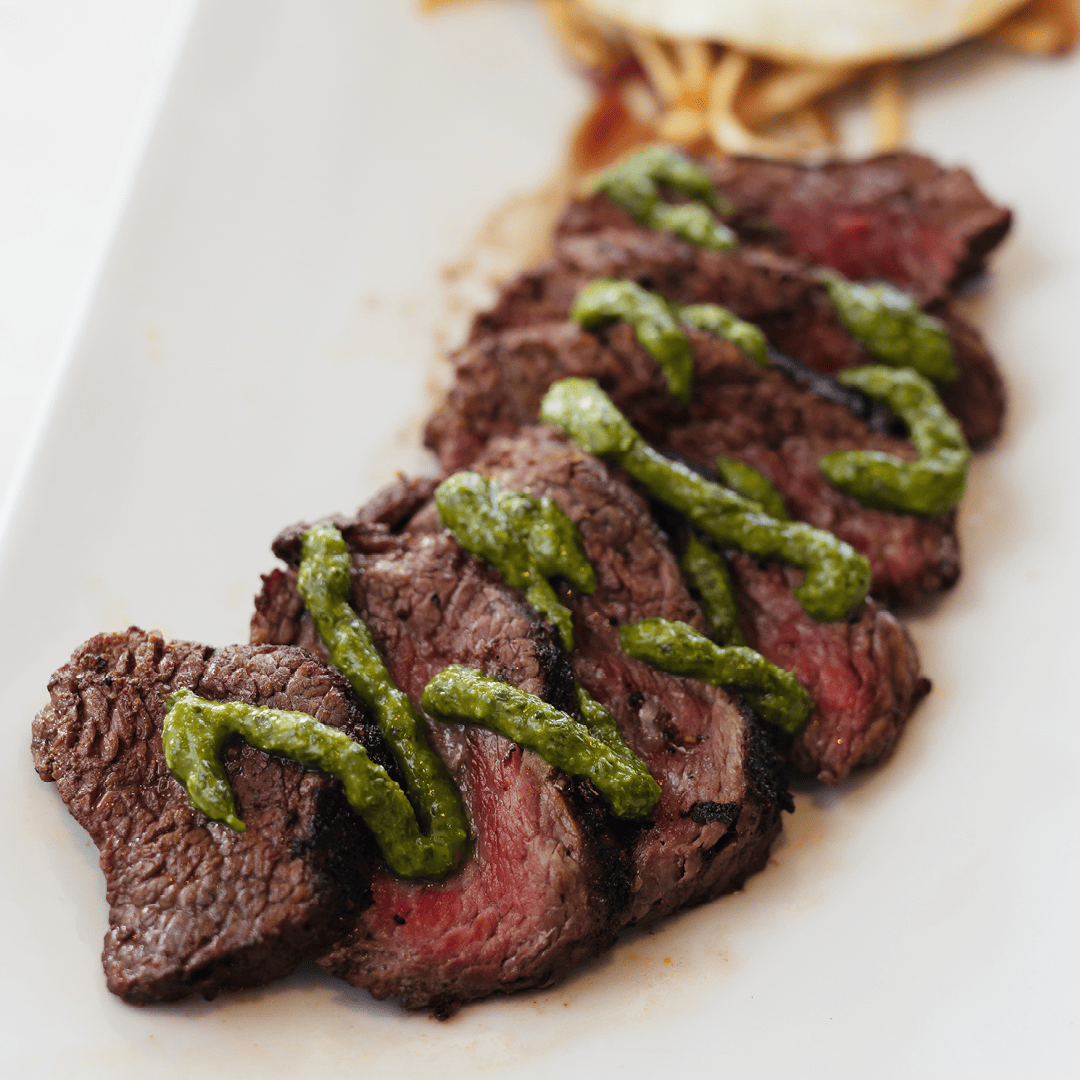 Bulla Gastrobar will open early at 10 a.m. on June 18 to kick off the perfect Father's Day brunch with Dad. The Spanish-style restaurant will offer its sweet and savory 3-course brunch prix-fixe menu at $30 per person, as well as its newest brunch addition, the mimosa tower, available for $48 for a regular size or $68 for a large, and paired with a variety of fresh fruits and juices.
Every father will receive a $20 gift card to use for their next meal at Bulla Gastrobar, along with a special box of chocolate clusters; available during dinner service while supplies last.
Father's Day at Bread Winners
This Father's Day, families who dine at Bread Winners Café & Bakery will enjoy a tempting array of freshly baked breads, pastries and desserts, and always – Bread Winner's famous weekend brunch. The weekend of June 17-18, Bread Winners will offer two Father's Day specials*at all four locations.
Steak & Eggs made with Akashi Prime Ribeye, two eggs, brunch potatoes, and a handmade biscuit ($22), and Cold Brew Old-Fashioned made with Knob Creek ($12).
Dads who order one or both of the specials at any Bread Winners location can enter to win a special giveaway. Two lucky Dads will be selected from all qualifying entries to win a Smithey cast iron skillet with leather handle sleeve, Knob Creek Smoking Chips for the grill, and other Knob Creek swag. The nearest location to Best Southwest cities is the Bread Winners in Uptown Dallas, 3301 McKinney Ave. (214) 754-4940.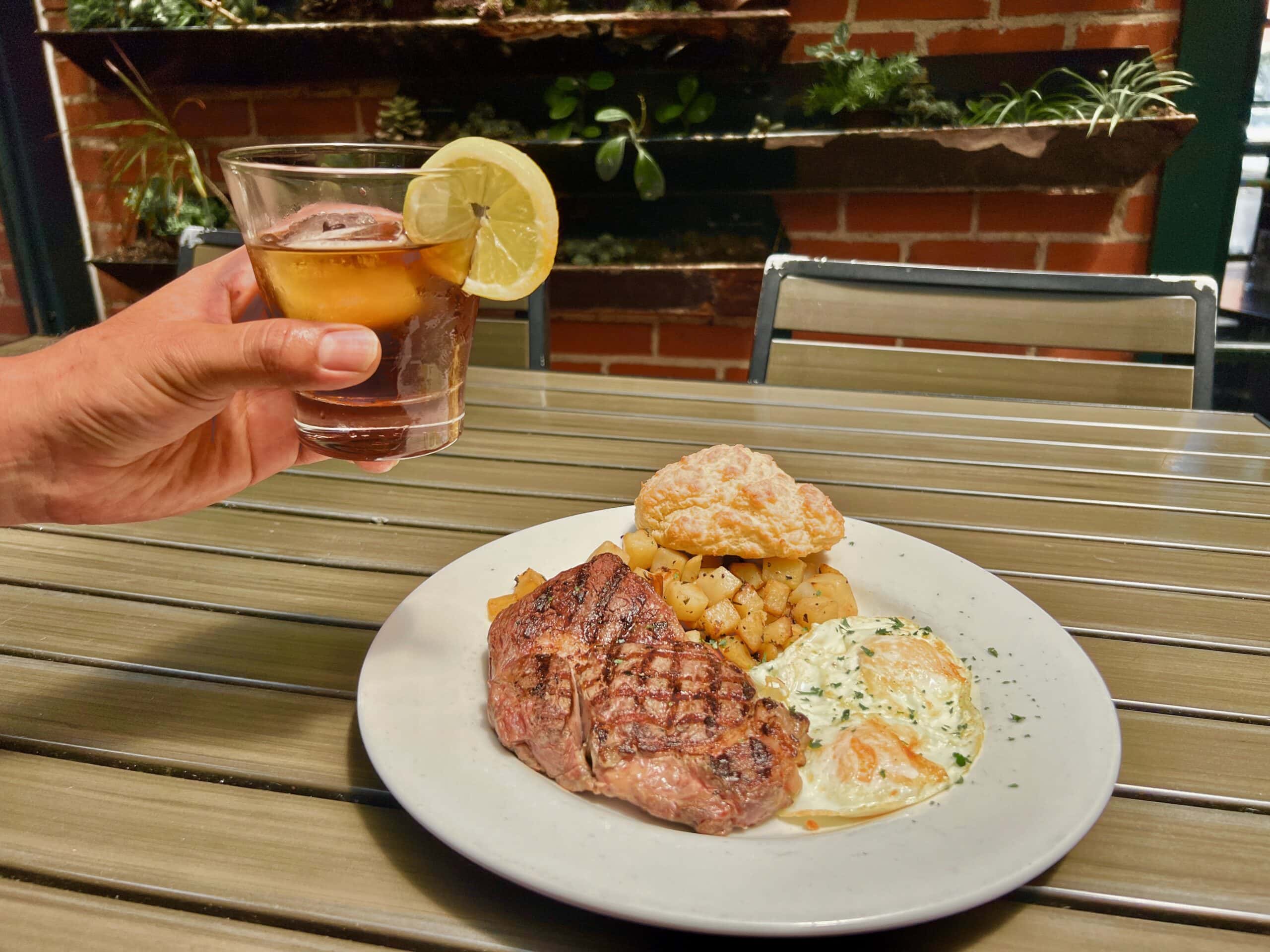 For Father's Day weekend (June 16-18) Truluck's will serve a light and summery twist on an Old Fashioned made with bourbon, mandarin lime, cardamom infusion, and bitters ($15). The "Dad Fashioned" specialty cocktail is handcrafted for our beloved Fathers only that weekend. Truluck's menu is filled with entrees Dads will love like their mouth-watering Surf & Turf, Prime King Crab Legs, and Miso-glazed Seabass.
Reservations are recommended and can be made via OpenTable or by calling the restaurant. Closest location to Best Southwest cities is Uptown Dallas, 2401 McKinney Ave. (214) 220-2401.
Happy Father's Day at Chido Taco Lounge
"The best beer is free beer," as the old adage goes. On Father's Day, head to Chido Taco Lounge in Frisco. Dads get one free Cerveza for each child they have, because the more children, the more they deserve a cold drink. No purchase necessary, but if you're taking Dad to lunch, buy the man some tacos. Chidodfw.com/.
Greenville Avenue Pizza Company. GAPCo never misses an opportunity to have some fun. For Father's Day, that means the Ultimate Dad Bod Dinner Special, featuring a choice of salad, an order of wings, a giant calzone, and a colossal cookie or brownie. It's enough to feed the whole family, and all for just $60. Available at all GAPCo locations.
The Boardwalk at Granite Park
Get an early start on celebrating by taking your dad to a fun and festive beach-themed event at The Boardwalk at Granite Park. There's live music, photo ops, and delicious food and drinks the Saturday before Father's Day. It's free and open to the public, and features live music by Joseph Veazie and Strolling Entertainment. Vendors include Brite Beauty braid bar, a summer hat bar by Third Elm, permanent jewelry by Link x Lou, and fun photo ops for the whole family.