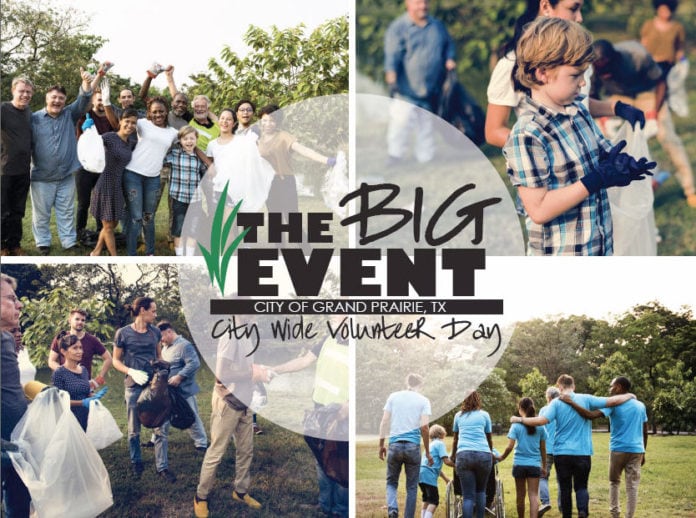 GRAND PRAIRIE—Attention area volunteers March 24 is your chance to shine! Thanks to Grand Prairie Council Member Jorja Clemson, the city will hold its first ever "Big Event."
The Grand Prairie Big Event will bring together volunteers and residents who have qualifying service projects. Similar to events on university campuses, the Big Event is a one-day city-wide community service project aimed to help those in need.
Clemson said she championed the idea after learning about Texas A&M's Big Event through her grandson. She chairs the event alongside Special Events Manager Erin Hart and Libraries Director Amy Sprinkles.
Following A&M's protocols, jobs will be outside and not require the use of power tools or house painting. Undertakings might include raking leaves, hauling debris, weeding, planting flowers, mulching, spring cleaning, litter patrol etc.
Sprinkles said all jobs that meet the criteria and can be done by volunteers in four hours will be undertaken.
The Code Compliance Division will vet the job requests and the volunteer coordinator will assist with matching volunteers with jobs.
"This being our first year, it is hard to guess how many people will be in involved. But we are planning for about 1,000 volunteers and up to 100 jobs," Sprinkles said.
Big Event Highlights
Clemson said Grand Prairie is full of great people who have a heart for helping others and she is excited about the event.
"The Big Event gives our volunteers the opportunity to practice the Golden Rule. Make a difference in the lives of our neighbors. Promote unity in our community. And make Grand Prairie an even more beautiful place to live, play and work," she adds. "We plan to make this a fun day for all, including a morning "Pep Rally," featuring a send-off by our fantastic Mayor Ron Jensen. Lunch [is] provided by In-N-Out Burger and that evening with our very first concert at The Grand Lawn Amphitheater."
The concert will feature Vocal Trash and Memphis Soul and Big Event volunteers will get preferred seating.
"We are so excited to have so many wonderful volunteers from schools, churches, businesses, service organizations, families and individuals who are participating," Clemson concluded. "We are so grateful for our valuable volunteers who help put the "Grand" in Grand Prairie."
Finally, he event will take place March 24, from 8 a.m. to 1 p.m. Interested volunteers can sign up through the Grand Prairie volunteer registration portal by March 1.