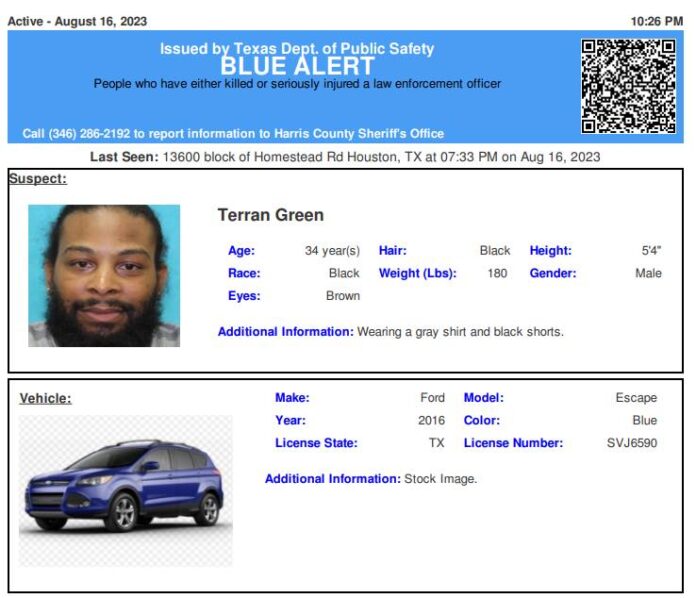 AUSTIN – Governor Greg Abbott today announced that the Office of the Governor's Public Safety Office is offering a reward of up to $20,000 for information leading to the arrest of the person or persons involved in the shooting yesterday of a Harris County Sheriff's deputy.
"Texas is first and foremost a law-and-order state, and the perpetrators of this despicable crime must know that justice is awaiting them," said Governor Abbott. "Our brave men and women of law enforcement risk their lives to protect their fellow Texans each day they put on the badge in service to our communities, and they deserve to know that they have the full support of the State of Texas. Working with the Texas Department of Public Safety, we will not stop until these dangerous criminals are brought to justice. Our prayers remain with the Sheriff's deputy and his loved ones."
The injured deputy was conducting a traffic stop on Wednesday night when he was gunned down. One suspect, James Green, has been apprehended. The other suspect is:
Terran Green, described as a Black man who is 5 feet, 4 inches tall and weighs 180 pounds. He has black hair, brown eyes, and was last seen wearing a gray shirt and green shorts.
To be eligible for the cash rewards, tipsters must provide information to authorities using one of the following methods:
Call the Texas Crime Stoppers hotline at 1-800-252-TIPS (8477)
Submit a web tip through the Texas 10 Most Wanted website
Submit a tip through the DPS Mobile App