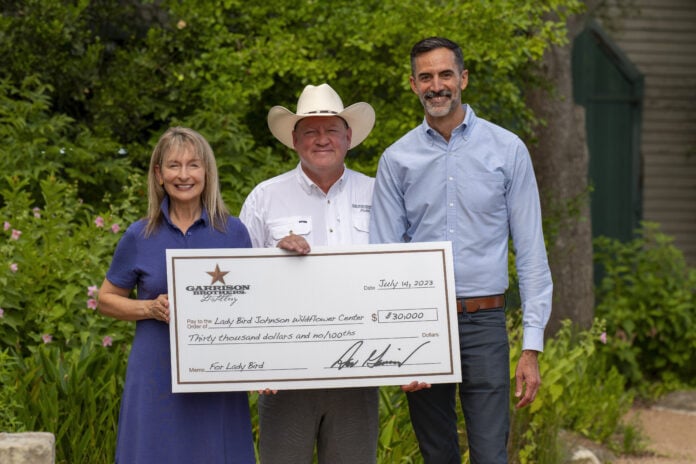 Garrison Brothers make some of the finest Texas bourbon I have ever tasted, but they also make good decisions. The distillery gives back to the community and has a positive impact through products like their Lady Bird bourbon.
On July 14, 2023, Dan and Nancy Garrison, co-founders of Texas' first legal whiskey distillery, Garrison Brothers, presented a check for $30,000.00 to the Lady Bird Johnson Wildflower Center to help fund efforts in research, preservation and public programming of native plants, and to continue Mrs. Johnson's environmental legacy.
In May 2023, Garrison Brothers released a new expression called Lady Bird. This exceptional bourbon creation was first aged for 4 years in new white American oak barrels before being infused with Burleson's Texas Wildflower Honey for an 8-month period. The bourbon was then transferred to French XO Cognac casks, where it matured for an additional 3 years. Bottled at a potent 114 proof, Lady Bird Bourbon is hand-sealed with a distinct Prairie Purple wax.
The initial release, just over 5,900 bottles, helped raise awareness and funds. Garrison Brothers Distillery donates $5 for every bottle of Lady Bird that is sold to the Lady Bird Johnson Wildflower Center. Each bottle is decorated with a packet of wildflower seeds and bourbon drinkers are encouraged to spread them across the country.
"Nancy and Dan Garrison have been incredible supporters of the Wildflower Center for many years, and we're so grateful for their continued support in this unique way," said Lee Clippard, Executive Director of the Lady Bird Johnson Wildflower Center. "It's a testament to Garrison Brothers Distillery's commitment to the community and our environment."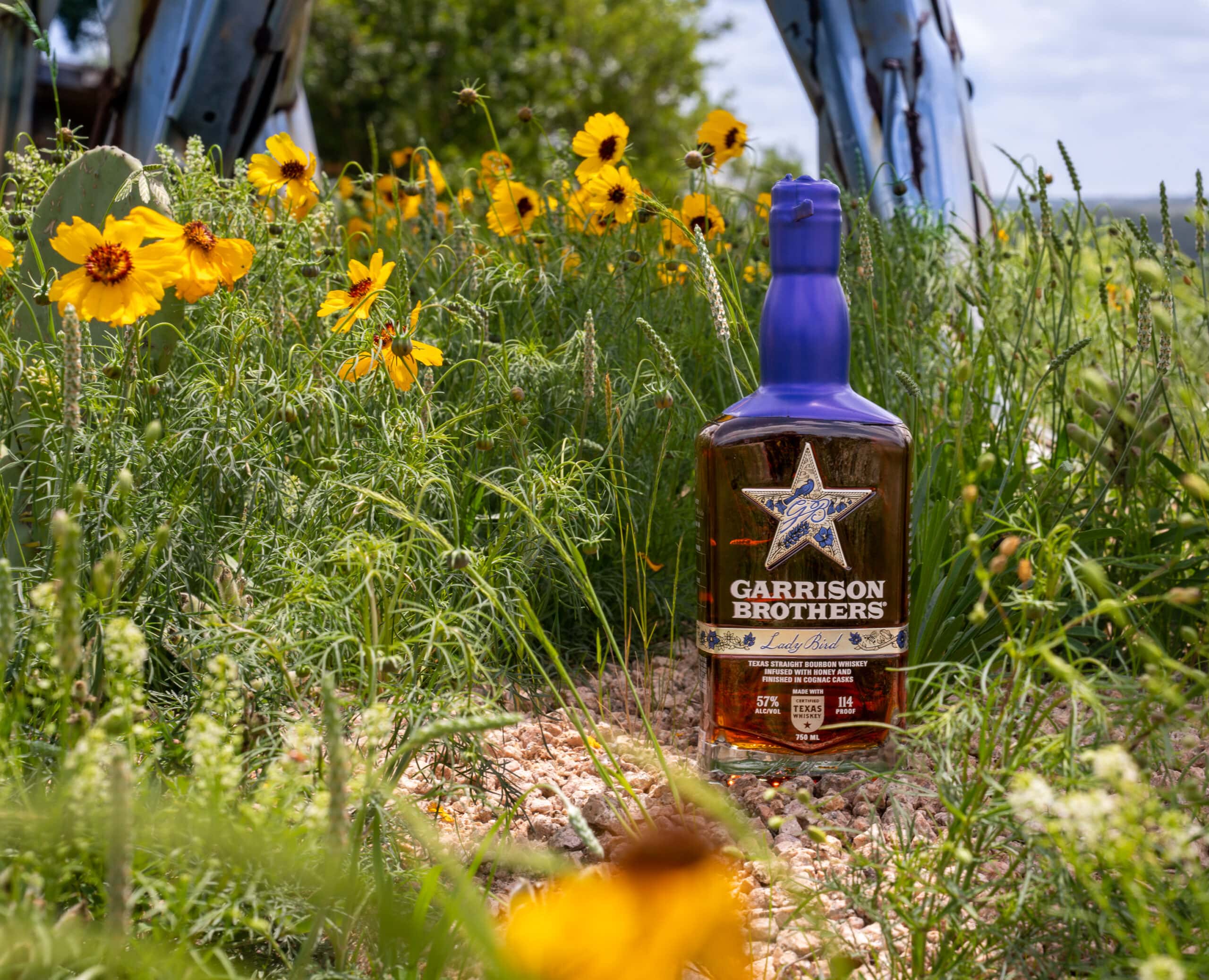 "As a former Advisory Council member and longtime supporter of the Lady Bird Johnson Wildflower Center, I am thrilled to be able to continue working with this special non-profit. At Garrison Brothers we believe that good bourbon can change the world, and with our new Lady Bird bourbon, we are able to help raise funds and awareness for this beautiful cause," shared Nancy Garrison, co-founder, Garrison Brothers.
Garrison Brothers is committed to preserving and restoring Texas' native plants, flowers, parks, and waterways.
About The University of Texas Lady Bird Johnson Wildflower Center
Founded in 1982 by Lady Bird Johnson and Helen Hayes, the Lady Bird Johnson Wildflower Center is part of The University of Texas at Austin and is complementary to the Lyndon B. Johnson Presidential Library and the Lyndon B. Johnson School of Public Affairs. In 2017, the Texas Legislature designated it the Botanic Garden and Arboretum of Texas. The Wildflower Center welcomes more than 240,000 people to its gardens annually, fulfilling its mission to inspire the conservation of native plants through research, education, outreach and horticultural programs. It is the embodiment of Mrs. Johnson's environmental legacy, a fact she recognized by noting, "Our Center works for more than the lovely blossoms in our open spaces. We are concerned for all of North America's native plants, from the smallest sprout to the tallest tree."
About Garrison Brothers Distillery
Garrison Brothers Distillery is a small farm and ranch located in the beautiful Texas Hill Country that authentically produces straight bourbon whiskey. Garrison Brothers introduced the first bourbon whiskey legally made in Texas in 2010 and has since developed a rabid fan base. They currently have a waitlist of more than 18,000 just to volunteer on bottling days, and their Cowboy Bourbon® normally sells out within hours of its release.
Garrison Brothers is the first legal bourbon distillery in Texas history and is one of the first distilleries outside of Kentucky to produce authentic, handmade bourbon whiskey—and only bourbon whiskey.
Every expression of Garrison Brothers bourbon is made from a sweet mash bill and barrel-aged in the intense Texas climate. The extreme heat creates multiple aging seasons in a year, resulting in a darker, richer, and fuller bourbon, bolder than almost any other bourbon on the market.
Garrison Brothers' Guadalupe was awarded Platinum at the 2022 ASCOT Awards as well as at the Monterey International Wine & Spirits Competition also taking home the 2022 Spirit of the Year. Guadalupe continued to take home Gold awards in 2022 including: San Francisco World Spirits Competition, San Diego International Wine & Spirits Challenge, Spirits International Prestige Awards (SIP), Denver International Spirits Competition and TAG Global Spirits Awards. At the San Francisco World Spirits Competition in 2021, Garrison Brothers' Laguna Madre was awarded a Double Gold Medal along with one Silver Medal for Single Barrel and three Bronze Medals. At the Denver International Spirits Competition, Garrison Brothers won Best of Show in 2021, taking 1st place for their Cowboy Bourbon.
Garrison Brothers is a proud and active member of the communities of Blanco, Fredericksburg, Hye, Johnson City, and Stonewall. The distillery and its barrel barns are open to the public for tours in Hye, Texas. Anyone interested in learning more about Garrison Brothers Bourbon or in taking a tour of the distillery should visit garrisonbros.com or follow @garrisonbros on Facebook, Twitter, and Instagram.