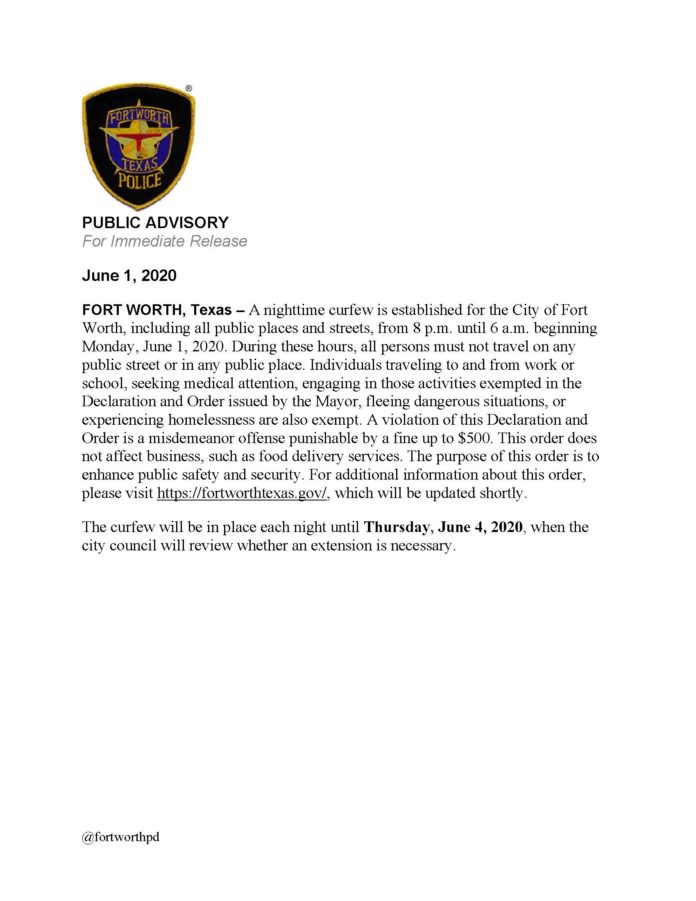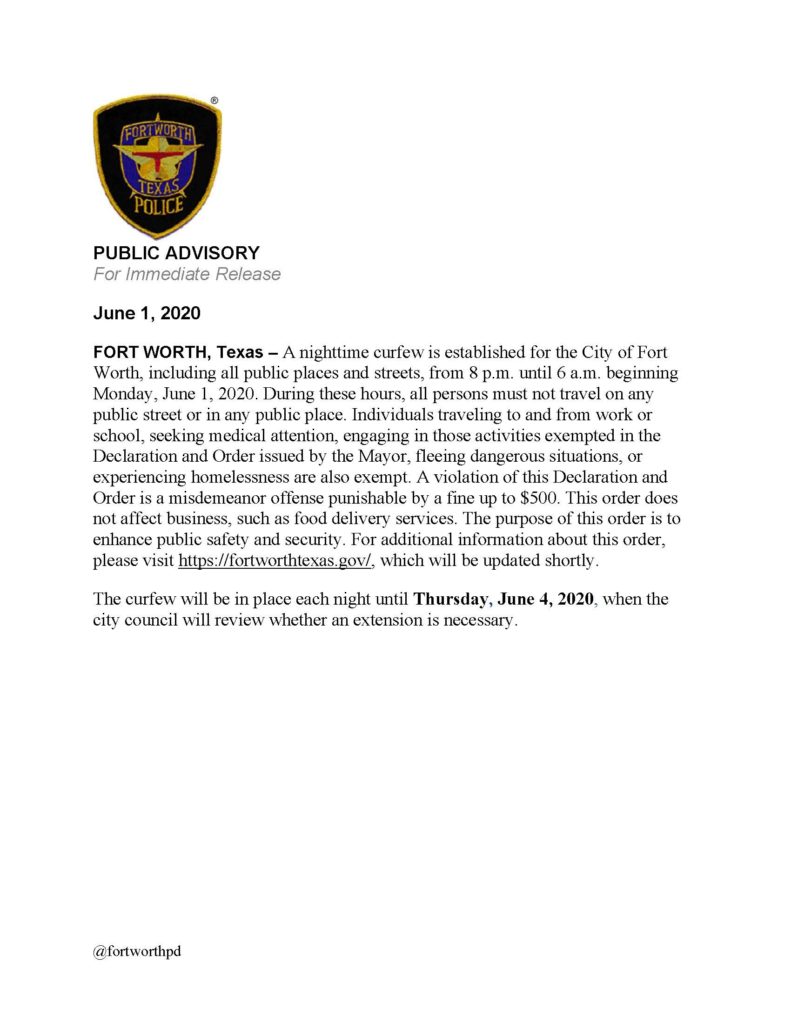 City Of Fort Worth Curfew Goes Into Effect Tonight
Fort Worth- Last night protesters gathered at the W. 7th street bridge and Henderson Street. Fort Worth Police report that after dark protesters were throwing water bottles possibly containing bleach at the Officers. The Police Department warned the crowd to disperse, however after a pyrotechnic device was thrown at Police, law enforcement used tear gas on the crowd.
Several businesses were damaged last night, and three officers were injured. Ft. Worth Police report they made approximately 50 arrests of individuals that were not complying with orders.
Mayor Betsy Price has introduced a curfew for the city of Fort Worth in response to last night's "First, I want to acknowledge the injustice and tragic death of George Floyd and the mourning we are experiencing as a community and nation. I also want to commend those individuals who have assembled over the past couple of days to peacefully exercise their first amendment rights. It is important that we remain respectful of each other and our community. Unfortunately, there were individuals who displayed blatant disregard for the welfare of others – which is why we are enacting an 8 p.m. curfew." – Mayor Betsy Price
The City of Fort Worth's curfew goes into effect this evening at 8 PM and ends at 6 AM. This is a citywide curfew that prohibits any persons from travel on public streets or public places. Law enforcement, fire, EMS, and credentialed members of the news media are exempt from curfew. The order points out that travel includes walking, scooter, skateboard, and vehicles.
At the moment the curfew will end in 72 hours unless it is extended.
Exceptions To Curfew:
Persons traveling to and from work
Persons traveling to and from school
Persons seeking medical attention
Persons fleeing dangerous situations
Persons experiencing homelessness
Mayor Price feels like the trust with the Fort Worth Police Department is still intact.