Border Collie Rescue & Rehab Rescued A Mom & Valentine's Litter and This Is The Story Of Her Adoption
Written by: Dana O'Neal
Our last sweet foster came to us as a puppy. Her purebred mom was dumped days before giving birth. Not only was the mom 'unwanted,' but her unborn babies would be a burden. The dog mom and foster mom did an incredible job giving these puppies life, social skills, and routine in the first two months. When the time came, each puppy was moved to a new home to continue growing and learning.
Our little foster came at about nine weeks. This nugget was a perfect little girl. She loved food, slept through the night, and crate-trained with such ease. She learned to respect the boundaries of the senior dogs and joyfully played with our three year old BCRR rescue. We waited, only a few apps were coming in; in fact none. She went to meet and greets and was the best girl. One app said her bio brought them to our rescue, but they chose a more well-suited dog in our BCRR family.
So, we started sharing her story on social media and Nextdoor pages. Friends came over and fell in love with this angel; she was a treasure no one knew about. Was it because despite the Border Collie mom, she looked more like dad, a pitbull terrier?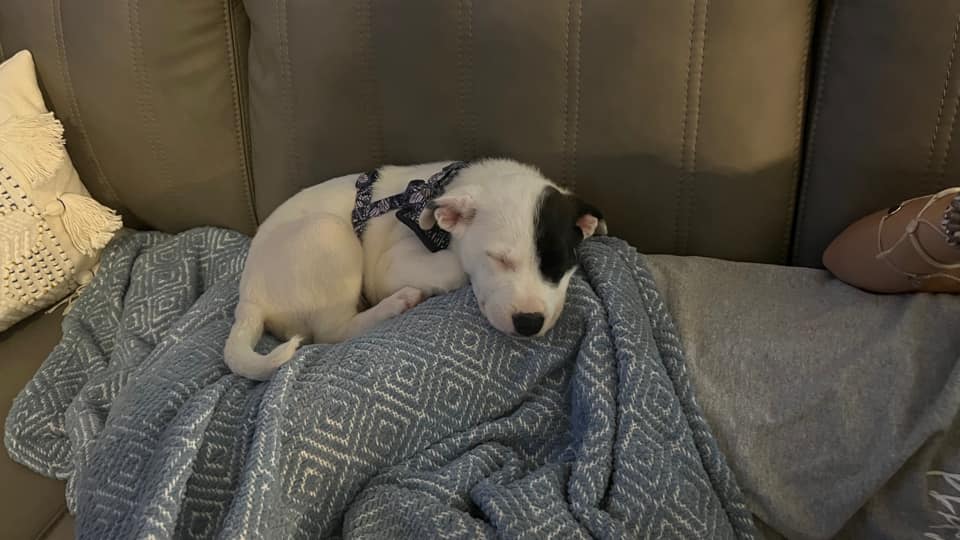 Three months into fostering, there was a discussion at home: is she a foster fail? She is getting too old. Soon after that discussion, my nephew texted me that a coworker was looking to add a second dog to their home. Why don't you reach out? I sent pictures and stories and was met with a brief reply: 'How do I apply, and how much is the adoption fee?' I had been down this road, and it's usually a dead end when they see our rescue rules for adoption.
The candidate filled out all the paperwork, provided references, and gave brief but direct answers in a phone call. The next steps were the home visit, and he was a bit apologetic that they had a well-lived-in/loved home, but their busy house might not be tidy enough for Rescue standards.
I loaded up my foster puppy on a Tuesday to visit the candidate and give her a shot at finding a home. My family reminded me how 'perfect' she was; to keep that in mind, they must meet all her needs, or she is coming back! The home was delightful on a culdesac and had the best yard for a busy puppy to explore and play ball. When I started to get her out of the car, the dad and teen son came out to greet her. They melted as she paddled her tail. 'SHE is Gorgeous. I love everything about her; wait til you meet our dog, they have the same markings.'
Almost two hours later, we departed with a tired pup that showed her well-rounded personality. The family felt it was a must for their dog to enjoy the new dog's companionship, and winning mom over is a must, too. We set up a longer time for the puppy to stay, play, and be in home. I sent supplies and guidance on bringing in a dog to allow the resident dog to still feel loved. I returned at 8 am on a Saturday to be greeted by teens and family- I emphasize that TEENAGERS were so excited they got up early for this day.
The joy for this puppy was overflowing. They greeted her with name options, new toys, and undivided attention. The willingness to take direction on getting a new dog to adapt and make small changes to their living was graciously accepted because this puppy was WANTED (and Perfect), and they knew it from only spending two hours together.
The extended stay resulted in everyone falling in love. The father indicated that with the son's neurodivergence, he loved spending time with pets over peers. He played ball for hours and worked on her training commands rather than playing video games. The family had made photo collages and text- how do we make her OURS? We love her.
When I returned to say my goodbyes, I was met with such gratitude. The adopter explained their previous dogs were rescued from people giving away dogs on the side of the road or in shelters. He said certain people balked when he told him how much the adoption fee was for our rescue. His reply 'I just got a dog with a DNA test, all her medical care, she is crate trained, housebroken with a bell, on a sleep schedule, and knows how to fetch a ball and drop it in your lap perfectly- All at five months! Paying vet fees and a trainer to do this at home would be much greater. This is the best adoption experience ever.'
Mom texted me a few days later, saying she had searched for their next perfect companion for two years and never thought they would find her. They found her, and it was worth the wait.
Rescue is hard; people always ask, 'how can you give them up?' This one almost stayed, but the perfect home is out there, and I was lucky enough to watch it unfold. It doesn't have to look pristine; it's not about answering questions the most articulate on an application. The pool pump might be broken, but I don't mind, it's showing the rescue that pets are family no matter what, and dogs breathe life into your home.
When I met this family and saw they believed the same, and he said this was the best experience ever, I knew she was home. ♥️♥️♥️A valentine surprise is now furever loved!!!
Fosters and volunteers you bring unmeasurable value to this organization.
Sweet (Darling) Giorgi made it through her spay surgery today to walk in the backyard unfazed, picked up her ball, wanna play? A little more crate time first. They adore her and send updates weekly. This is why we rescue.
Border Collie Rescue & Rehab is a 501c3 based in Texas and 100% volunteer run. When you adopt a rescue dog from them, you are actually rescuing two dogs…the one you are adopting AND the one that you just made room for! BCCRR's  adoption area is Texas and Oklahoma. If you are interested in fostering or adopting please check out their Facebook page or website for information on how to become a volunteer, foster or adopt.