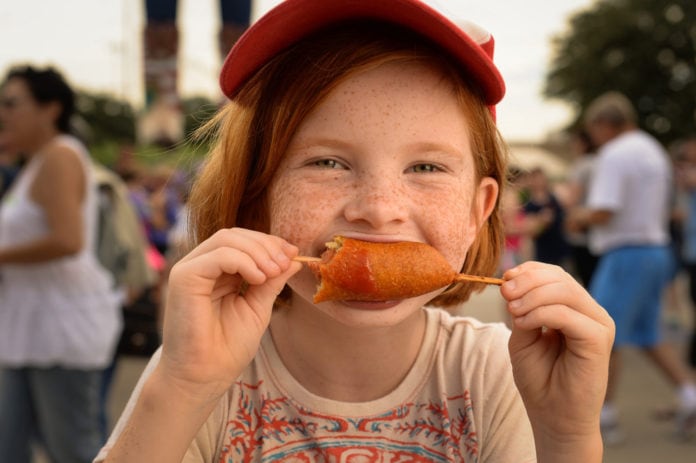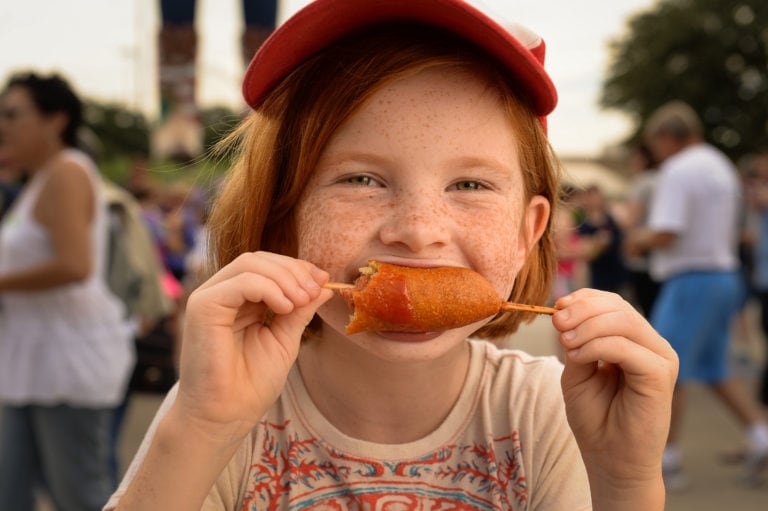 Big Tex Choice Awards Heat Up The Taste Buds
Just follow your nose to the Tower Building at Fair Park Sunday, August 28 at 2 p.m. That delicious aroma of frying foods will be impossible to ignore. It's the Big Tex Choice Awards, where a select group of State Fair Super Fans can be the first to try the yummy fried foods. The eight finalists in the annual competition will be chosen from these 34 semi-finalists:
| | |
| --- | --- |
| Bacon Wrapped Churros | Down Home Chicken Pot Pie Pocket (with mac 'n cheese dip)                 |
| Bacon Wrapped Pork Belly on a Stick | Fried Cookies & Cream Sundae |
| Barn Yard Burger | Fried Jell-O |
| Buffalo Chicken Jalapeno Poppers | Fried Prime Rib Quesadill"O" |
| Caribbean Pineapple Korn-a-Copia | Funnel Cake Sundae |
| Crunchy Fried Oinkers | Holy Guacamole Balls |
| Dallas' Fried Bacontilla | Injectable Great Balls of BBQ |
| Deep Fried Bacon Burger Dog Sliders on a Stick | Loaded Bacon Mashed Potato Egg Roll |
| Deep Fried Bacon Wrapped Tater' Dog | Lollipop Fried Bacon Wrapped Quail Breast on a Stick |
| Deep Fried Cannoli Bites | Pina-A lot-Ta |
| Deep Fried Cheeseburger Stuffed Onion Rings | Seductive Fried Sea Salt Caramel Wrap |
| Deep Fried Chicken Basket | Shrimp Fritters |
| Deep Fried Hawaiian Hoops | Southern Fried Chicken & Dumplin's |
| Deep Fried Nachos | State Fair Cookie Fries |
| Deep Fried Pulled Pork "Funyun" Dings | State Fair Edible Colas |
| Deep Fried Smoked Salmon & Bacon Croquettes | Texas Fried Buffalo Quail |
| Dorito Bacon Fried Cheese Stick | Texas Fried Pinatacolupa |
A panel of judges choose the eight semi-finalists ranked on uniqueness, presentation, creativity and taste. The judges will have to defend their rankings against the simple yet crucial question – how likely is a fairgoer to actually buy the item? Two winners will rise from the frying pan into State Fair history; one for Best Taste and one for Most Creative.
Tickets to the Big Tex Choice Awards aren't cheap, at $100 each. But proceeds go to a good cause, the fair's Youth Scholarship Program. For 24 years, the Youth Scholarship Program has awarded scholarships to more than 1,800 students for a total of more than $8.7 million. Eligible recipients include graduating high school seniors from around the state of Texas who have competed in State Fair youth livestock events, as well as graduating seniors from five Fair Park area schools – Irma Lerma Rangel Young Women's Leadership School, James Madison, Lincoln, North Dallas and Woodrow Wilson High Schools. Due to the event's charitable cause, a portion of each ticket is tax-deductible.
Tickets to the 2016 State Fair of Texas are also available. With a regular price of $18, general admission tickets are discounted to $16 online. BigTex.com offers $12 admission for children under 48 inches in height and seniors age 60+, with tickets regularly priced at $14. The Fair offers free admission for children age two and under. For those of you wanting to get ahead of the game and order your food and ride coupons in advance, coupons are also available for purchase online.
Your ticket to the Fair is your ticket to Texas-sized fun, with hundreds of daily shows, concerts, activities and exhibits all included in the price of admission. Purchase your tickets and coupons online today at BigTex.com/Tickets.
Celebrating 130 years this fall, the State Fair of Texas brings visitors from near and far to celebrate all things Texan. In continuing this tradition, the Fair aims to provide a wide variety of quality entertainment and give each fairgoer the true Texas experience, whether you're a native or a visitor of the Lone Star State. At 24 days, the State Fair of Texas is the longest-running fair in the nation. With hundreds of shows, games, rides, exhibits and concerts, there are endless ways to spend your time at the Fair. The 2016 fair opens Friday, September 30 and runs through Sunday, October 23 in historic Fair Park.
Since its inception in 1886, the State Fair of Texas has celebrated all things Texan by promoting agriculture, education, and community involvement through quality entertainment in a family-friendly environment. The State Fair of Texas is a 501(c)(3) nonprofit organization with proceeds helping to preserve and improve Fair Park and underwrite museum, community and scholarship programs for inner city youth and students pursuing agricultural careers. Visit BigTex.com for more information.