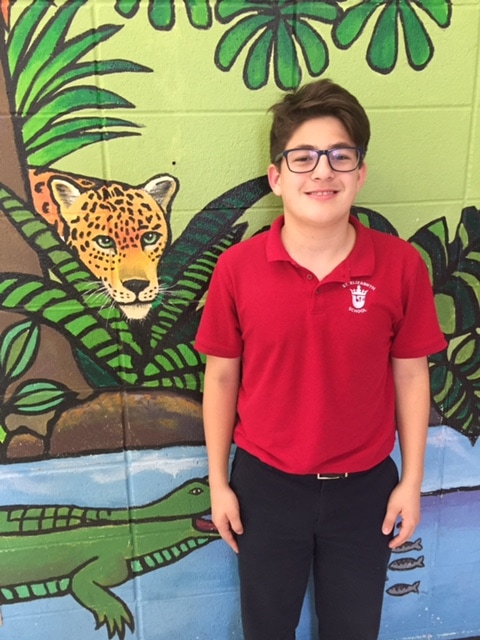 DALLAS—Grand Prairie resident Francisco Candeladio Aguilar isn't your typical 8th grader. His school, St. Elizabeth of Hungary, calls their students "Saints," and Francisco is proud to have been a student there since he was four years old. He doesn't claim to be a saint, but he is a leader in the school, and on the soccer field.
Instead of rushing home to play video games, Francisco gets into rush hour traffic to head up to Frisco to play club soccer.
Although he lives in Grand Prairie, he's willing to make the trip up north twice a week to MoneyGram Park to practice with his team. He plays right defender in Division 2 of the Classic league. His dedication to the game is only matched by his dedication to his classes—and his family.
He is the middle of three children. His older sister, Anacelia, is 15 and a freshman in high school. His younger sister, Marissa, is in first grade and attends Saint Elizabeth's with her big brother. He loves to play soccer with her, and treats her with all the care and tenderness that a loving big brother can bestow.
Aguilar Scores In The Classroom Too
A straight-A student, Francisco says his parents are his role models. He helps his mother, Venessa, around the house whenever he can, and may follow into the footsteps of his father, Maurice, a Judge in Dallas, because Francisco wants to help people.
"Frank is an excellent example of a typical St. Elizabeth student," says Principal Rachel Dzurilla. "He's hard working, motivated, and prepared for his future both academically and socially."
He loves his science class with Mrs. Rice the most. Frank plans to go to college to become either a physical therapist, or an attorney to help others like his father.
His science project this year combined his love of science and soccer. He created a sensor to help referees to know when a soccer ball hit the sideline, because sometimes the human eye can miss a call in a fast-paced game.
Fast-paced might also describe Francisco's life right now. Up at 6:00 a.m. and on the road by 7:30 to be at school by the opening bell at 8:00, then after school on the road then on the soccer field for two hours before returning to Grand Prairie by 9:00 p.m. He enjoys a challenge, and appreciates his parents helping to get him where he needs to be.
Heading To High School
Next year he hopes that includes high school at TAG, the school for Talented and Gifted students located in downtown Dallas. Math, Science and Literature are his favorite subjects, all of which he plans to pursue both in high school and college.
"I know St. Elizabeth's has prepared me well for the next step in my life," he says, sounding more like an adult than the young teenager he is. "This school has excellent teachers who care about us, and they give us projects that teach us new ways of thinking." In fact, Francisco recognizes that one thing he is good at is problem-solving. This ability and his love of science could lead him into engineering. Being able to solve problems is a skill he says, "I know that will help me throughout my life."
His life is busy right now, and will be even better when he has more time to help others. That is his plan for the summer, to serve others when he's not practicing or playing soccer. His down time will be spent reading, and attending an occasional movie. And of course, he has his dogs, Jack and Jasmine, to play with. And his little sister.
A teenage boy who prefers time with his family and reading over video games is rare, and Francisco feels blessed to have a life filled with good family time and good literature to enjoy.
He also knows he will miss his friends and teachers at St. Elizabeth's after he graduates, but he won't be far—after all, he has a little sister who's still a "Saint"—and he will always be there for her as she grows up, being the devoted big brother he is.