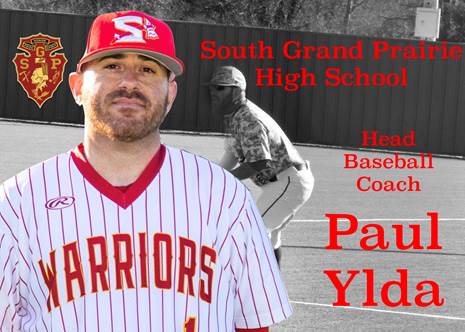 Dream Job Coaching Baseball at SGP
The majority of Paul Ylda's baseball career has included South Grand Prairie, and now he's about to live a dream as head coach of the same program for which he played more than two decades ago.
After 16 years as an assistant, the past six to Art Senato, Ylda has been named the new head coach for the Warriors as Senato has accepted the head coaching position at Burleson Centennial. Ylda graduated from SGP in 2000.
"In August of 2005, I returned to SGP and started my career as an educator and baseball coach. I joined my old coach Frank Garner's staff for his final season in 2006 and will be forever grateful to him for that opportunity," Ylda said. "I fell in love with coaching high school baseball.
"Since that first season, this has always been my dream job. There is no other place I'd rather be and no other job I'd rather have. This is home. The 2022 season will be my 21st in a Warrior uniform. I couldn't be prouder to be the head coach of SGP baseball."
Ylda did not enjoy playoff success as a player for SGP, but since his return they have only missed the playoffs once (2012) and have won four district championships. This most recent season they were second in District 8-6A and advanced to the second round of the postseason.
As a player at Northwood University, he helped them to a 2003 Red River Athletic Conference championship.
Area baseball recap for 2021
Class 6A
South Grand Prairie: Second in District 8. Defeated Lake Highlands in bidistrict, 2-0 (7-2, 6-3); lost to Plano in area, 0-2 (3-4, 2-3).
Mansfield: First in District 11. Defeated Copperas Cove in bidistrict, 2-1 (3-5, 7-4, 7-4); lost to Rockwall in area, 0-2 (2-5, 4-8).
Waxahachie: Third in District 11. Defeated Killeen Harker Heights in bidistrict, 2-0 (4-2, 4-0); lost to Wylie in area, 0-2 (1-2, 0-2).
Duncanville: Fourth in District 11. Lost to Belton in bidistrict, 0-2 (0-8, 3-7).
Class 5A
Mansfield Legacy: First in District 8. Defeated Fort Worth Northside in bidistrict, 2-0 (10-0, 12-0); defeated Azle in area, 2-0 (5-3, 2-0); lost to Birdville in regional quarterfinals, 1-2 (0-2, 3-2, 4-5).
Mansfield Timberview: Third in District 8. Defeated Saginaw in bidistrict, 2-1 (4-5, 7-6, 16-1); defeated Granbury in area, 2-0 (8-7, 2-1); lost to Aledo in regional quarterfinals, 0-2 (5-9, 4-14).
Midlothian: Third in District 14. Lost to Highland Park in bidistrict, 1-2 (4-1, 4-7, 4-8).
Class 4A
Midlothian Heritage: First in District 10. Lost to Melissa in bidistrict, 1-2 (6-16, 2-1, 12-14).