North Texas restaurants are offering both dine-in or carry-out Thanksgiving meals for your family. We've rounded up a few options sure to please your family or friends, whatever the size of your gathering.
The Island Spot, a Jamaican restaurant known for its flavorful food and vibrant atmosphere, adds a fun twist on Thanksgiving staples. They offer a delicious "Jerk Turkey" starting at $79.99. The turkey can be accompanied by authentic Jamaican sides like rice & peas, fried plantains, and beef patties. Whether guests are looking for a destination for a "Friendsgiving" gathering or a company celebration, The Island Spot is the ultimate spot for all. For information or to place an order, please visit theislandspot.com.
Bone Daddy's House of Smoke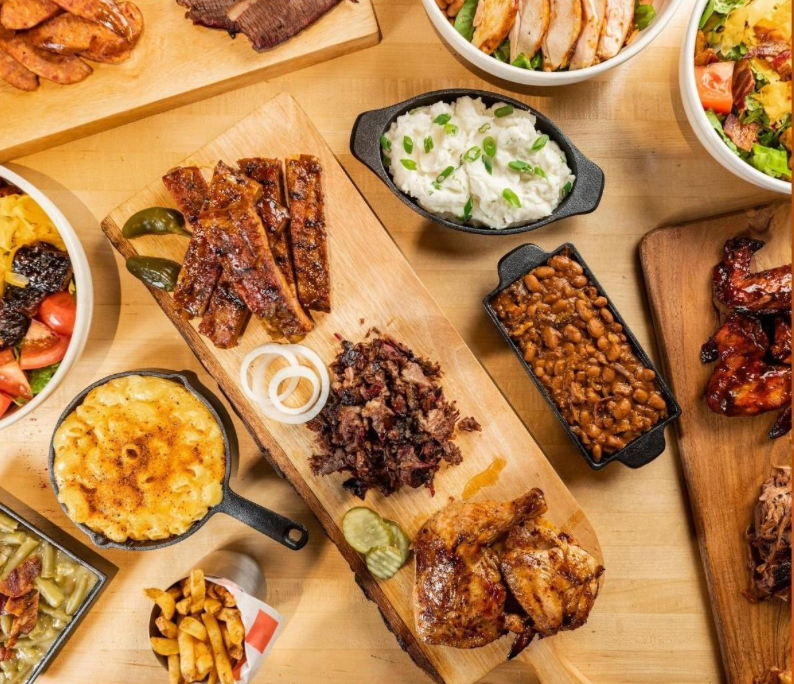 Low-country BBQ restaurant Bone Daddy's House of Smoke offers an easy and delicious Thanksgiving menu available for pickup. Guests can call ahead and place their orders for pickup the day before Thanksgiving. Smoked Turkey: Starting at $85; or Full Feast: Starting at $125 (Includes turkey, dressing, sweet potato casserole, pudding, rolls and turkey gravy).
Thanksgiving Menu: Cornbread Dressing: $15; Streuseled Sweet Potatoes: $15; Mashed Potatoes: $15; Green Beans: $15; Cobbler: $19; Pudding: $19; Turkey Gravy: $9; Dinner Rolls: $7. For information, visit bonedaddys.com.
Thanksgiving from La Madeleine
La Madeleine wants families to spend more time together instead of in the kitchen. They offer a holiday feast option for families that serve 4-10 people and start at $79. The menu includes Oven Roasted Turkey Breast or Sliced Ham with Mushroom Sauce, Cranberry Orange Chutney, Cranberry Apple Stuffing, Sourdough Bread sticks, and choice of two sides: Red Skinned Mashed Potatoes; Green Bean Almondine; New Sweet Potato Soufflé; or New Broccoli & Rice Provencal.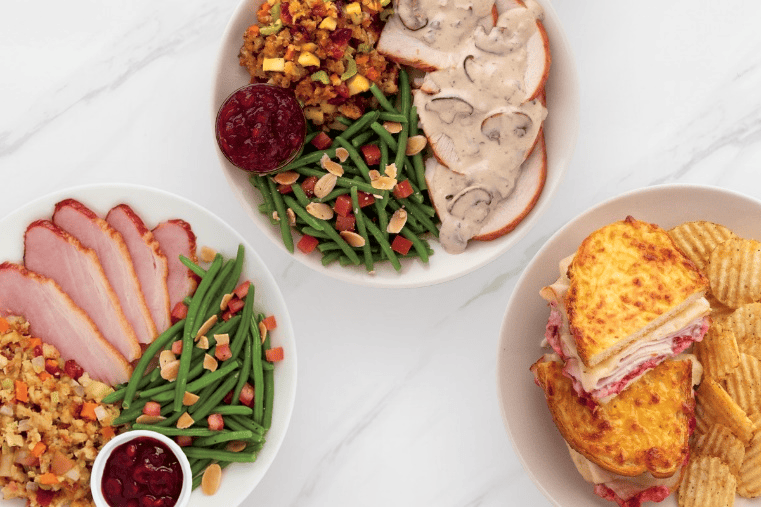 For those who don't need to feed that many, la Madeleine also launched individual sampler options with smaller portions. Turkey Holiday Feast Sampler: Sliced oven-roasted turkey with creamy mushroom sauce, green beans almondine and homemade cranberry apple stuffing served with a side of cranberry orange chutney, $11.99. Ham Holiday Feast Sampler: Sliced Applewood-smoked ham with creamy mushroom sauce, green beans almondine & homemade cranberry apple stuffing served with a side of cranberry orange chutney, $11.99. Turkey Cranberry Croque: Sliced oven-roasted turkey, Swiss cheese, and cranberry orange mayonnaise baked on Country bread, for $11.59. The holiday menu is available through Dec. 31. Customers can order the Holiday Feast as a catering delivery or pick up and heat at home option.
(We ordered our family Thanksgiving meal from La Madeleine last year and it was a huge hit with all of us–especially the cook!)
Maple Leaf Diner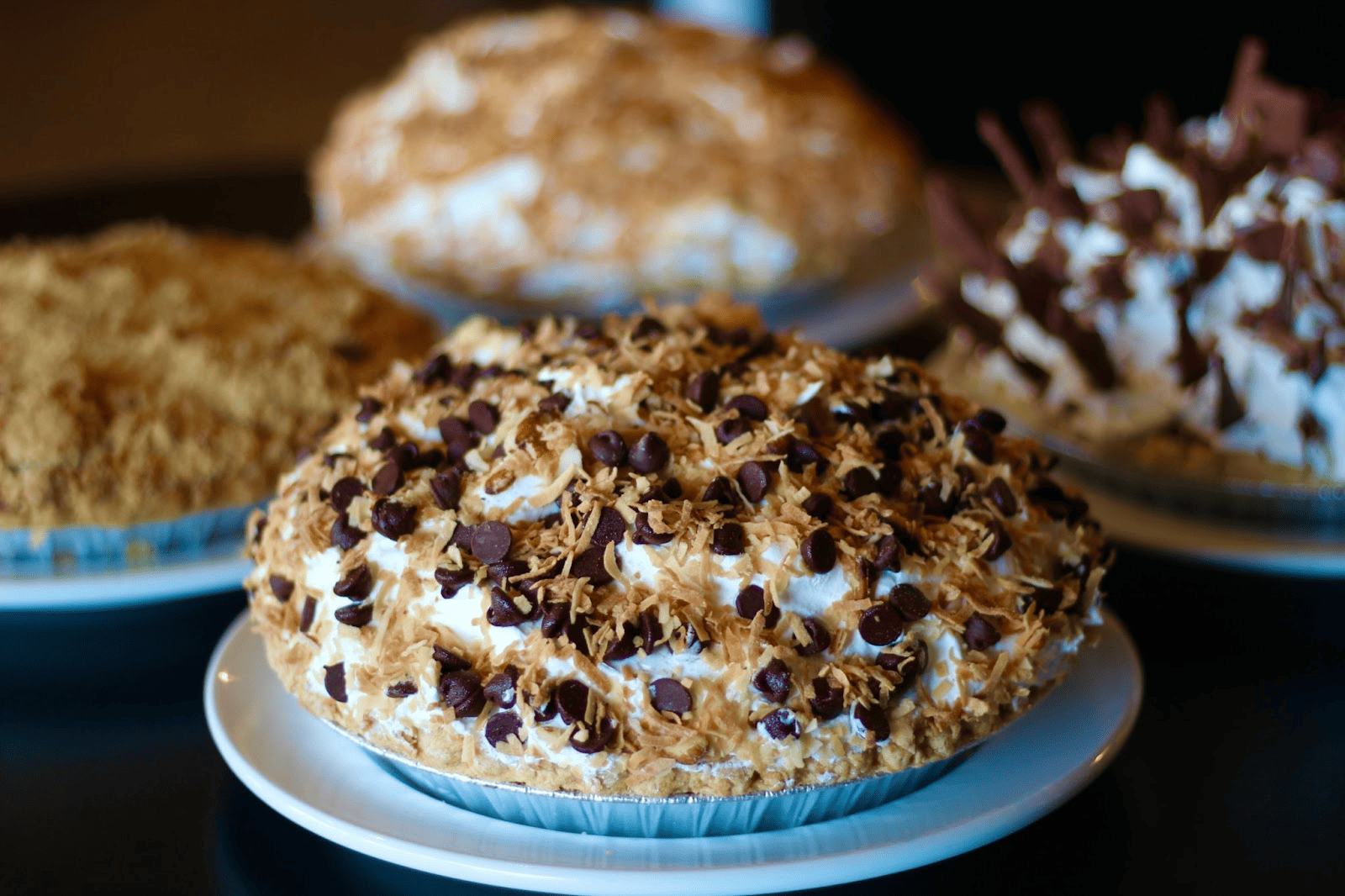 Desserts are an essential part of any holiday gathering, and this year, Maple Leaf Diner is dedicated to ensuring that it's made-from-scratch pies become the highlight of everyone's celebrations! Maple Leaf Diner offers a variety of pies from Almond Joy to Chocolate Cream and Coconut Cream. To order, please visit mldiner.com and select "Order Online." Click "Bakery" and choose your pie or pies. For more information, call 214-434-1626.
Maggiano's Little Italy®
Maggiano's has everyone set for the perfect Thanksgiving meal with delicious holiday dine-in and carryout offerings and seasonal fall menu features. They will be open on Thanksgiving Day with an elevated dine-in menu plus hot and cold carryout options for up to five people. Dine-in guests are invited to celebrate with a special chef-curated family-style three-course menu fit to feed a crowd. Alongside Thanksgiving staples, Maggiano's adds its signature Italian flair to the traditional holiday menu with pastas like Rigatoni "D," and Four-Cheese Ravioli.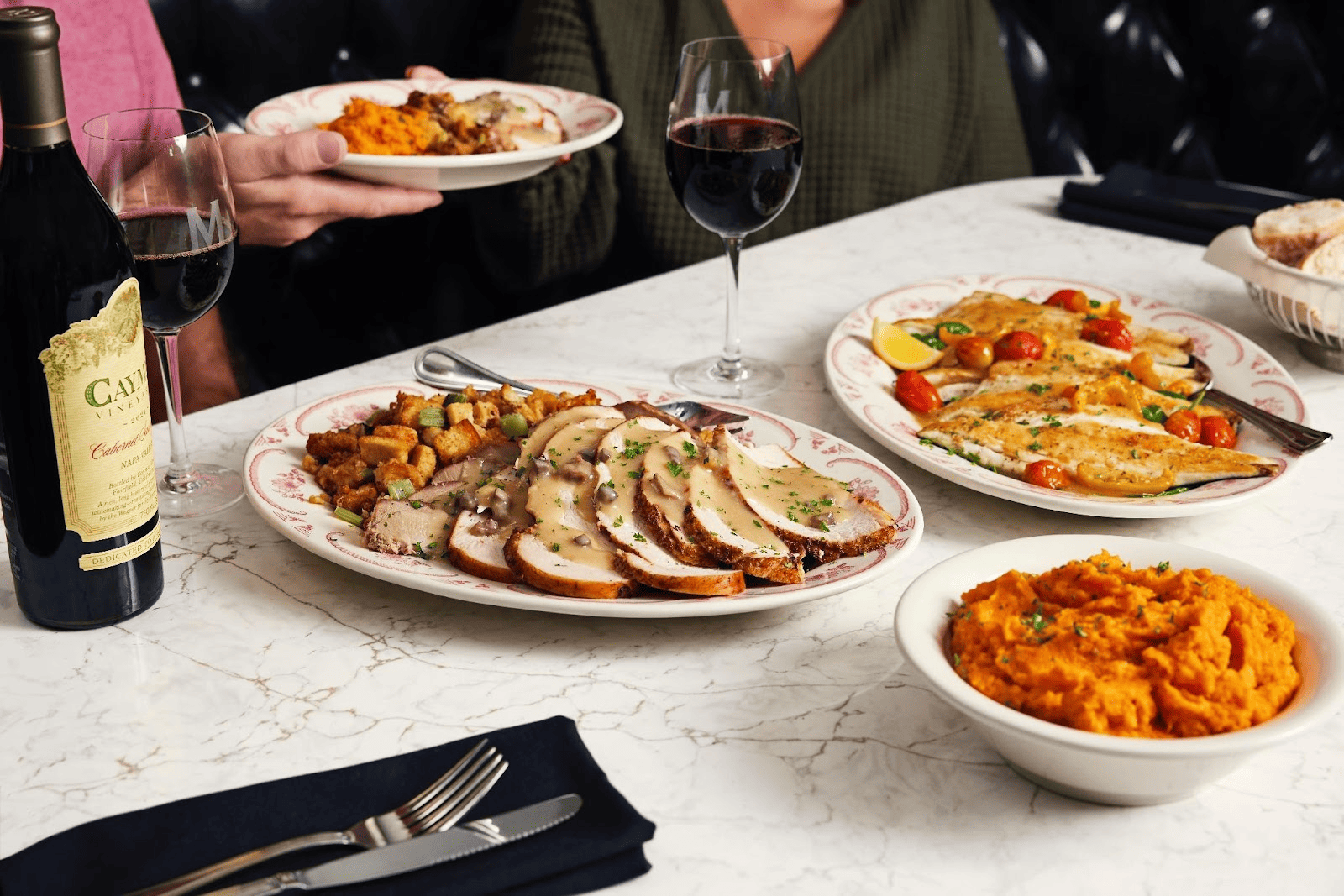 Dine-in guests have their choice of two specialty salads and three main courses, Roasted Turkey, Country-Style Baked Smoked Ham or Branzino Fresca Style. Accompanied by sides like Sage & Sausage Stuffing, and desserts such as a decadently sweet Pumpkin Praline Cheesecake. The limited-edition fall menu features a range of dishes, available now through November 28. They include: Roasted Butternut Squash Ravioli in a brown butter sauce; Pumpkin Praline Cheesecake topped with cinnamon whipped cream and candied pecans; Savory Crab Cakes in a lobster cream sauce; and Bourbon Peach Smash cocktail made with Elijah Craig Small Batch Bourbon.
Omni Barton Creek Resort & Spa
Searching for a special Thanksgiving weekend in Texas Hill Country? Barton Creek Resort has you covered. Start the holiday off with a luxurious Thanksgiving Day brunch at Blind Salamander, complete with traditional favorites and unique offerings like a Japanese grill station. On Friday, November 24, guests can cheer on their favorite team– whether it's the UT Longhorns or Texas Tech Raiders– as the property broadcasts the big game. Food specials and craft cocktails like the Bevo's Bourbon & Raider Red's Chilton are included in Crenshaw's Bar & Eatery. Families can join in the fun with family-friendly activities like a pickup game of flag football on Longhorn Lawn to get everyone pumped for the big game.
Craving a more relaxing weekend before the hustle and bustle of the holiday season? Indulge in a special fall-inspired Pumpkin Facial featuring Naturopathica's Pumpkin Enzyme Peel. A fall escape filled with unforgettable fun and unmatched restoration begins at Omni Barton Creek Resort & Spa. For information or reservations, please visit omnihotels.com.
Flips Patio Grill — All month long, dig into The Gobbler, Flips' November Burger of the Month, at its Fort Worth and Grapevine locations. An explosion of Thanksgiving between two buns, this burger features Flip's signature, handcrafted turkey patty, smoked cheddar cheese and herb stuffing. Topped with creamy turkey gravy and cranberry sauce. Don't miss out on this limited-time gastronomic adventure that is delicious yet untraditional.
Loop 9 BBQ — Elevate Thanksgiving plans with this Texas-sized and -inspired meal! For only $95, bring home Loop 9's Whole Turkey smoked to perfection, homemade Gravy, and the newly released Pecan Pie, created by Fort Worth's own Sweet Lucy's Pies! Reheating instructions make for easy home prep on the big day. With options to add extras on the side or items a la carte, customize the ideal multi-course feast of smokey deliciousness! Place the pre-order now by November 16 at 2 PM CT. Say goodbye to the stress of cooking and cleaning, and hello to a mouthwatering, hassle-free celebration!
Toro Toro Fort Worth — While many enjoy the cherished tradition of preparing home-cooked meals for Thanksgiving, others prefer to let someone else handle these duties! That's where dining out comes into play. Join Toro Toro in the heart of Downtown Fort Worth on Thanksgiving Day for an expertly curated dinner.
Start the evening with these show-stopping appetizers:
Parker Rolls
housemade, served with chipotle butter
Roasted Pork Belly
bacon & morita jam, pomegranate seed on a smooth sweet potato puree,
served with wasabi greens & guajillo chili oil
Baby Arugula Green Salad
pickled baby heirloom carrot, radish & fennel,
topped with manchego, parsnip chips, caramelized pecans & red blood orange vinaigrette
Indulge in these stunning main entrees:
Achiote Turkey Remoulade
mexican chorizo stuffing, aji amarillo-glazed brussels sprouts, creamy mashed potato,
topped with chipotle & cranberry relish and ancho chili gravy
Grilled Thanksgiving Salmon
kimchi marinade, honey pomegranate & bacon glazed salmon
crispy brussels sprouts, creamy mashed potato, topped with citrus ponzu broth
Conclude the dinner with Toro Toro's elevated take on a classic dessert:
Pumpkin Pie
warm citrus cranberry compote & pecan ice cream,
topped with vanilla bean whipped cream
Thanksgiving Turkey-To-Go
This year, Fairmont Dallas offers a "Thanksgiving Turkey-To-Go" experience. Guests can entrust their Thanksgiving feast to the culinary expertise of Executive Chef James Phillips. The packages encompass a rich array of traditional Thanksgiving dishes, including a succulent roasted turkey, green bean casserole, garlic mashed potatoes, pecan cornbread dressing, sweet potato casserole with pralines, bourbon maple glaze, orange compote, turkey gravy, and Parker House rolls. To conclude this culinary journey, an assortment of delightful desserts awaits, featuring pecan pie, maple pumpkin pie, or apple cranberry crumble.
The Thanksgiving meals can be purchased for a serving of 8 for $350 or a serving of 4 for $185 dollars with options to add a la carte protein, sides, and desserts.
Orders must be placed by Friday, November 17 at noon and are available for pick-up on Wednesday, November 22 at 2 p.m. or Thursday, November 23 from 8 a.m. to noon.
To place an order, email lisa.moore@fairmont.com, call (214) 892-3893, or visit eventbrite.com/e/fairmont-dallas-turkeys-to-go-tickets-717980708627.
Thanksgiving Dinner at Pyramid
For those seeking an indulgent dining experience, Fairmont Dallas presents a sumptuous Thanksgiving Dinner at the Pyramid Restaurant. The four-course à la carte prix fixe menu is designed to capture the essence of the season, featuring traditional Thanksgiving favorites such as turkey confit, sweet potato soubise, pumpkin tortilla soup, and more.
The à la carte prix fixe menu is $75 for adults and $37.50 for children 6-12 years old.
Seatings are available from 6-9 p.m. on Thursday, November 23 and reservations can be made by visiting opentable.com/pyramid-restaurant-and-bar.
Thanksgiving Brunch
Fairmont Dallas invites guests to partake in a grand Thanksgiving Brunch held in the International Ballroom on Thursday, November 23 from 10 a.m. to 2 p.m. Guests will savor a lavish buffet comprising classic seasonal breakfast selections, made-to-order omelets, soups & salads, an Atlantic seafood display, cheese & charcuterie, a carving station, entrees and sides, a delightful dessert table, and a selection of festive cocktails.
The Thanksgiving brunch menu is $125 for adults and $62.50 for children 6-12 years old.
This Thanksgiving, allow Fairmont Dallas to be your gracious host, where tradition harmonizes with sophistication in the Dallas Arts District. Fairmont Dallas is located at 1717 N Akard Street in Dallas, Texas.