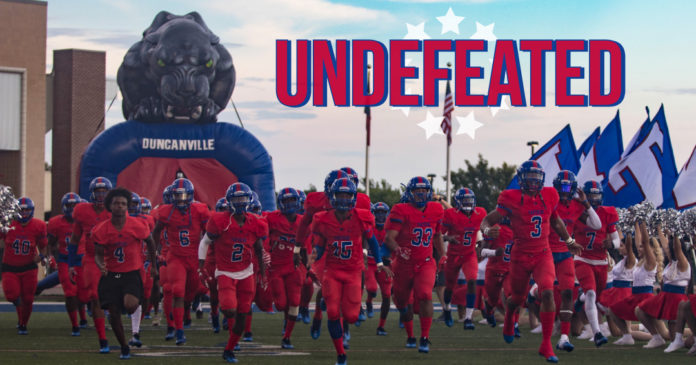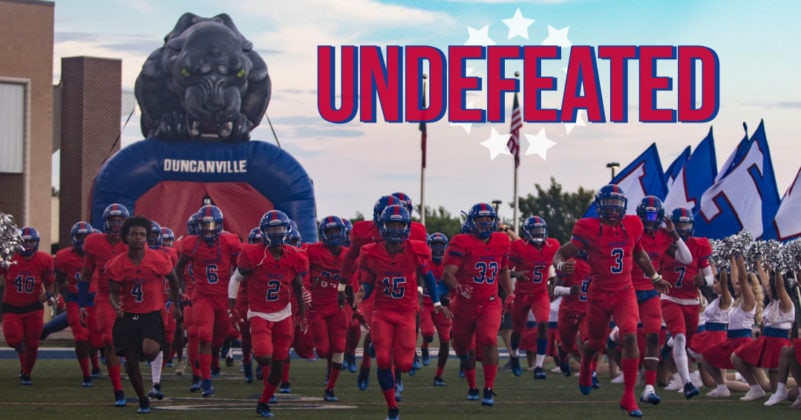 DUNCANVILLE—The Duncanville Panthers are 5-0 for the season. They rank #2 in Sports Day's Class 6A area rankings and #6 in the Associated Press state poll.
It is easy to understand why Duncanville ranks so high. Duncanville has outscored district opponents 202 points to 6.
Duncanville scored on 8 of their 9 possessions on Lake Highlands' home turf Friday night. When the offense wasn't on a roll, then the defense was moving and scoring. In the first half the defense scored two touchdowns and a safety. Defensive end Kamaurja Keeny grabbed a snap and returned it 50 yards for a score. This provided a lead of 14-0 with less than three minute off the clock of the first quarter.
Quarterback Ja'Quinden Jackson scored two touchdowns in the first quarter, 18 and 8 yard runs respectfully. But Trysten Smith would lead all runners for the game with 145 yards and two touchdowns.
While the Panthers were rushing for 408 yards they were allowing their opponents only 79 yards of total offense.
Panthers Overcome Mistakes, Penalties In Shutout
Duncanville's only offensive misstep was after a Jackson touchdown in the first. Panthers failed the extra point attempt on a run. Duncanville led 20-0 at the end of the first quarter.
Another defensive play that led to a score was a second period interception by J.D. Thursby, for a 23 -yard touchdown with about 5:50 left in the half.
One of the true heroes of the game was kicker Victor Escalona. He kicked 9 for 9 PATs and had 41-Yrd field goal in the third.
Before the game Panther Head Football Coach Reginald Samples stated that penalties had been a focus during the week's practice. While there had been some improvement in field position loss because of penalizes, Duncanville still had 7 penalties for 70 yards.
Duncanville passed very little during the game. And for the second time the starters were pulled early. Some were on the bench before the start of the break. Yet Duncanville scored 23, 19 and 14 points in the last three periods.
The last play of the game was a Panther fumble recovery by Joe Jones for a 16 yard run for touchdown. Just prior to that was a 50-yard gallop by Khalil Baptiste for a score.
Next week the Panthers are at home at Panther Stadium against Richardson J.J. Pearce. Kick off 7:30 p.m.