The Duncanville Noon Lions Club recently unveiled a custom designed wood bench at a reception held June 7 at the Duncanville Library. The reception was attended by a number of Duncanville Lions Club members, and was part of Lions Clubs International's Centennial Celebration of their 100th anniversary.
Noon Lions Club President, Kasey Cheshier, and Mayor David Green made remarks and welcomed members of the community to the unveiling. Kyle Ballard of Ballard Custom Builds, who designed the wooden bench using pine wood with books as the legs, was also present at the event. The book spines highlight key service areas of Lions International such as Environment, Disaster and Hunger Relief, Literacy, Texas Lions Camps and Vision.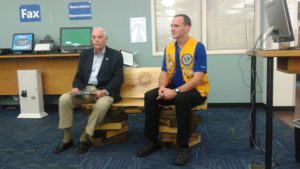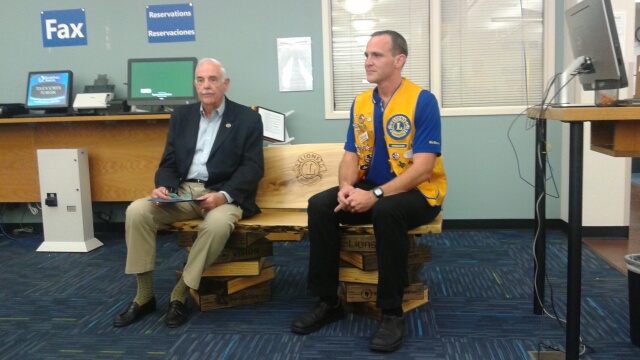 Kasey Cheshier, President of the Duncanville Noon Lions, said, "Our club has such a heart for encouraging literacy in all ages and challenging others to think creatively. We are thrilled to have the opportunity to provide this unique gift to the community. We hope it continues to raise our club's visibility in Duncanville. Likewise, we hope this gift creates a lasting legacy of our service contributions to date, but also encourages others to get involved with our service organization and give back to the greater good of the community through Lionism."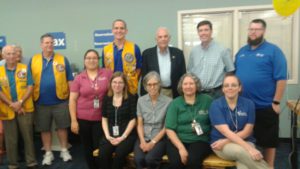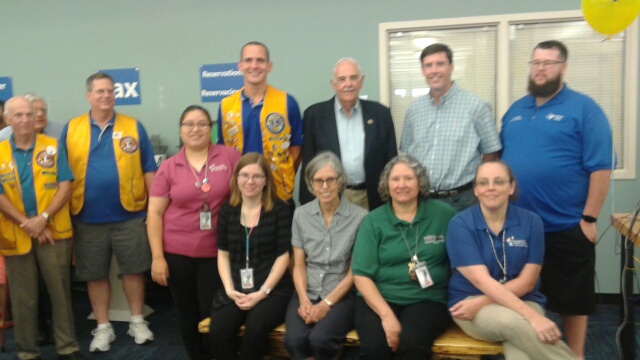 Joe Hassler, President of Friends of the Duncanville Library, said, "What it means for the library and community, is that it is another example of two groups of people coming together to help better the community that we live and serve in. It is exciting to be able to work together with two great service groups to help make Duncanville a better place for all to live."
Duncanville Lions Club member John Thompson, who will serve as Grand Marshall of Duncanville's Independence Day parade July 4th, also attended the reception. Librarians and other Duncanville Library staff members were also invited to be among the first to sit on the new bench.
Duncanville Noon Lions meets each Friday from 11:45 a.m. to 1 p.m. at the Lions Club Community Building, 210 Lions Trail. For more information on the club and its projects, please visit www.duncanvillelions.com or contact Lion Kasey Cheshier at (682) 556-0240.