After spending 42 years as an educator, recently retired Duncanville High School Principal and district administrator Mike Chrietzberg proved a hard man to roast. But Duncanville Chamber of Commerce tried, honoring him with a "Mike Chrietzberg Roast & Toast" luncheon at Charlton Methodist Hospital Oct. 10th.
Chrietzberg started his teaching career in 1976 at Byrd Middle School as a science teacher and coach. In 1990 he became Ninth Grade School Principal, and Duncanville High School Principal in 1995. While he was DHS Principal, he led the school through the 2002-2005 construction project that resulted in their becoming the second largest high school under one roof in the U.S. In 2012 he became DISD Chief of Staff, and in 2015, he was named Assistant Superintendent for Campus Support.
Chrietzberg has received numerous awards over the course of his career, such as his induction into the DISD Athletic Hall of Honor in 2012. He was also Duncanville's Man of the Year in 2012.
Roasting Turned Into Toasting Mike Chrietzberg
A parade of former students/teachers/school board members, and even his wife, Chris, took a shot at roasting the honoree. But the most repeated adjectives used to describe Mr. Chrietzberg were: "caring, dedicated, kind, gentle, and beloved."
There were some interesting highlights of the roast, such as when retired Duncanville Fire Chief Terry Webb reminisced about Chrietzberg's favorite tune. It seems the former Aggie insisted on having the school's song played at Duncanville Lions Club meetings during his term as their president. Webb invited Mr. Chrietzberg and fellow Aggies, Kasey Cheshier and Kevin Ozee, to perform their favorite anthem.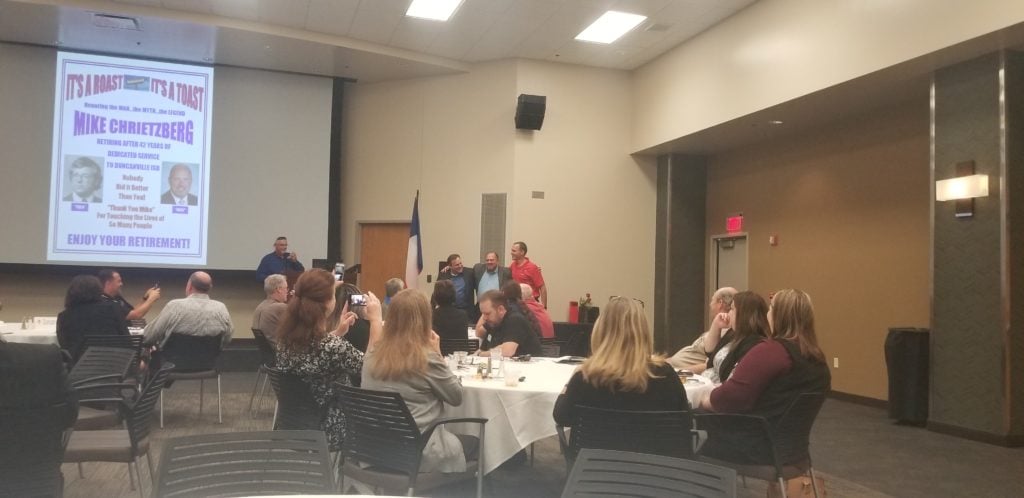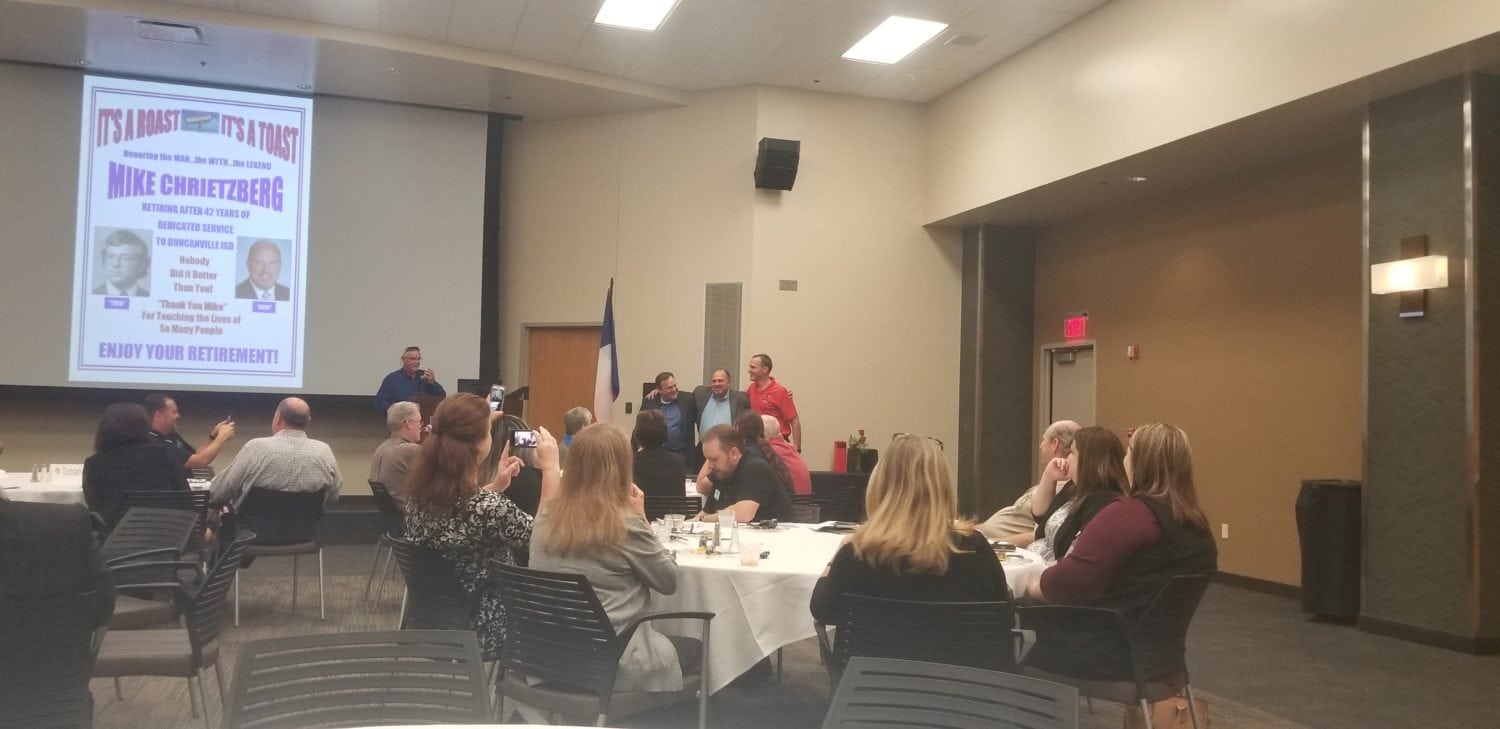 Cheshier, a student at DHS from 1997-2000, was happy to roast the honoree. But he refused to call him by his first name, "He's not Mike, he's always going to be Mr. Chrietzberg to me, even though we became good friends after I graduated."
Longtime DISD school board trustee Dan Jespersen, who served 18 years on the board, said working with Principal Chrietzberg made his job easier. "If you wanted the truth, you went to Mike because he was always going to tell you the truth. His reports were so thorough, he 'dotted his i's and crossed his t's' so they were always perfect."
Jespersen also recalled that Mike seemed to show up everywhere, attending all expected sports events and some unexpected ones, saying, "Mike even came to tennis matches. He attended everything: baseball, soccer, football, basketball, volleyball, he was there."
As Principal, Chrietzberg Knew All DHS Students By Name
DHS coach Cathy Self-Morgan said working with Mike had been a joy. He was always there for Pantherette basketball games, even showing up for practices, and somehow knew all the students' names. "I was walking down the hall with one of my players when we passed Mike, and he called her by name. This surprised the student, who wondered how he knew her name since she'd never been in any trouble."
Oil company executive Kevin Ozee, who served several years as DHS athletic director for Mr. Chrietzberg, said Mike would always be a role model for him. After leaving DISD in 2009, Ozee was an award-winning athletic director for Southlake Carroll and Arlington ISD. He noted, "While I worked with some great people there, no one could ever live up to the high standards you set for me early in my career. You have always been an inspiration to me."
The closest any of the roasters came to actually taking shots at Mr. Chrietzberg was towards the end, when retired PACE High School Principal Keith Butcher aimed a few comic barbs at the honoree. It seemed only fitting that an educator who had dedicated his life to teaching and molding students had earned so much love and respect from his community that it was hard to throw many darts.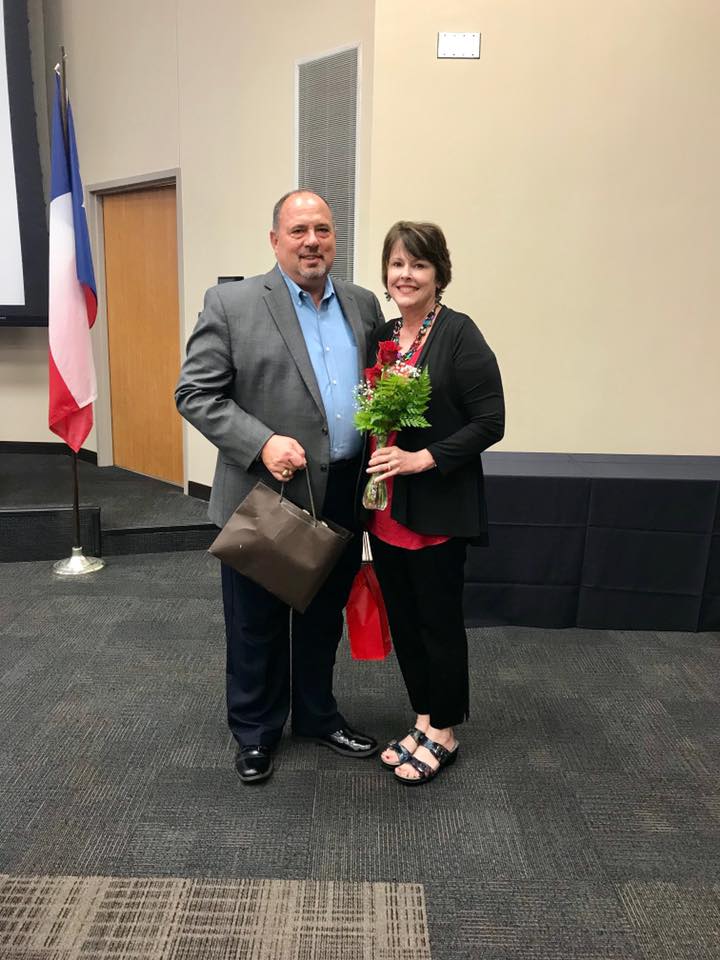 Mike Chrietzberg and his wife, Chris, (who has been a Duncanville ISD teacher for 25 years) have two children and five grandchildren. Daughter Courtney and son Clayton are both Duncanville High School graduates.
The roast luncheon was sponsored by Subway's of Duncanville, State Farm – Jim McDonald, the Najork Family, and Lott Properties, Dalton Lott. Chamber Board Chair Linda Dean-Miley welcomed the audience.
Roasters included Steve Martin, President and CEO of Duncanville Chamber; retired Fire Chief Terry Webb; Ben Franklin Pharmacy marketing executive Kasey Cheshier; award-winning Pantherette Basketball Coach Cathy Self-Morgan; retired Duncanville ISD board member and pharmacist Dan Jespersen; retired PACE HS Principal Keith Butcher; and Mrs. Mike (Chris) Chrietzberg.