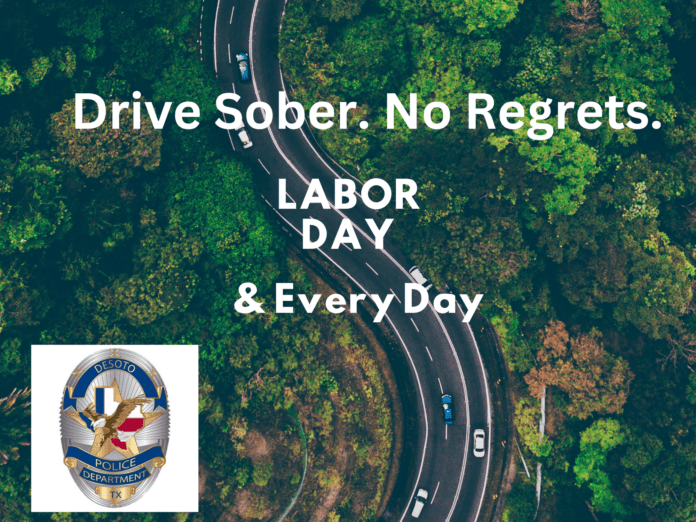 DeSoto, TX — Summer is officially over for kids. Football season is gearing up. The first few weeks of school will soon be over, and we will be getting back into our school year routines. Don't let a DWI be the thing to throw a wrench in your Labor Day holiday plans this year.
The U.S. Department of Transportation's National Highway Traffic Safety Administration (NHTSA) and the Texas Department of Transportation are partnering with the DeSoto Police Department to share the message about the dangers of impaired and dangerous driving. NHTSA, TXDOT, and the DeSoto Police Department want all drivers to remember this lifesaving message: Drive Sober. No Regrets. Drivers will see more officers working the streets of DeSoto from August 18th to September 4th, in order to make our roads safer.
DeSoto Police Assistant Chief Ryan Jesionek had this message about the importance of staying safe during the upcoming holiday, "Labor Day was established to celebrate the achievements of our country's workforce and is a uniquely American holiday. To many of us, it signifies the end of Summer and the beginning of a new school year. The DeSoto Police Department hopes everyone has a great Labor Day Weekend this year, but as always, we urge our citizens and visitors to celebrate in moderation, and if you shouldn't drive, then please don't. We will have additional officers at the ready to ensure that we keep the community safe from intoxicated drivers during this holiday weekend."
The DeSoto Police Department's Traffic Division wants to remind us that it is everyone's duty to drive safely and sober. If you see someone driving recklessly or possibly impaired, please alert Police right away. DeSoto PD wants to remind us that ridesharing companies such as Uber, Lyft, or Taxi services are there to ensure that we all make it home safely.