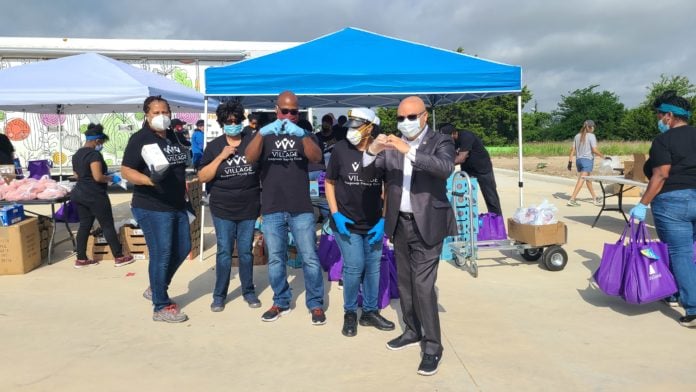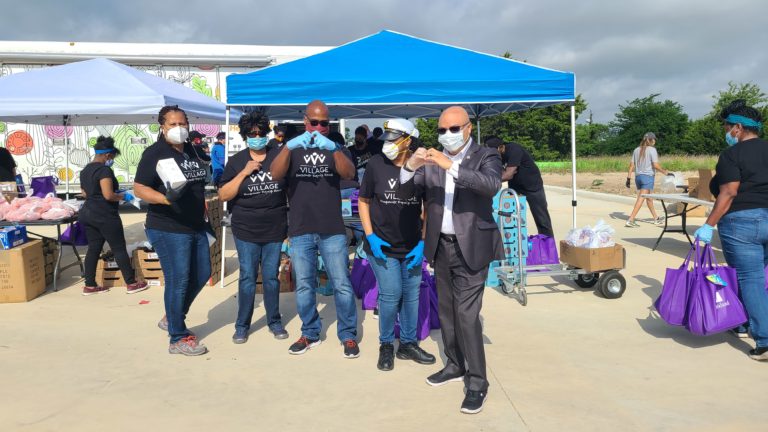 Village United Methodist Church Helps Feed The Community
DESOTO – Derek Jacobs, Lead Pastor at the Village United Methodist Church in DeSoto is opening a new church building in July of this year. The new church has purchased 20 acres of land, with four acres allotted to the building. Last week Jacobs made use of the property converting it into a drive-thru food pantry.
In addition to the volunteers from the church last week who made the drive-thru food pantry a success, Dallas County Health and Human Services and Catholic Charities were also on hand to help.
"Catholic Charities delivered all the food," Jacobs explained. "We [the church] took the food off the food truck. From there we created an assembly line to prepare the bags of food and put the food in the bags. Once the bags were put together, they were moved to the drive-thru line where we then distributed to families in need due to COVID-19."
Also, at the new church site, Dallas County Health and Human Services provided a bus for HIV Testing.
"We learned that HIV cases in zip code 75115 is on the rise," Jacobs said. "We want to make sure people are getting tested."
In the future, the drive-thru food pantry will take place at the church two times a year. Last week's event served 250 cars averaging about 350 people.
"We are looking to continue creating partnerships with other businesses and organizations in our community to continue providing services that will meet the needs in our community,"  Jacobs added. "We're also planning a health fair for late summer along with a back-to-school fair. We remain diligent in our approach and continue to keep our eyes and ears open so that we can move when we are called up to serve."
Jacobs has been an Ordained Elder in the United Methodist Church for 13 years "We live this out in everything we do especially through a ministry of education," he added. "We strongly believe in education as the key to success."
Compassion for people
The church averages between 65 to 70 children and youth. There is also a strong passion for ministry and compassion for people.
"Where there is a need I believe it is up to the church to fill that need," Jacobs said. "COVID-19 created a need in our community. So many people have been impacted by this virus. People are unemployed, not sure how they are going to make ends meet. The Drive Thru Food Pantry gave us an opportunity to shower persons in the community with love. We wanted people to know that The Village cares and we are here to give people hope."
The Village United Methodist Church on Wintergreen Road launched back in 2010.
Prior to the new location on Wintergreen Road, The Village United Methodist Church was at a storefront at 1615 North Hampton Road in Desoto.
"We outgrew the space within two years, Jacobs said. "We will not be going back to this building. When we come back from COVID-19 we will be leaving the old and coming into the new. I like the scripture in Isaiah 43:19, "See, I am doing a new thing! Now it springs up; do you not perceive it?"
Jacobs said while he hopes to begin worship services and ministry programming in the building in July that will all depend on COVID-19.
"We believe in staying safe, so right now we are worshipping every Sunday morning at 10 a.m. on Facebook Live," the Pastor concluded. "We have been on Facebook Live since Sunday March 16."