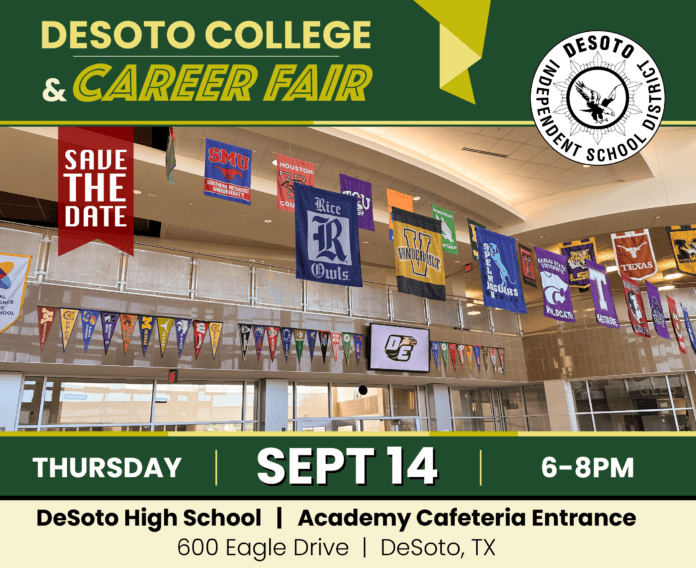 In alignment with the DeSoto ISD Board of Trustees' goals to ensure the future readiness of district graduates, DeSoto ISD is hosting its annual College and Career Fair at DeSoto High School located at 600 Eagle Drive in the DHS Academy on Thursday, September 14 at 6:00 p.m.
This event is slated to have about 100 colleges, universities, companies, and military recruiters available for students of all ages and grade levels, their families, and the general public to begin successfully planning their post-secondary future.
A few key components of this fair include onsite sessions and support with the completion of the Dallas County Promise application, Common Black App vouchers for district students, and the FASFA completion to secure funding for post-secondary education endeavors.
"We will highlight programs and workshops such as the Dallas County Promise programs which is a four-step tuition assistance, coaching and one that helps students and their families navigate the college process," said Robin Johnson Ford, DeSoto ISD Advanced Academics director.
In addition to engaging with college recruiters onsite, DeSoto High School seniors will also be able to obtain vouchers from their campus counselors to complete the Common Black College Application which waives fees for students to complete college applications to 75 historically black colleges and universities.
The community is invited to attend this fair to be held at the DHS Academy Cafeteria entrance.
About DeSoto Independent School District
DeSoto ISD is a public independent school district serving more than 6,300 students and 800 employees. The district comprises 11 campuses serving students from early childhood through graduation. DeSoto ISD's mission is to ensure students, without exception, learn and grow at their highest levels. The District's 2021 Be The Future Strategic Plan focuses on equity, access, and excellence in an effort to provide a holistic and well-rounded educational experience to students and families in DeSoto, Glenn Heights, and Ovilla.
For more information about DeSoto ISD, visit www.desotoisd.org.