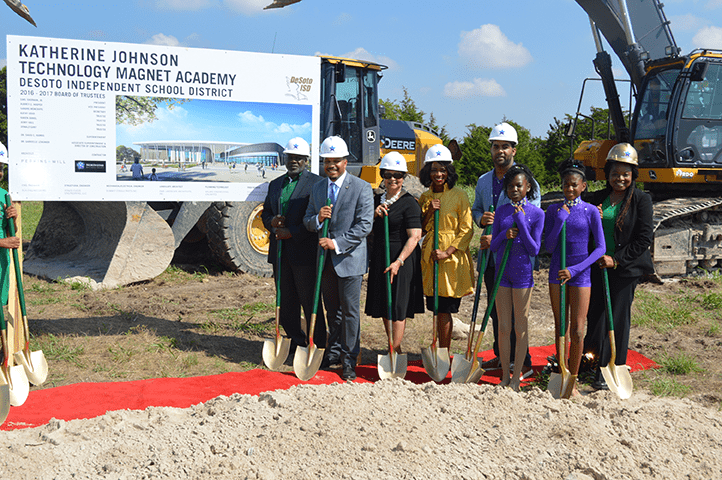 DESOTO—School district and municipal officials gathered Monday to break ground on the newest elementary campus in DeSoto.
DeSoto Independent School District Superintendent of Schools Dr. David Harris was joined by School Board President Carl Sherman Jr. Including other members of the DeSoto ISD Board of Trustees: Karen Daniel, Kathy Goad, Aubrey C. Hooper and Sandre Moncriffe. As well as city officials including Mayor Curtistene Smith McCowan and Mayor Pro Tem Rachel Proctor.
"What an exciting day for DeSoto ISD, the City of DeSoto and the entire southwest region. The Katherine Johnson Technology Magnet Academy is a testament to DeSoto ISD's vision and commitment to address the increasing need for innovation and leaving no stone unturned when preparing our students to compete globally in the 21st century," said Mayor Curtistene McCowan. "In any community, the quality of our schools makes a difference. The addition of an elementary technology academy in DeSoto will also help drive the economic development by strengthening the city's position in the recruitment and retention of businesses in DeSoto."
Katherine Johnson Technology Magnet Academy, scheduled to open August 2018, will accommodate 900 students in grades K-5. The planned 115, 228 sq. ft., two-story building is part of the DeSoto ISD 2005 Bond Program. The state-of-the-art building will be environmentally-friendly and energy-conservative.
Katherine Johnson Technology Magnet Academy Is A 21st Century Campus
"The vision you are about to participate in has been a long time coming. This will not only alleviate crowding at our schools but will put us on the cutting edge of technology here in DeSoto," said Superintendent Dr. David Harris.
DeSoto ISD is a public independent school district serving more than 9,800 students and 1,200 employees. The district is comprised of 12 campuses serving students and families in DeSoto, Glenn Heights and Ovilla.
"As you look around, there is an even bigger vision even for what's happening here now. If you look at the site where the school is being built, we are hoping this becomes a community school," said Harris. "As the City of DeSoto continues to improve and develop Meadow Creek Park, we expect this area to look very different in a few years and we are excited about that. DeSoto ISD and the City of DeSoto are committed to working together to develop this area."
The Johnson Tech Magnet Academy is being developed with a progressive design concept that re-imagines educational facilities in a manner that supports the innovative learning and instructional practices necessary for 21st century, future-focused education.
"We've spent countless hours planning the features for the Katherine Johnson Technology Magnet Academy which include a robotics lab and spaces in which students can learn coding, digital music and digital arts," said Assoc. Supt. Dr. Gabrielle Lemonier. "We are excited about the possibilities, we are excited about the future and we believe the sky is the limit for our students."
With a focus on technology, The Johnson Tech Magnet Academy will provide opportunities for students to engage in project-based, collaborative learning with opportunities for STEM, robotics and coding.
"The attention to detail and progressive design put into planning this building gives us confidence in knowing that this building will maintain its luster for decades to come. Because we have held on to our commitment to provide magnet level offerings at every level at every campus, DeSoto ISD continues to grow," said Board President Carl Sherman Jr.
The Life of Katherine Johnson
The Johnson Tech Magnet Academy is named in honor of one of the first African American mathematicians employed by the National Advisory Committee for Aeronautics (NACA) in Hampton, Va. (NACA) which later became the National Aeronautics and Space Administration (NASA) in the 1950s.
On Nov. 24, 2015, Katherine Johnson was awarded the Presidential Medal of Freedom, the highest civilian honor, from President Barack Obama, who said "With her razor-sharp mathematical mind, Katherine G. Johnson helped broaden the scope of space travel, charting new frontiers for humanity's exploration of space, and creating new possibilities for all humankind.
From sending the first American to space to the first moon landing, she played a critical role in many of NASA's most important milestones. Katherine G. Johnson refused to be limited by society's expectations of her gender and race while expanding the boundaries of humanity's reach."
"Think of your typical elementary school. Throw it out of the window. What we've done here is create a completely new school for the city," said Project Manager Dan Holt. "Think of collaboration, robotics, and computer labs. It's nothing like you've seen before."