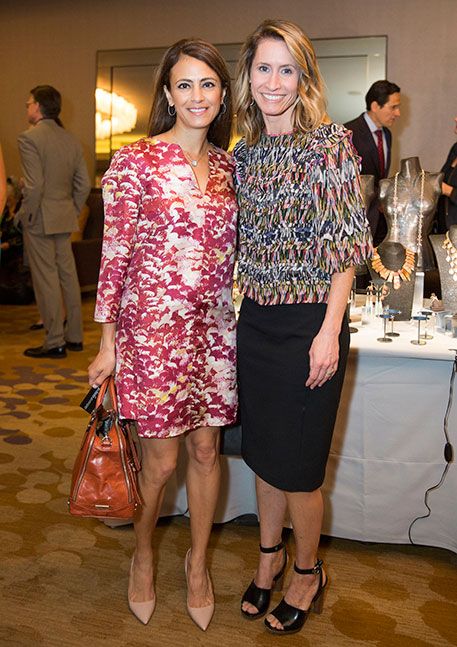 Cherish The Children Luncheon Benefits Dallas CASA
Laura McBride, author of the best-selling debut novel "We Are Called to Rise," told more than 400 guests at Dallas CASA Cherish the Children luncheon April 5 that the way to repair the world is through one act of goodness at a time.
"Somewhere out there a child is going to hurt a little less, feel a little less alone because of you," she told volunteer advocates in the audience. "You are the ones doing the one small good thing first."
Dallas CASA (Court Appointed Special Advocates) provides volunteers for children who have been removed from their homes due to abuse or neglect. Volunteers gather information that helps judges decide where children can safely and permanently live. The Cherish the Children luncheon, hosted by the Dallas CASA Children's Council, annually raises funds and awareness for Dallas CASA. This year's luncheon raised more than $200,000, which will allow Dallas CASA to recruit, train and supervise more volunteers to serve children in need.
The luncheon honoree was Caroline Rose Hunt, and event chair was Erin Pope. In addition to McBride, luncheon attendees heard from Jenny Reynolds, a CASA volunteer advocate and Dallas CASA Children's Council president.
Small Acts Can Transform
Reynolds told the guests that small acts have achieved transformative change for children she's served. One little girl Reynolds worked with was living with a foster family after being removed from her home due to her mother's drug abuse. When Reynolds visited her, the child told her how stressed the court proceedings were making her.­­
"She was curled up in a ball on the floor and told me she wanted the judge to hurry up and make a decision," Reynolds said. "In mediation, I was able to use the child's words about how she wanted a decision made on where she would live as soon as possible."
Ultimately, the girl's mother, still battling drug addiction, agreed to allow the child to be adopted by her foster family. Today, she makes straight A's, plays select soccer, has many friends on her street and is saving money to buy a pet iguana.
"It's a privilege for me to give a voice to children like her," Reynolds said. "Being a CASA has truly been a blessing to me as much as the kids."
We Are Called To Rise- Laura McBride
The title of McBride's book comes from an Emily Dickinson poem that begins "We never know how high we are until we are called to rise." In her novel, the unifying narrator, a CASA volunteer, brings together a soldier, an immigrant child and a recently divorced mother in a way that surprises everyone. To McBride, the story's conclusion comes as no surprise based on her worldview.
"Great terror can result from 1,000 small choices," she said. "But just the same, great good can come from 1,000 small acts. You are part of something so much bigger than it appears. Our goal is not to solve the world's problems but to tip the scale a little in the right direction every day."
Dallas CASA Needs More Volunteers & Funds
In addition to the guest speaker, the luncheon featured an auction of artfully-designed, one-of-a-kind children's chairs and furnishings.
On an average day in Dallas, more than 2,000 abused and neglected children live in foster care because they cannot safely live at home. Only about two out of five of those children have a Dallas CASA volunteer who can speak for them. Funds from the luncheon will allow Dallas CASA to recruit, train and supervise more volunteers to serve more children.
The following individuals, retailers and manufacturers designed handmade children's chairs and furniture to be auctioned at the luncheon: Allison Curry, Allison Curry Interiors; Creative Room Arrangements; Kay Dalton; Casey Green; Fossil; Gaston Made; Jill Tate and Janine Townes, Go Light the World; Chelsea Green; Blake McElroy; Nancy Newbern, Rare Assets, Inc.; Cachet Petty; Amy Bailey; Phelan's; Tori Pendergrass, Pigment School of the Arts; Teresa Rowe; and Shannon Rae Interiors.