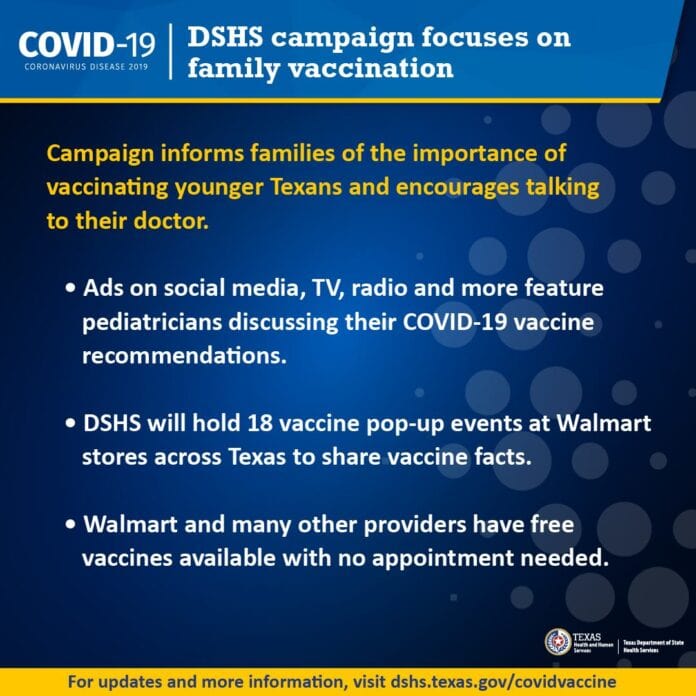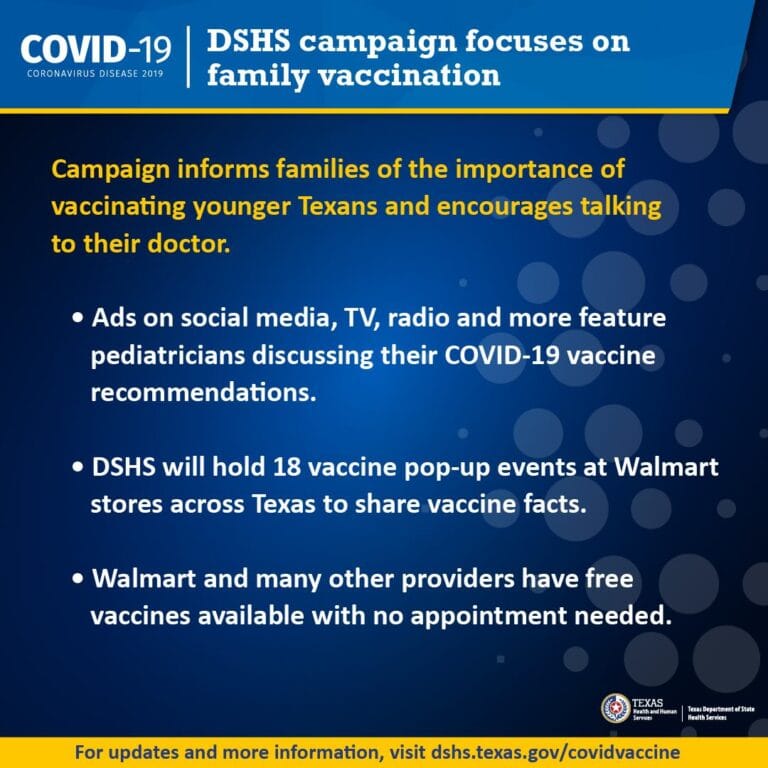 Delta Variant Leads To Rise In COVID-19 Cases Across Texas
Health officials in Texas are urging Texans to get vaccinated to prevent another spike in COVID cases. COVID-19 cases and hospitalizations are currently on the rise in Texas, so the Texas Department of State Health Services is again hitting the road to promote vaccination. DSHS will hold 18 pop-up events at Walmart locations across the state to talk with parents and families about the importance of vaccination for younger Texans as they prepare for next school year and as the Delta variant spreads more widely in Texas.
Older adults at the greatest risk of hospitalization and death from COVID-19 have overwhelmingly been vaccinated. However, younger age groups have been slower to get vaccinated. Three-quarters of Texans 65 and older are now fully vaccinated, compared with 40 percent of those ages 18 to 34, and just 26 percent among ages 12 to 17.
Hospitalizations Are Rising
"Hospitalizations for COVID-19 are now rising across all age groups. While fewer young people get very sick, they can get and spread the virus, and we are still learning about the long-term effects," said Dr. John Hellerstedt, DSHS commissioner. "Tens of millions of people have been vaccinated with no ill effects. We know these vaccines are not only safe but also very effective. Achieving higher vaccination rates is essential to eliminating the threat of COVID from our communities."
Cases and hospitalizations are increasing as data indicates the Delta variant now accounts for most new COVID-19 infections in Texas. The variant spreads more easily and may cause more severe disease.
The DSHS summer pop-ups will last for four hours each day beginning this evening in Killeen. Next up are stops in Waco, Tyler and Beaumont through the weekend and they will travel around the state through the first week of August. The events feature a 16-foot video wall showing vaccine facts and messages from local spokespeople. Plus they'll have attractions like a "Take the Shot" basketball game and free frozen treats. Walmart is offering free COVID-19 vaccines at all its pharmacy locations with no appointment needed.
DSHS is also launching a new television ad featuring pediatricians Dr. Ryan Van Ramshorst and Dr. Haydee Rimer addressing the vaccine's safety and importance for children.