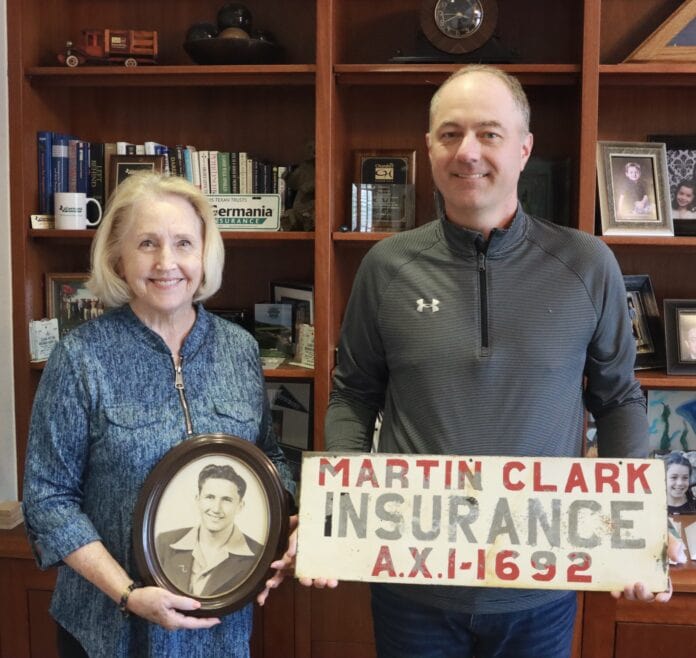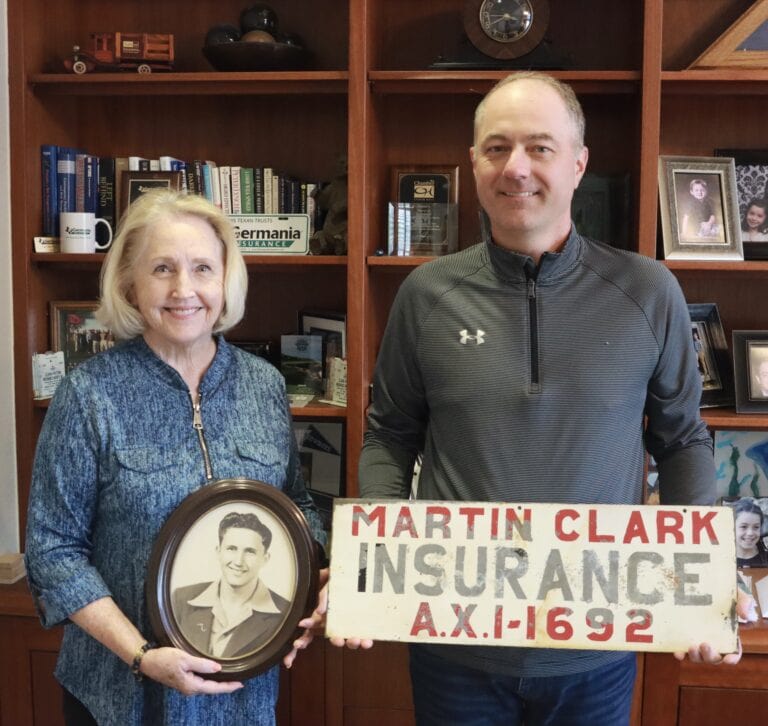 Longhorns At Heart
(CEDAR HILL, TEXAS) The Clark-Patton Family of Cedar Hill is proud of its three generations of Cedar Hill High School Graduates.
In actuality, there's one Dogie (Martin Clark – Class of 1942) and three Longhorns (Linda Clark Patton – Class of 1962), Jennifer Patton (Class of 1989) and Jay Patton (Class of 1992). Linda and Jay are current Cedar Hill citizens and Jennifer lives in Houston where she works in Pharmaceutical Sales.
"Our life is here in Cedar Hill – where else would we go?," Linda said.
The family's roots extend to the beginning of the 20th Century in Cedar Hill, and Jay is the current owner of Clark Patton Insurance Company, founded in 1954 and the oldest business in Cedar Hill. Clark, the company's founder, passed away in 1996.
Clark started the company in 1954 on US Highway 67, with his wife, Marietta Clark, working as the company's first secretary. Since 2005, they've been in their fourth location, on Straus Road in Cedar Hill.
"I still have some of my grandfather's clients," Jay said. "We have customers who have been with us since the beginning. They're in their 90s now. Former Cedar Hill ISD Superintendent/Cedar Hill Mayor WS Permenter was a customer. We help and protect the community to make sure people are properly covered and insured."
Clark, the son of tenant farmers near the Cedar Hill/Midlothian border, graduated in a class of 10 at Cedar Hill High. He was the Class President in 1941-42 – a position his oldest daughter, Linda, would hold two decades later.
The year after he graduated high school, Clark was drafted into World War II.
Linda was born three weeks before D-Day in the spring of 1944, but the family did not know where in the European Theatre that Clark was located.
It turns out he wasn't in D-Day, but he was later in the Battle of the Bulge that winter. The family received a letter saying Clark was alive and recovering in a British hospital. The doctors had to remove one of his lungs and shrapnel from his legs.
After a lengthy recovery, Clark was presented with two Purple Hearts. He returned home on a train weighing approximately 100 pounds and wouldn't be able to do a physical type of job.
That's what led him into the insurance business.
A Family Business
In the 1970s, Clark welcomed son-in-law, Greg Patton, into the business. Greg grew up in Terrell, but as the saying goes, got to Cedar Hill as fast as he could. He was a Cedar Hill City Council Member for nine years and in 2021, was presented with the City's Lifetime Achievement Award. He was also on the Planning & Zoning Commission, a volunteer Cedar Hill Firefighter and the chair of the Joe Pool Lake Planning Committee.
Linda and Greg Patton have been married for 57 years and have two children and four grandchildren. They met during an Audio/Visual Class at East Texas State University (now, Texas A&M Commerce).
Linda, who was one of 28 graduates in the CHHS Class of 1962, earned a degree in Education and taught in Duncanville, Grand Prairie and Terrell before moving to Cedar Hill in 1972. She is a member of the Texas State Teachers Association and a National PTA Life Membership, and later worked for many years at Clark-Patton Insurance.
Linda ran (and was elected) to the Cedar Hill ISD Board of Trustees in 1990. She would go on to serve twice more over the next 13 years. She said the sheer amount of time and committee associated with being a Trustee is amazing, and something people don't understand until they've done it.
Linda was on the Board when several campuses opened, including Lake Ridge and Waterford Oaks Elementary Schools. She was also one of the Trustees who voted to hire Joey McGuire as Cedar Hill's head football coach in 2003.
Linda was later a long term substitute teacher in Cedar Hill ISD at various elementary and intermediate campuses as well as a founder (and the first director) of the Cedar Hill ISD Education Foundation (CHEF) two decades ago.
She's currently on the Board of the Cedar Hill Museum, which is in a temporary location but will have 2,000 square feet inside the new Cedar Hill Library when it opens.
Jay was an avid cyclist in high school who earned the title of Junior State Champion in 1992 – the year he graduated with approximately 110 scholars at CHHS.
He went to Southwest Texas State University (now, Texas State University) in San Marcos, to study Finance and be part of the Bobcats' Cycling Team. He once rode approximately 130 miles in a single day.
During (and after) college, Jay had no inclination to become the third generation owner of Clark-Patton Insurance. He went to work for Fidelity in Dallas, in various roles.
It was the personal connection and small town feel of Cedar Hill that drew him home to a job that he plans on holding for the rest of his professional life.
He works in an office that has the original typewriter that his grandfather purchased second-hand in 1954 and less than a mile away from the company's original location.
Jay is a former Cedar Hill Chamber of Commerce Board Member and a current member of the Planning & Zoning Commission.
"It's the best place for me to make the biggest difference," Jay said.