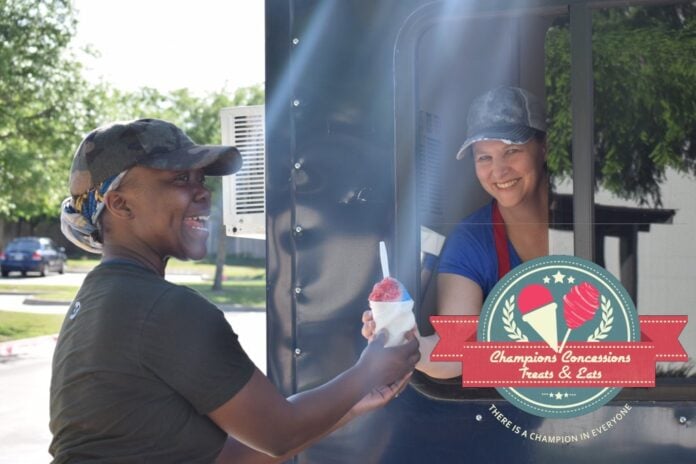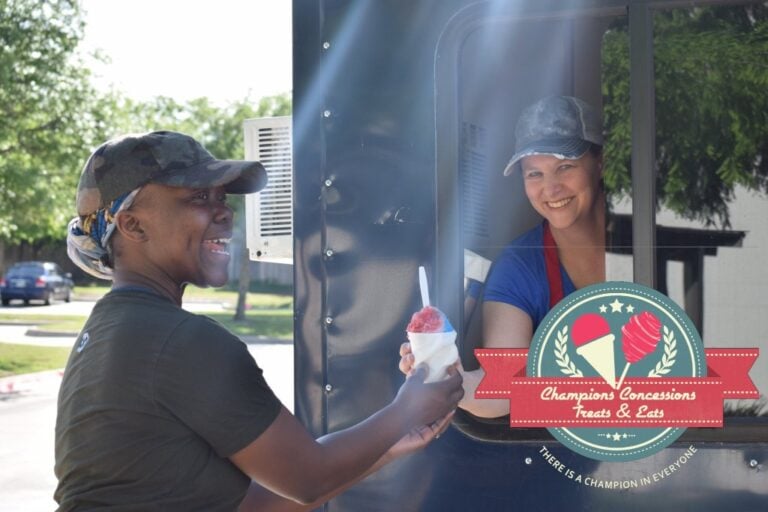 Changing Lives With Shaved Ice and Inspiration
A champion serves and changes lives.
And with each snow cone served by Champions Concessions, Amy Derrick comes closer to changing the life of her daughter Rebekah, as well as others with special needs.
Rebekah, now 10, is battling Potocki-Lupski Syndrome, which she was diagnosed with at age 3. It is a rare condition that results from having a duplication of a small piece of Chromosome 17 in each cell. Nearly half of babies born with this also suffer a heart defect, and many people with PLS have autism spectrum disorder.
Sadly, it is one of several health challenges Rebekah faces in life.
"We were told she was the 51st in the nation with that diagnosis. It often feels like we are behind the 8 ball with no options when it comes to her needs," Amy said. "Rebekah has had problems with her digestive tract that has led to multiple types of medications that she needs to help alleviate her pain, but she rarely complains."
"She was then diagnosed with complex migraines, but would choose to be with people over resting any day. Three years ago, another challenge was added to her little life in the diagnosis of Type 1 diabetes. Yet, she still loves, laughs, plays, and overcomes."
Rebekah was the inspiration for Champions Concessions, which Amy and her husband Michael started in 2019. Though a small snow cone trailer, they have big dreams that one day they will make enough money to help with a breakthrough to fight Rebekah's medical challenges – along with the challenges many others face with health.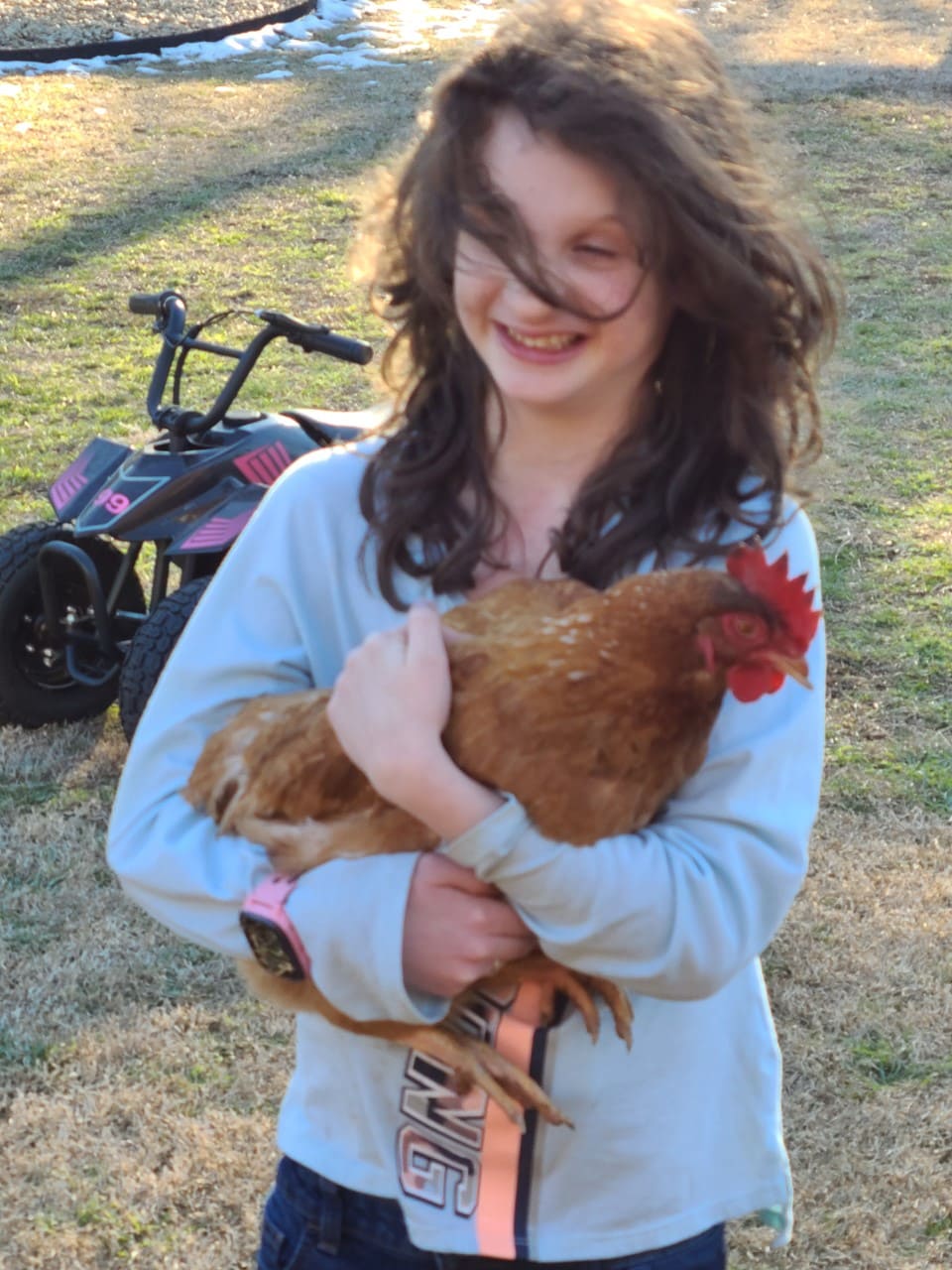 Also, part of Champions Concessions mission includes specializing in employing people with special needs.
"We are a small snow cone trailer that prides ourselves in making the best shaved ice in Cedar Hill and surrounding areas," Amy said. "I came up with the name because I knew that we would be championing for others on many levels. I wanted to be a champion for my daughter. I wanted to be strong for her, advocate for her, uplift her, fight for her. I wanted to bring out the best in the people around us.
"You see, we were knocked down by the multitude of diagnosis, therapies, hospital stays, medical debts, and grief, but we were not defeated. God had a purpose for her beautiful little life and we just needed to be her voice.
"I am blessed to be the mom of a special girl. She was a unique gift from God who has taught me resilience, patience, tenacity, stubbornness, and deep love that is pure."
Despite her struggles, Rebekah, as do many with her condition, sees the world differently.
As a result, to her the world is a wondrous place, Amy said.
This, Amy added, makes her daughter a champion. Likewise for the one employee Champions Concessions currently has (along with the Derrick family), Daniel Echerd.
Daniel overcame an infection of his brain that wiped his memory. Daniel had to re-learn how to walk, talk, eat, read, write, basically everything in life.
"He has done things very well. He is truly a champion," Amy said. "He qualifies for disability, but he made the tough decision to let go of his benefits because he wants to work. He inspires me, and I know he will inspire others."
Changing The Stigma-Opening Doors For Those With Disabilities
"My reason for wanting to hire persons with intellectual or physical disabilities began with my daughter's diagnosis, and the knowledge that finding a job when you have a disability is nearly impossible. Texas Workforce Commission says that eight out of 10 persons with a disability that apply for jobs through them are rejected. I want to change the stigma and open doors of opportunities for those impacted by disabilities to have a voice in our community."
Daniel, now 48, said thanks to Champions, he now feels empowered to help others with challenges – and they have given him that opportunity.
"I wish there had been something like this when I was growing up. I lost a big part of my life," he said, recalling the infection he had as a teenager. "It took me a long time to get back in the workforce. My parents are my champions. They never gave up on me, and neither has Amy.
"Now I want to stand up for people who can't stand up for themselves. Amy had been my friend for years. As I got to work with her and saw her passion for helping people become independent, I wanted to be a part because I see someone who cares.
"Amy is a champion for all of us, not just her daughter, but for everybody. I'm proud to be a part of that."
Ready To Grow With Help Of Community
Remember, Champions is a small business, though they have big growth plans. Along with snow cones, they sell cotton candy, hot dogs, brisket loaded potatoes with all the fixings, and even cotton candy burritos.
"Our snow cones are what we are known for. I do believe that will change, as we just launched cotton candy Burritos, and they are not found anywhere local," Amy said.
Amy said the goal is to open a brick and mortar store. They have a Kickstarter campaign underway to help, https://www.kickstarter.com/projects/champions-amyderrick/be-the-champion-for-champions-concessions-treats-and-eats?ref=project_build.
"The food trailer limits us in staffing due to safety concerns, and we are not able to fulfill the mission of our organization fully as a result," she said. "We have a long way to go to reach our dream, but we can get the word out and hopefully get some traction to this cause."
And when the brick and mortar store becomes a reality, Brittany Lewis plans to be a part of it. At age 33, Brittany is confined to a wheelchair because of a brain aneurysm that paralyzed her left side in 2013.
"I've had a hard time feeling I can contribute something to the world. I'm feeling the need to be needed and appreciated, and Amy provides that," Brittany said. "She took me into her home for several months and helped me learn to cook and do things on my own again.
I'm very excited to be able to be a part of something that can bring that same thing to others, that sense of independence."