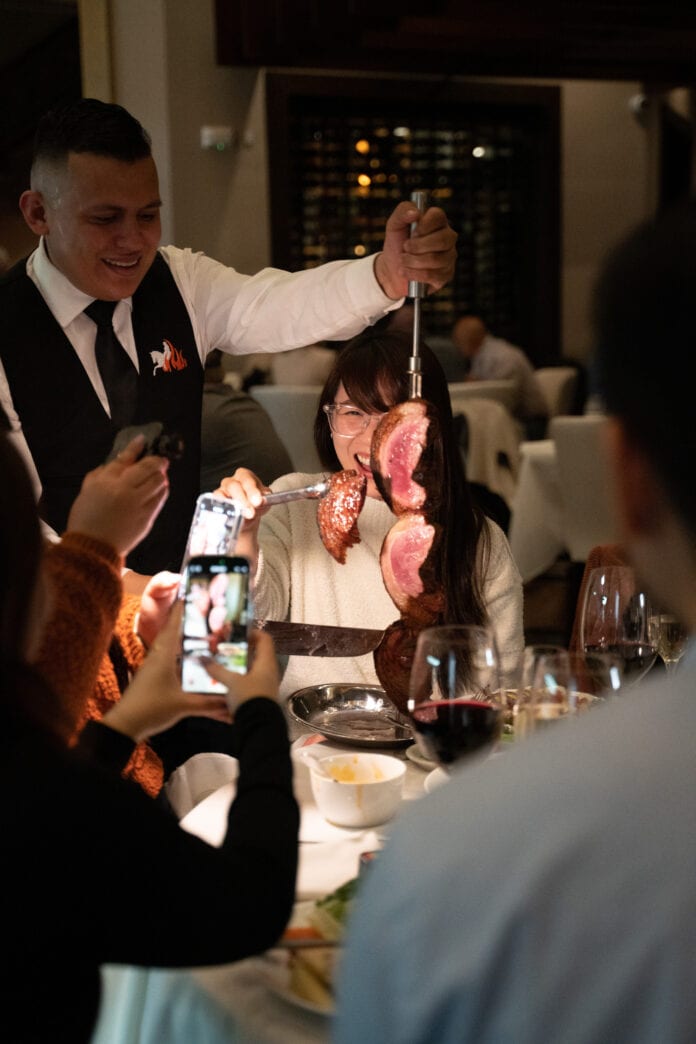 Chama Gaucha recently opened a luxurious new Southern Brazilian Steakhouse and bar in Grapevine, and my husband and I enjoyed a delightful evening there last week. Diners are treated like royalty at Chama Gaucha, with an army of well-trained servers eager to fulfill your every wish.
Would the lady like a cocktail before dinner? Manager Oscar Lopez recommended Caipirinha, the national drink of Brazil, and hurried off to make mine himself.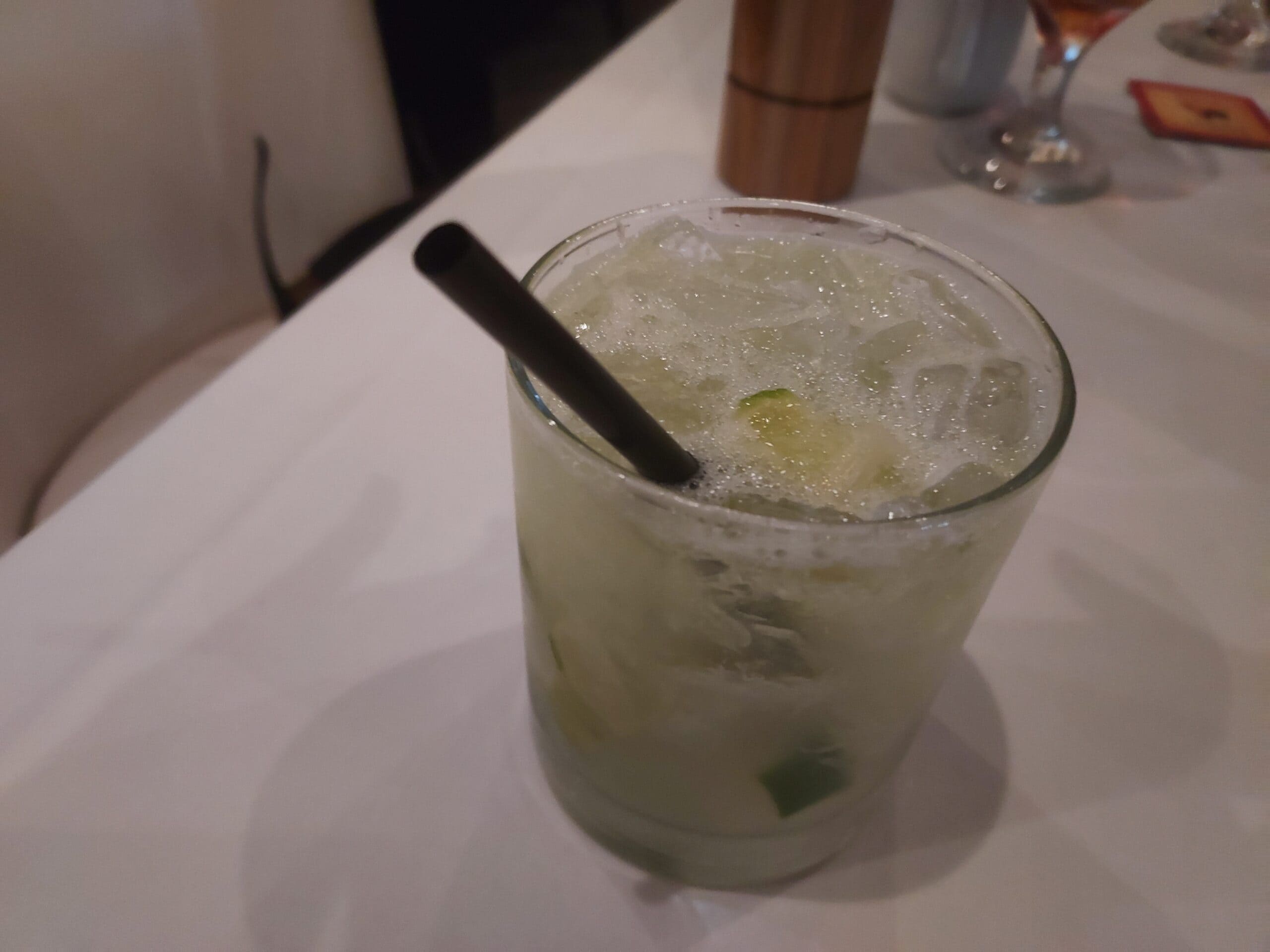 Lopez said, "The traditional flavor is lime, there are lots of flavors available, and they are all delicious. We offer strawberry, passion fruit, mango, coconut, and much more. But the original is made with fresh lime, sugar, and cachaca, a liquor made in Brazil from sugar cane. That is the one I recommend for you to try since it was your first time having a Caipirinha."
The Caipirinha is a perfect summer cocktail, especially in hot weather. It's very light and refreshing but with a definite kick to it. Chama Gaucha also boasts a fine selection of wines.
Chama Gaucha Features Lavish Salad Bar
The lavish salad bar was our next stop. It features an overwhelming variety of delectable-looking cheeses, salads, seafood, and other delicacies. I couldn't resist the cocktail shrimp, sliced salmon, and seafood salad, but there were over 30 items.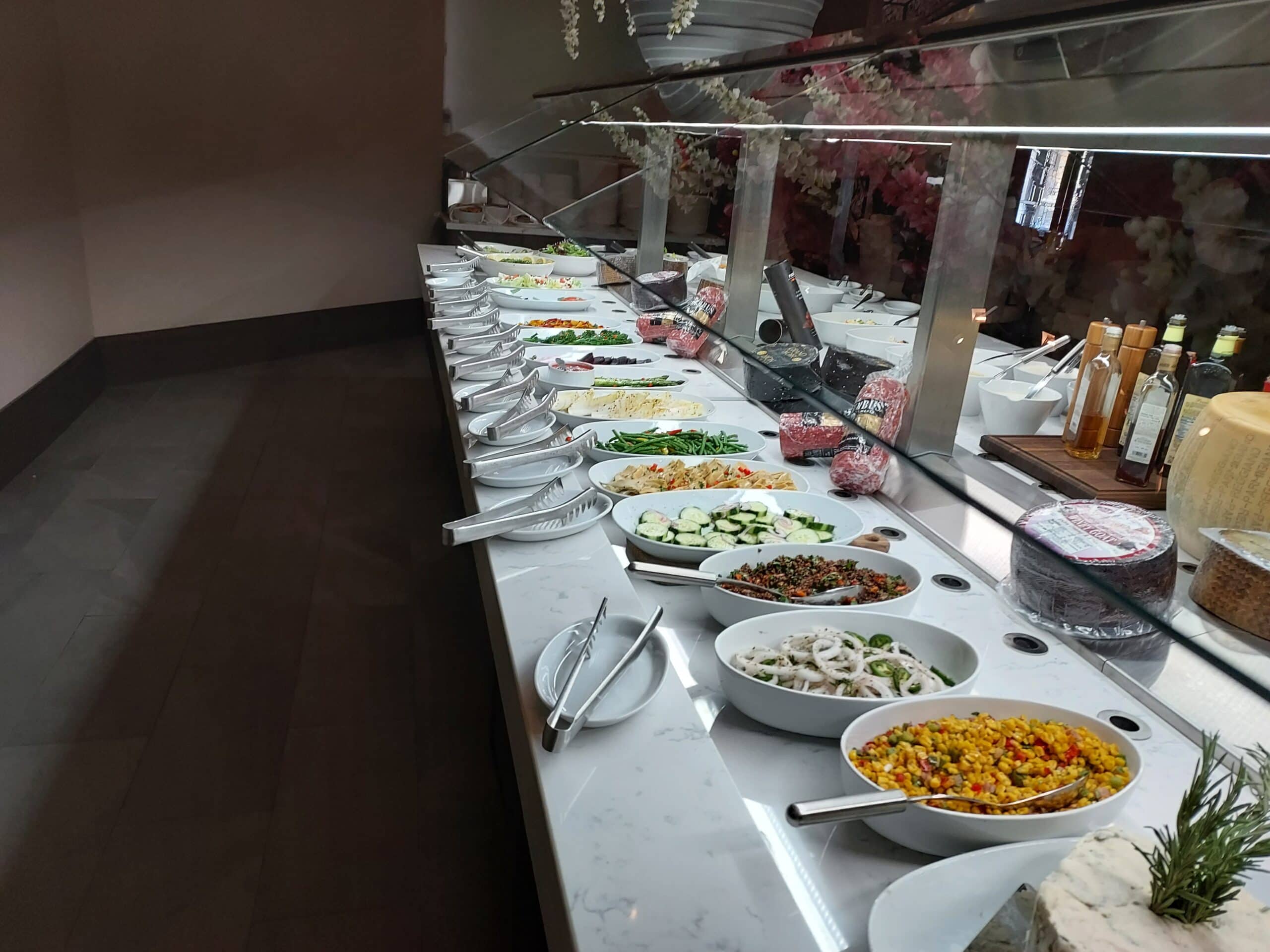 Vegetarians are welcome at Chama Gaucha, and the salad bar offers plenty of options for a fine meal. I had to restrain myself from returning to the salad bar again, knowing there was so much more to come. The salad bar is priced at $37, while the experience with 12 kinds of meat offerings costs $60 a person.
After finishing our salad courses, it was time to bring on the meat. Our server explained that once we turned our red place cards green-side up, gauchos (trained Brazilian chefs) would start bringing succulent meat selections.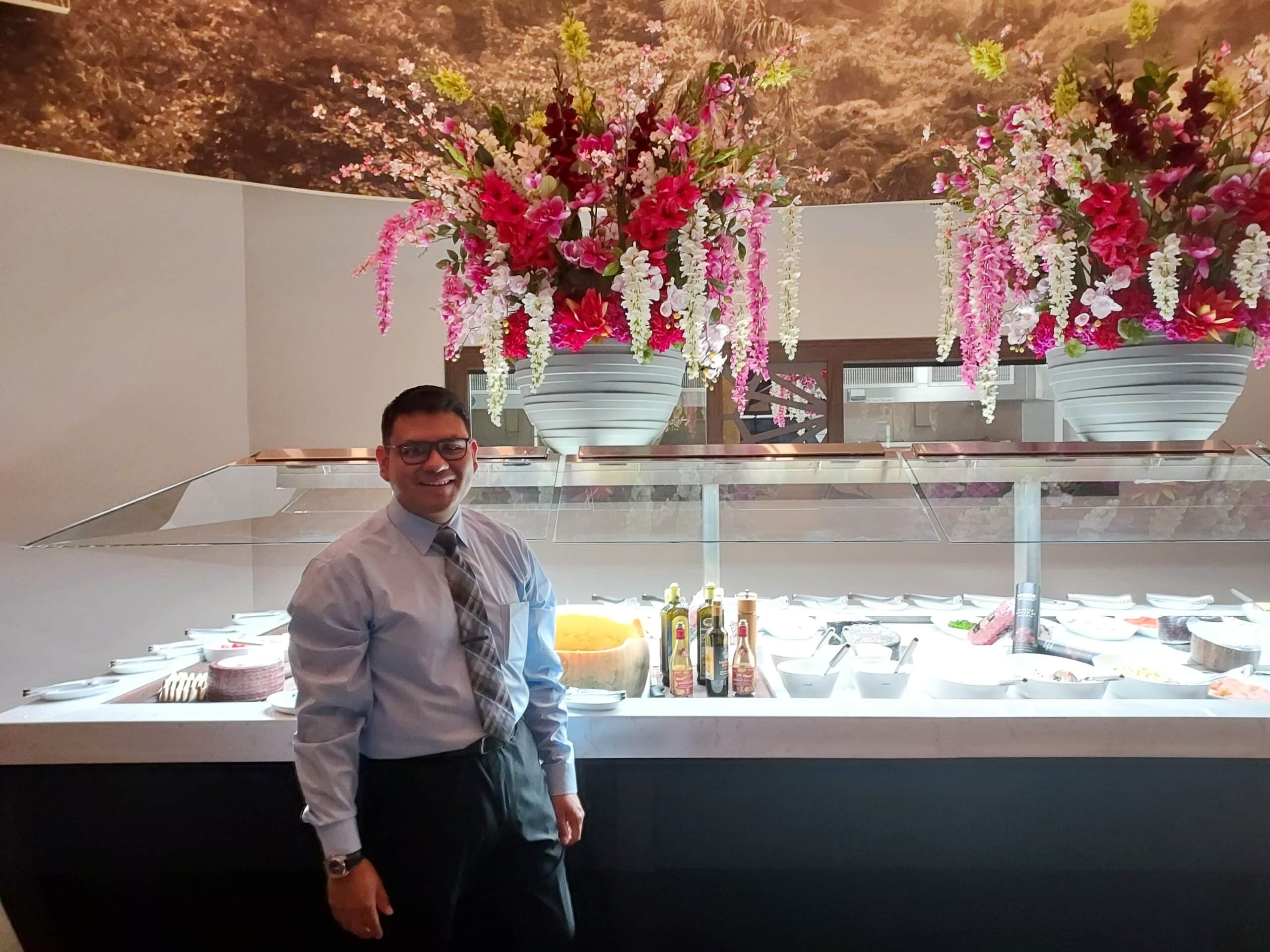 At Chama Gaucha, steak isn't served lying flat on the plate; it's served hot and adeptly seasoned. The gaucho slices the meat from a large skewer, and the diner removes their selection using individual tongs. Want your meat cooked slightly less done, or maybe more done? The gaucho will say yes, of course, and then return with your steak cooked to your specifications. At Chama Gaucha, the customer is always, always right.
Chama Gaucha Features 12 Meat Varieties
Meat varieties include the house specialty, Picanha, which is the prime cut of sirloin. Other meats featured are Ribeye steak; Filet Mignon; Fraldinha (bottom sirloin); Cordeiro (leg or rack of lamb); Filet Mignon e Frango (chicken breast or filet wrapped in bacon); Porco (pork ribs or loins); and Frango e Linguiça (marinated drumsticks or pork sausage).
My favorite items were the bacon-wrapped Filet Mignon and, surprisingly (since I usually wouldn't say I like sausage), the marinated pork sausage. My husband loved the pork ribs and the sirloin. We were also served flavorful side dishes with the meat course, including garlic mashed potatoes, mushrooms marinated in red wine, and fried bananas.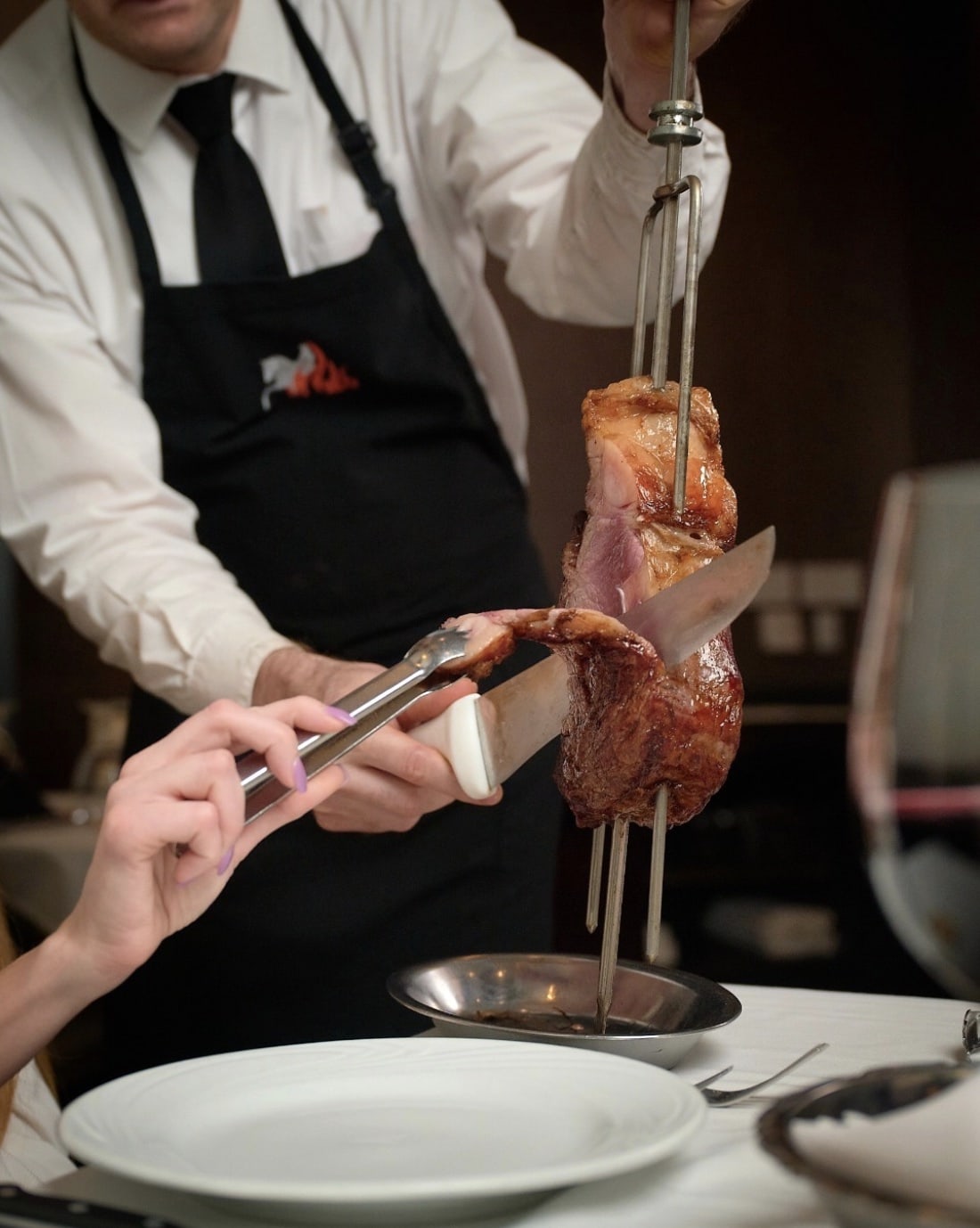 Watching the gauchos and other servers weave their way through the dining room, where every table was now packed, was like watching a ballet without the music. Servers appeared like magic when your tea or water glass needed refilling, even before you noticed it.
House-made Dessert Offerings
Although we were both too full to order dessert, Manager Lopez insisted we try some house specialties. My husband chose a Crème Brulee while I ordered the chocolate mousse cake. Thankfully, they kindly boxed them for us to take home and enjoy later that evening.
We will definitely make reservations at Chama Gaucha the next time we need to feel pampered. That's hard to find in this post-pandemic era, where many restaurants still struggle to find enough trained employees. I guess that Chama Gaucha's owners and managers realize it's essential to treat their employees the way they do their customers—like royalty!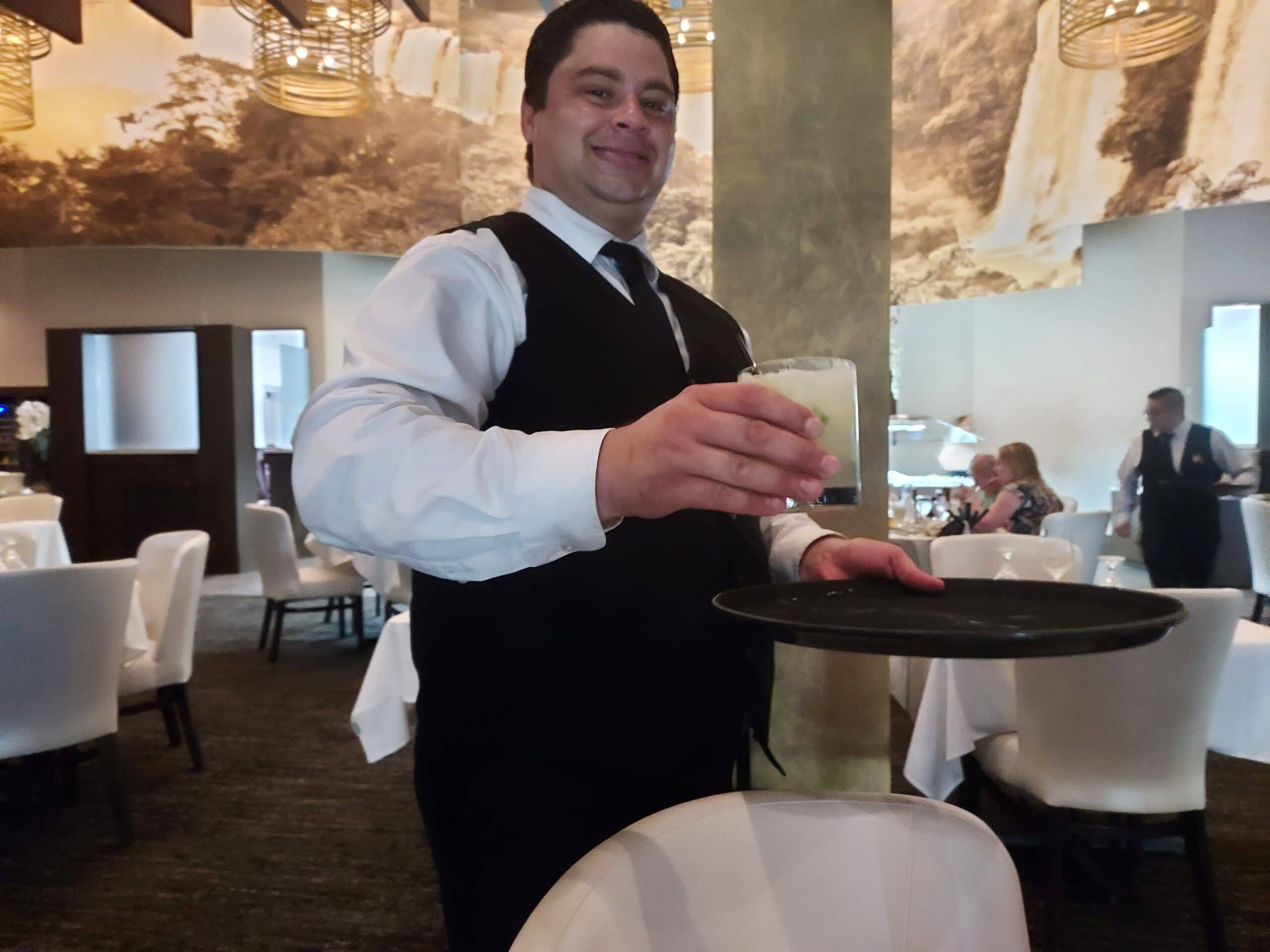 Chama Gaucha in Grapevine is in a beautiful new building at 4025 William D. Tate Blvd. They open at 5 p.m. daily; for more information, please visit chamagaucha.com.