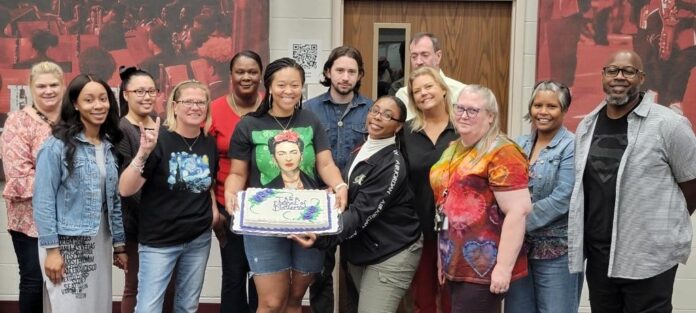 (CEDAR HILL, TEXAS) The Texas Art Education Association (TAEA) has determined that Cedar Hill ISD has an exceptional Art program. More than 1,200 school districts apply for the TAEA District of Distinction Award, but only 68 districts (5.5 percent) receive the honor. Cedar Hill ISD will be recognized at the TAEA's annual conference on November 17 in Allen.
"Cedar Hill ISD has set a high standard for visual arts advocacy, integrated visual arts curriculum, encouraged creativity, community participation and student growth," said Sandra Newton, Chair of the Visual Art Administrators of Texas, a division of TAEA. "It is a true testament to CHISD's visual art educators' skill, dedication and flexibility that the quality of their programs continues to provide strong and comprehensive visual art educational experiences to students."
This is CHISD's first time receiving this prestigious honor from the leading advocate of visual arts in Texas.
"This is awesome – I don't know how else to say it," said Cedar Hill High School Art Team Lead Danielle Grays-Johnson, who is proud of her fellow CHHS Art Teachers Jenny Winfield and Brittany Sallier, and all of the Art Scholars. "This may be our first year, but we plan on continuing to be a TAEA District of Distinction.
Cedar Hill ISD Director of Fine Arts/Bands Derrick Walker encouraged Grays-Johnson and her team to seek the distinguished honor.
"I'm so very proud of this team," Walker said. "We set a two year goal last year to get it, and we got it on the first try. It really goes to show that we have remarkable fine arts educators in our district. Now more than ever, we need the community's support to keep them."
TAEA requires a wide variety of criteria to earn the District of Distinction honor, with a 14-point rubric that included an Art Day, community service, field trips and community investment.
"The District of Distinction has pushed us to do more in terms of competition and showcasing our kids' artwork," Grays-Johnson said.
Ultimately, the TAEA must find that a deserving district is "providing a well-rounded education that advocates and integrates visual arts curriculum to inspire creativity and build social emotional learning that connects learners to their community and beyond."