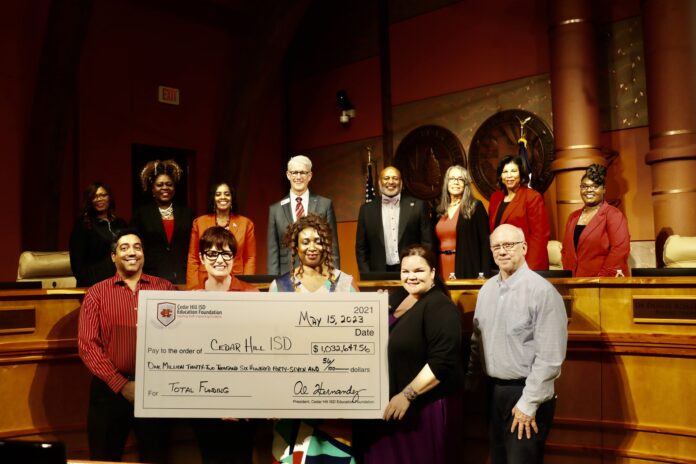 Brief History of CHEF
CHEF just passed a tasty milestone.
The Cedar Hill Education Foundation has now raised over $1 million in just over two decades of history.
"Surpassing the one million dollar mark is a testament to Executive Director (Denise) Root and the various members who have served on the CHEF board over the years, as well as the Cedar Hill and area businesses, citizens, and district employees who have donated to CHEF over the years," said Cedar Hill ISD spokesperson Michael Sudhalter. "CHEF will only continue to grow and develop as the years continue."
CHEF was started shortly after the turn of the century, and the first director was a well-known Cedar Hill citizen named Linda Patton, owner of Clark-Patton Insurance. She drew great praise in starting the program, and then Root came along in 2010.
Root, also a long-time Cedar Hill resident, brought with her a history of being a prolific fundraiser from her time at Northwood University when Northwood had a campus in Cedar Hill. Then, in 2020, CHEF and the school district entered into an agreement on a memorandum of understanding that made Root and all future CHEF executive directors an employee of CHISD.
Root is a staff of one, but she has a volunteer board headed by current president, Al Hernandez. Root is also a member of the CHISD communications team, which consists of six people collaborating on projects together.
Focusing On CHEF's Mission
CHEF's mission is to support the scholars, teachers, and staff of CHISD. Among the work they do is presenting scholarships to graduating seniors and grants to teachers for materials, equipment, and programs. Through collaboration with several businesses, CHEF can raise money.
The new Jersey Mike's location in Cedar Hill recently provided CHEF with a $2,648 check. Also, Trinity Church donated $10,000.
While just about every district in Texas has an education foundation, some are more successful than others. Sudhalter noted it is important to have CHEF because scholarship dollars help scholars.
For example, the Evangeline Paige Sudhalter Memorial Scholarship is part of CHEF. Regarding the teacher grants, the community can provide some materials/programs which likely otherwise would be outside the budget.
CHEF also presents checks to the campus Teachers of the Year and District Teachers of the Year at the annual Teacher of the Year Ceremony.
"CHEF is very grateful for the dedicated donors and generous business partners," Root said. "We are here for one reason – to support our scholars and staff, and our partners help us to do that to the best of our abilities."
COVID impacted CHEF's ability to host a lot of its regular events, but it also refocused their goals. For example, during the height of COVID — when schools were not open — CHEF sponsored a school supply drive so scholars could have their materials at home.
Popular Fundraising Events
CHEF is also involved in the annual Back to School Rally, an event that takes place a few days before school starts. They give away backpacks and other supplies.
As an annual fundraiser, CHEF has held a very successful and popular murder mystery event for many years at the home of one of its board members. They also recently started "Purses For Purpose," an event where attendees play bingo, with the winners being awarded high-end purses with other high-end purses raffled away – also a popular event.
For the CHISD employees, there's something called "Longhorn Partner." CHISD employees agree to donate at least $96 per year (or $8 per month) to CHEF's Longhorn Partner. They receive a CHEF golf shirt and they're encouraged to wear that (and blue jeans) on the third Thursday of the month (Longhorn Partner Day).
"CHEF is an integral part of our Cedar Hill ISD Community," said CHISD Superintendent Dr. Gerald Hudson. "Our district is better today because of those who had the foresight to start CHEF more than two decades ago and to those who helped it continue to thrive."