Broadway Dallas High School Musical Theatre Awards (HSMTA) honor student performers from 72 North Texas high schools. Denton Guyer High School won Outstanding Musical for their production of "Anastasia" at the HSMTA June 3 at the Music Hall at Fair Park. Corbin Ross of Guyer HS, who played Dmitri in "Anastasia," was named Outstanding Lead Performer. Fabiola Caraballo Quijada from Tyler Legacy HS was also named an Outstanding Lead Performer.
Best Southwest schools that were nominated for awards in several categories included Cedar Hill HS, Grand Prairie Fine Arts Academy, Midlothian Heritage HS, and Waxahachie HS. The Cedar Hill HS ensemble from "Beauty and the Beast" was named Outstanding Ensemble, and Grand Prairie Fine arts Academy was honored for Outstanding Costume Design for their "Chicago: Teen Edition."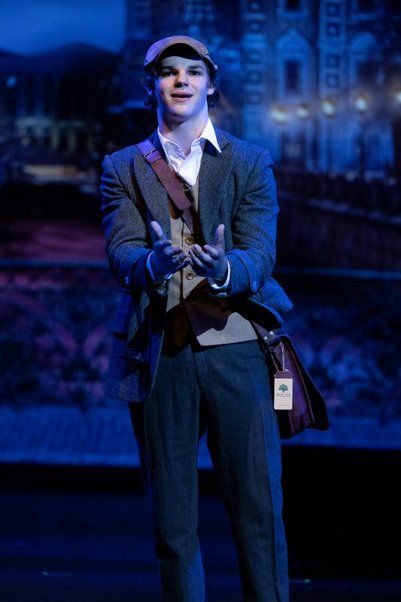 The 12th annual HSMTA ceremony was hosted by Broadway veteran Major Attaway at the Music Hall at Fair Park. He is the longest running Broadway "Genie" with over 1500 performances in Disney's Aladdin from 2017-2020.The event featured performances by nominated students and shows, along with scholarship presentations.
Broadway Dallas HSMTA
The Broadway Dallas HSMTA aim to inspire and honor excellence in high school musical theater, and to recognize the importance of musical theater and arts education within the North Texas community. This regional program culminates at the Music Hall with an awards ceremony, modeled after the Tony Awards®, to recognize outstanding musical theater productions and students.
A total of 74 productions from 72 participating high schools were evaluated by qualified judges from the North Texas theater community. Awards were presented in 14 categories and scholarships were awarded to outstanding graduating seniors who were nominated by their teachers and selected by the Broadway Dallas scholarship panel. Through funds raised by private donations, Broadway Dallas HSMTA awarded $60,000 in scholarships to continue to foster the great talent North Texas has to offer. The Broadway Dallas HSMTA College Scholarship program has awarded more than $500,000 in cash scholarships to deserving students to date.
Award-winning producer, writer, and founding artistic director for the Bishop Arts Theatre Center, Teresa Coleman Wash, received the 2023 Fullinwider Award in honor of her accomplishments. Wash is a National Arts Strategies fellow and recipient of several prestigious awards. They include the Theater Communications Group's Peter Zeisler Memorial Award for Artistic Integrity and Ingenuity in 2019, the Irma P. Hall Theatrical Excellence Medal in 2020, and the Dallas Black Chamber of Commerce' Quest for Success Award.
The Fullinwider Award is presented to artists with roots in the North Texas community who have gone on to have significant impact on the local, regional, and national theater communities. The award is named for Leah and Jerry Fullinwider, the founding donors of the Broadway Dallas High School Musical Theater Awards.
More HSMTA Awards
Other HSMTA awards include: OUTSTANDING DIRECTION-Liberty Christian School, Fiddler on the Roof; OUTSTANDING MUSIC DIRECTION-Byron Nelson High School – Rodgers and Hammerstein's Cinderella; OUTSTANDING CHOREOGRAPHY-Fort Worth Academy of Fine Arts – Oklahoma! OUTSTANDING ORCHESTRA (Tie)-Booker T. Washington High School for the Performing and Visual Arts – The Wiz and Carroll Senior High School – Footloose; OUTSTANDING SCENIC DESIGN: Lebanon Trail HS – Little Women; Outstanding Lighting Design – Keller Central HS – The Music Man. OUTSTANDING TECHNICAL CREW & EXECUTION-Southwest Christian School –42nd Street.
Other award winners include Outstanding Supporting Performer – Lyric Patino – Rock Hill High School -The Little Mermaid; and Mia Jacob -Fort Worth Academy of Fine Arts -Oklahoma!; Outstanding Featured Performer: Francine Parcero – Rowlett HS Zombie Prom; and Ray Eguia, North Forney HS Sister Act. Broadway Dallas Spirit Award went to Lorenzo Perez, All Saints' Episcopal School, Big Fish; and Katelyn Quintanilla, Frenship HS Sweeney Todd School Edition.
Dallas Summer Musicals changed its name to Broadway Dallas in 2022. Since 1941, the nonprofit Broadway Dallas has presented the Best of Broadway to North Texas audiences. Located in the historic Music Hall at Fair Park, Broadway Dallas promotes excellence in live musical theatre with year -round performances for diverse audiences of all ages, impacting the lives of children and families through education and community outreach programs, while enriching the cultural landscape of North Texas and the Southwest Region.
Broadway Dallas gratefully acknowledges the support of our season sponsors, annual fund donors and corporate partners Germania Insurance, American Airlines, Texas Instruments, The Dallas Morning News, and WFAA TV Channel 8. For more information about Broadway Dallas, visit our website at BroadwayDallas.org.