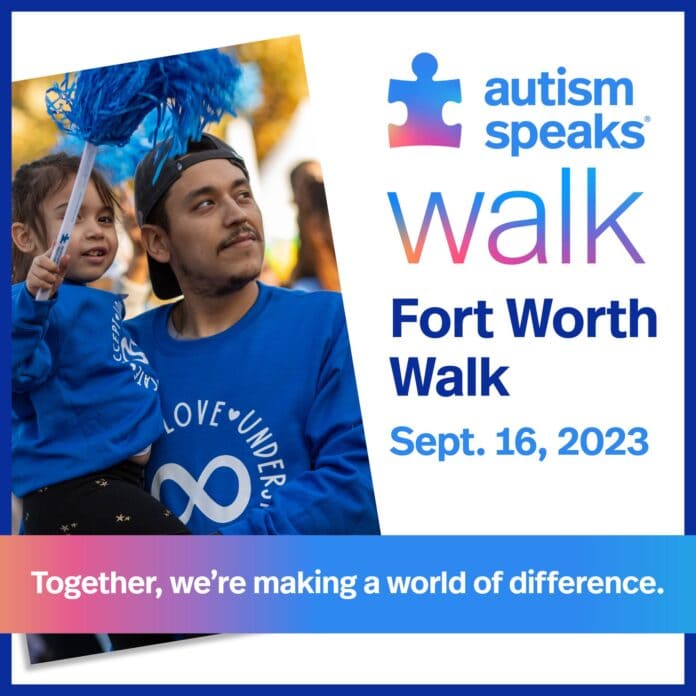 FORT WORTH, Texas (Sept. 13, 2023) — Autism Speaks will host its walk in Cowtown on Saturday, Sept. 16, from 8 a.m. until noon at Texas Christian University's Kelly Lawn
Located between the Kelly Alumni and Visitors Center and the Amon G. Carter stadium, the event is free of charge. Check-in and registration will open at 8 a.m., and a Mission Moment will take place at 9 a.m. While the Fort Worth Walk will start at 9:15 a.m., attendees can also enjoy a selfie station, Lego toys, a bubble wand station, temporary tattoos and LED light keychains beginning at 10 a.m.
The Autism Speaks Walk brings together people with autism and all who support them. Eighty-nine percent of all funds will go directly into impactful programs and services for people with autism, especially those in underserved areas, while the rest will help fuel innovative research and make connections to critical lifelong supports and services. In addition to fundraising, the vital mission of this walk is to celebrate loved ones with autism, connect with others, share stories and meet local service providers.
"I walk to honor and support those living with autism," said Fort Worth Walk Volunteer Chair Whitley O'Brien. "I walk to help spread awareness and provide helpful information to those who question. I walk in hopes that every person living with autism knows how much they are loved and accepted."
Parking will be available in the garage at 3417 W. Cantey St., directly behind the stadium.
Autism Speaks Walk is still looking for volunteers to help in many ways, such as assisting in set-up and clean-up, greeting participants as they arrive or cheering on walkers at the mid-point water stops. Interested individuals and teams can register to participate, volunteer or donate online
For more details about the Fort Worth Walk and Autism Speaks, visit act.autismspeaks.org.
About Autism Speaks
According to the Centers for Disease Control and Prevention, approximately 1 in 36 children in the United States have autism as of 2023. Autism Speaks has aided more than 26 million people through funds from the Walk, which provides resources, research, advocacy and support to meet the needs of those with autism and develop an inclusive environment.
For more information about the Autism Speaks Walk, visit act.autismspeaks.org. To join the conversation on social, follow Autism Speaks on Facebook, Instagram, LinkedIn and Twitter and use #AutismSpeaksWalk. For interview requests, images and more information, contact Maria Krystofik at maria.krystofik@autismspeaks.org or 469.810.1158.