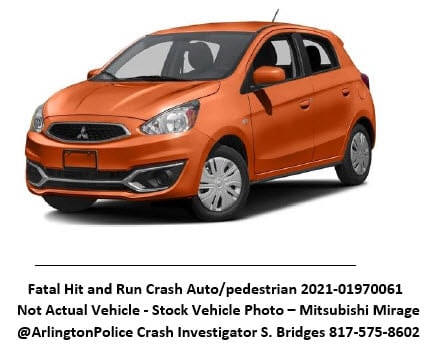 From the Arlington PD: We are looking for any information regarding a Hit and Run Fatality Auto/Pedestrian crash investigation that occurred on Friday July 16, 2021 at 3:30 am. The victim, identified as 29-year-old Jose Ruben Dominguez, was struck by an orange vehicle, possibly a Mitsubishi Mirage. This occurred in the 2100 block of N. Collins Street. The driver never stopped or checked on the victim. The vehicle fled southbound on Collins St.
The suspect vehicle will have damage to the right front bumper and right front quarter panel.
If you have any information about this Fatality Crash investigation, please call Crash Investigator S. Bridges at 817-575-8602 or Sgt. J. Brown at 817-575-8815.
If you wish to remain anonymous, please call Crime Stoppers of Tarrant County at 817-469-8477 (TIPS). Please reference Arlington Police Department report #2021-01970061.
ORIGINAL RELEASE:
Fatal Hit & Run Crash July 16, 2021 Arlington
On Friday, July 16, 2021 at 3:31 a.m., the Arlington Police Department responded to the 2100 block of N. Collins Street reference an unconscious person lying near the roadway. While there was no roadway evidence of a collision, the victim's injuries led investigators to believe the person had been struck by a vehicle. It does not appear the driver of the vehicle stopped to provide medical assistance or notify emergency services. The victim was transported to a local hospital and pronounced deceased.
Investigators continue to pursue leads, including seeking surveillance video from nearby businesses, which may have captured the incident. The department is asking anyone with relevant information to contact Crash Investigator Sean Bridges at 817-575-8604. Tipsters may also remain anonymous by contacting Tarrant County Crime Stoppers at 817-469-TIPS.