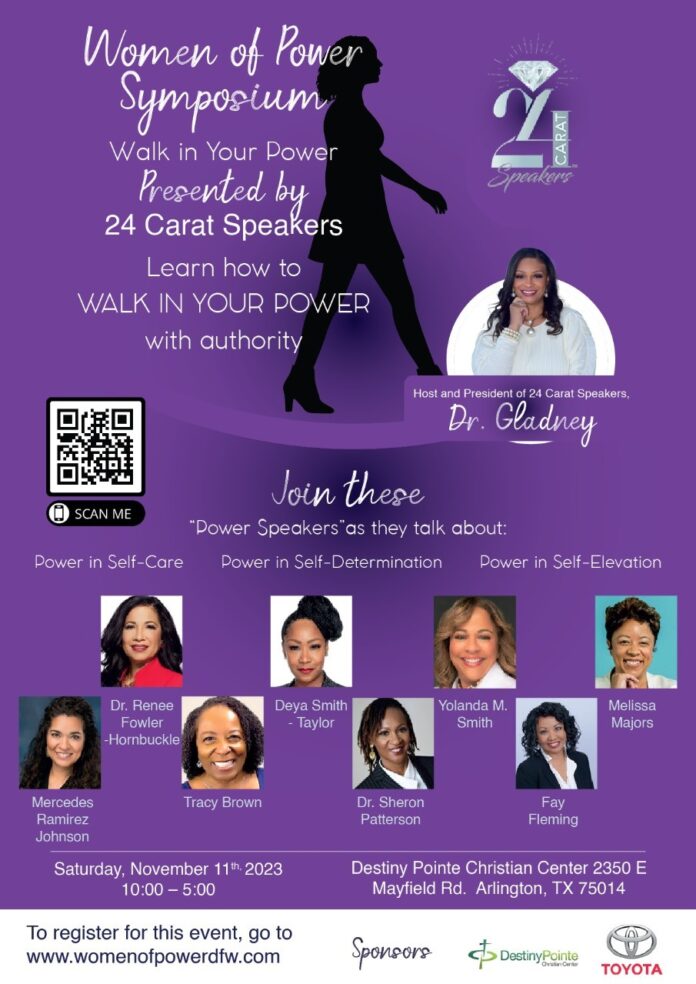 Women from all backgrounds and generations will convene for a day of entrepreneurship, empowerment and elevation.
Dallas, TX (October 31, 2023) – 24 Carat Speakers, an elite speaker's agency located in Dallas, Texas, will host the inaugural "Women of Power Symposium: Walk in Your Power." The event will take place on Saturday, November 11, 2023, at Destiny Pointe Christian Center in Arlington, Texas from 10 a.m. to 5 p.m.
"The Women of Power Symposium: Walk in Your Power" is designed to support and empower women from diverse backgrounds and generations along their path to becoming the best version of themselves," said Dr. Lawana Gladney, founder of 24 Carat Speakers and the Women of Power Symposium. "It will be a full day of candid conversations that will equip women with integral tools for taking their personal and professional lives to the next level."
An empowering and engaging event, the "Women of Power Symposium: Walk in Your Power" will feature inspiring speakers who will share powerful testimonies and strategies for practicing self-determination, self-care and self-elevation. A panel discussion moderated by Dr. Lawana Gladney will showcase insights on entrepreneurship and climbing the corporate ladder. Attendees will also have an opportunity to connect with like-minded women in an open and welcoming environment, while forging meaningful relationships. Additionally, in support of Dress for Success Dallas, an organization that works to empower women to achieve economic independence, attendees are encouraged to bring new or gently used professional attire to be donated to women in their program.
The symposium will showcase a powerful lineup of sessions, topics and esteemed speakers which include:
Power in Self-Determination
Dr. Sheron Patterson, "I am Coming out of this Mess: Moving from Victim to Victor"
Mercedes Johnson, "Surviving Your Worst Day: Go from Surviving to Thriving"
Tracy Brown, "No Permission Required: Learning to Let Go of Fear and Apprehension"
Power in Self-Elevation
Dr. Renee Hornbuckle: "Transform your Confidence for Elevation"
Yolanda Smith, "Resonate to Elevate: Harnessing the Power of Your Personal Brand"
Melissa Majors, "Help Her Thrive: Leadership Strategies for Women's Success"
·
Power in Self-Care
Deya Smith-Taylor, "Soft Power is Self-Care"
Fay Fleming, "The Time to be Powerful is Now"
"Our speakers each have a unique and upbeat style that will keep attendees engaged, inspired, and motivated to take the next steps in their entrepreneur, professional or personal journey."
The "Women of Power Symposium: Walk in Your Power" is sponsored by Toyota and Destiny Pointe Christian Center. Tickets to attend are $125 and include admission to each of the sessions, lunch, snacks and swag bags. Group rates of 10 or more that consist of a 35 percent discount are also available. We also have discounts of 20 percent discount for special groups such as churches, companies, organizations, and sororities. To learn more and to purchase tickets, please visit www.womenofpowerdfw.com.
About 24 Carats Speaker
Founded by Dr. Lawana Gladney, 24 Carats Speakers believe that experts come in all colors and that women bring a unique power to events that cannot be duplicated. The company serves to focus on diversity and inclusion by bridging the gap between gender and color for corporate clients. This focus helps to erase inequities in society and embrace all experts equally while desiring valuable and meaningful content from colorful and powerful women. To learn more, please visit www.24caratspeakers.com.