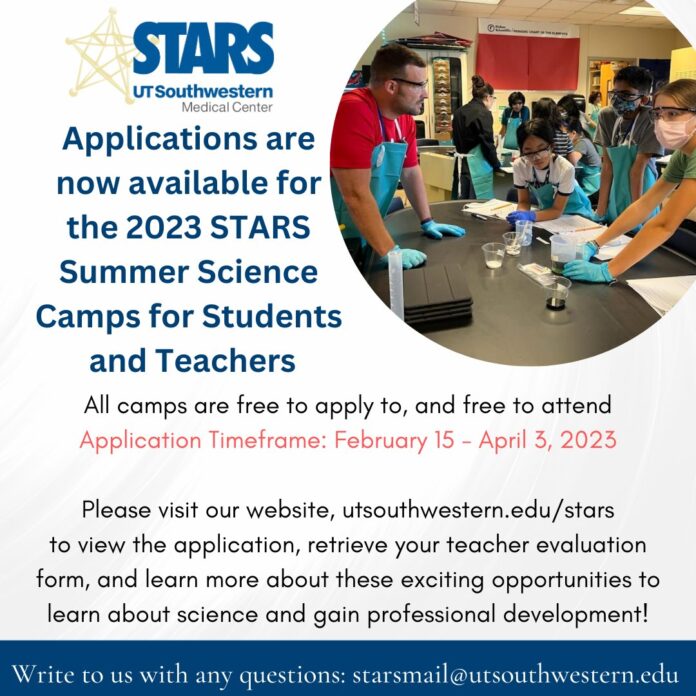 Believe it or not summer is around the corner and it's time to start planning those vacations but more importantly, summer camp. Camps often have limited availability and slots fill quickly, so start doing your homework, er, I mean research now. For middle school students that enjoy science UT Southwestern has STARS science camps.
Would you like to get a head start in learning about the science classes that you will be taking in the Fall? The STARS Science Camps will be offered during the Summer of 2023.
The Middle School Science Camp includes hands-on labs and classroom activities that will cover a large variety of science topics taught by middle school teachers.
The Biology, Chemistry, and Physics Camps are for current 8th, 9th, or 10th grade students who will be taking freshman-level Biology, sophomore-level Chemistry, or junior-level Physics next year. The Anatomy and Physiology Camp is for current 10th or 11th grade students who have not previously taken Anatomy & Physiology.
The camps will be held in-person on our campus at UT Southwestern. A specific location will be provided to those students who are selected to attend each camp. The camps consist of laboratory and classroom activities, and tour lectures by UT Southwestern staff and faculty guest speakers.
Camp Dates
| | | |
| --- | --- | --- |
| Camp | Dates | Requirements |
| Middle School Camp | June 26 – June 30, 2023 | Current 6th and 7th graders |
| Biology Camp | June 6 – June 16, 2023 | Current 8th graders |
| Chemistry Camp | June 21 – June 30, 2023 | Current 9th graders |
| Physics Camp | July 11 – July 21, 2023 | Current 10th graders |
| Anatomy and Physiology | June 6 – June 16, 2023 | Current 10th and 11th graders |
| Biototechnology | July 11 – July 21, 2023 | Current 11th and 12th graders |
Any or all of the following may be considered as positive factors in selecting participants for our camps:
Evidence of strong academic achievement, especially in math and science
Foster youth
Students in the Dallas ISD or neighborhoods surrounding UT Southwestern
Students who qualify for free or reduced lunch
Membership in one or more of the following groups, which are considered underrepresented in the sciences:

Traditionally underrepresented minority students (Alaska Native, Black/African-American, Hispanic/Latino, Native American Indian, Native Pacific Islander)
Students who would be the first in their families to attend college
Applicants with any limitations that place them in an underrepresented group

Students from previous STARS camps
Please note that these are positive factors and not requirements for participation
There is no fee for attending the camps, but attendance every day is mandatory. Please make sure there are no schedule conflicts (vacation, other camps, school events, etc.) that would prohibit attendance.
Source: UT Southwestern website