Kids Got a "Charge" Out of the Jeep Wrangler 4xe
There are times our children are "ho-hum" about vehicles we are provided to test drive. But then there are times they absolutely fall in love with our weekly loan. The 2021 Jeep Wrangler 4xe Rubicon fell into the latter category. We have been talking about an extended road trip to Minnesota for the past two years. It has been postponed over and over again due to (first, our editor passing away year before last) and COVID (last year). This year is still up in the air.
Hunter rode with me across town in the Rubicon this past week and before we returned home he enthusiastically said "THIS is a vehicle I would gladly enjoy taking on a road trip!" That, my friends, is far more telling than it appears. Having been cooped up for so long, he has largely become a complete homebody. Even a trip to the local grocery store has been a trip that had not captured his interest until the Rubicon showed up in our driveway.
Meanwhile our daughter has always had an obsession with the Wrangler. If the outside temps weren't pushing 100 degrees she might have convinced us to go topless. But bright sun and hot days had us seeking the comfort of the air conditioning. With an eye on design, she was especially fond of the Electric Blue tow hooks, Jeep badges and interior stitching along with the eco friendly engine.
2.0l Turbocharged With 375 Horsepower
The 2021 Jeep Wrangle 4xe is powered by a 4 cylinder two-liter turbocharged engine mated to an eight-speed transmission. It is capable of generating 375 horsepower and can rocket to 60 mph in just six seconds. This vehicle actually is powered by two electrification systems, referred to as P1 and P2 by Stellantis engineers. I can't begin to describe exactly how this works because it is "above my pay grade" so to speak, but suffice to say one is forward in the engine compartment and another is at the mid-vehicle level. These combine to provide an excellent electric range of around 25 miles, a great number for an off-road type vehicle such as the Wrangler.
The actual 400 volt, 17 kw battery pack is located under the rear seat, safely tucked away out of view. There is a charge level indicator above the instrument panel on the dash so drivers can know their level of electric charge and often complete their daily commute with no use of fossil fuels at all. There are three modes of operation (e-select) – hybrid, electric and e-save. If left on the default hybrid mode, the Rubicon uses the electric mode first and then moves to gasoline. If set to the electric mode, the vehicle operates on electric only until the driver needs more power to tow (up to 3,500 pounds) or the electric power is exhausted.
The third mode, e-save, will save the battery power for stop and go traffic or in urban areas where fuel efficiency is typically lower. You can even check an on-dash icon (battery charge) to enable "on-the-go" charging for later when you will desire more battery power it could be available. There is even a e-generation max feature so even more power can be directed to the battery pack for later electric use.
Popular But Pricey
The new 4xe Jeep Wrangler Rubicon does sport a larger suggested MSRP than the typical Wrangler Rubicon at $51,695 (about $10k more than a typical Wrangler Rubicon), but it not only can save fossil fuel and the environment while providing unlimited off-roading capabilities, but it certainly has captured the hearts and minds of the younger generation such as our son Hunter!
Heads turned everywhere we went, neighbors stopped and stared at it in our driveway and some even asked if they could come get an up close look. That's a big deal in our neck of the woods where locals have been reluctant to adapt to hybrid and electric vehicles. Ironically, the week we were driving the 4xe was right after ERCOT had requested Texans conserve power. Of course these new Jeeps are in demand and finding them on dealer lots may prove to be challenging.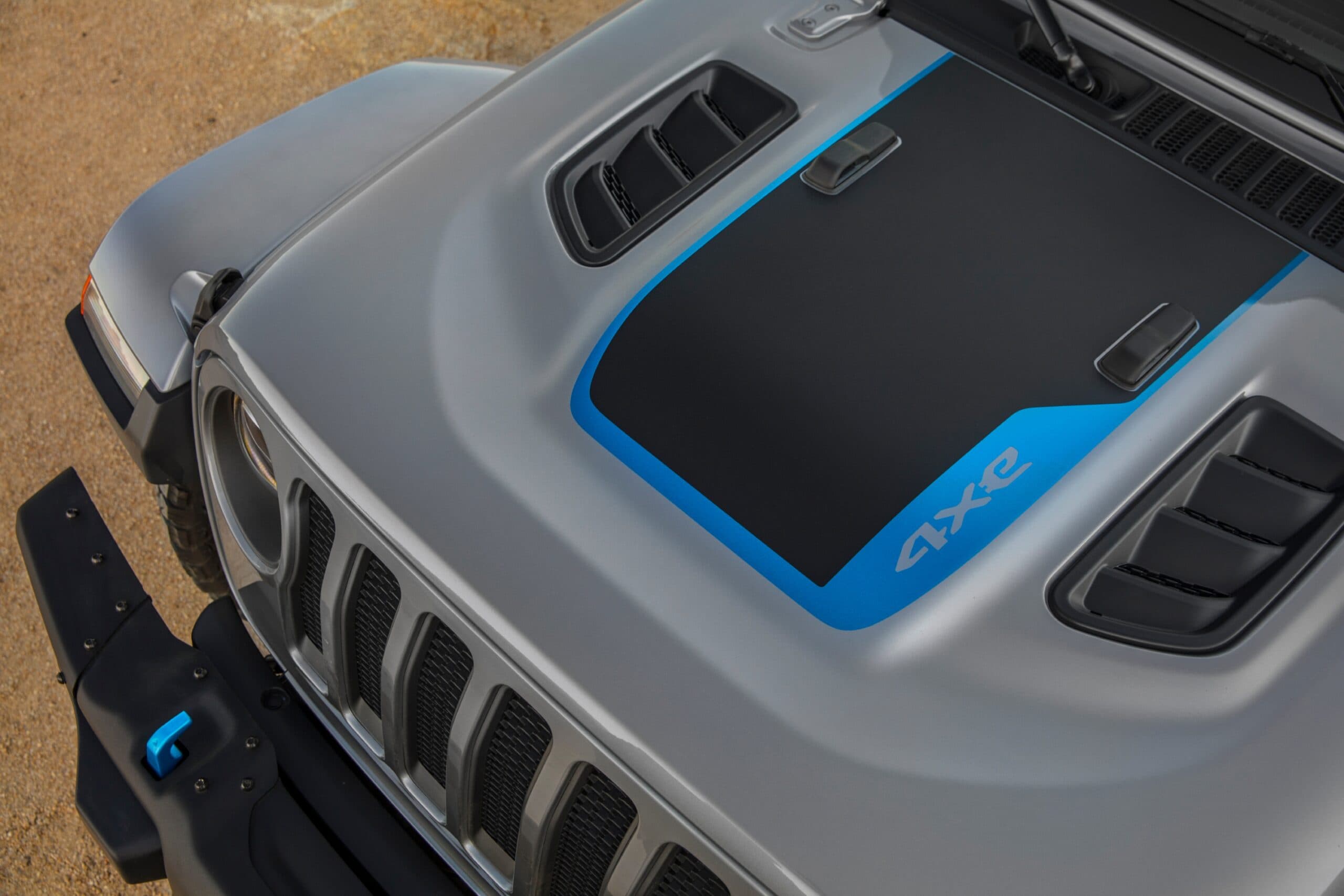 Wondering where you'll charge your Jeep when out on the trails? Jeep recently announced they are  establishing the Jeep 4xe Charging Network. For the network they are installing EV Level 2 charging stations at Jeep Badge of Honor off-road trailheads around the United States over the next 12 months. Jeep 4xe Charging Network is operated by Electrify America; Jeep 4xe owners will get free charging via a custom mobile app.