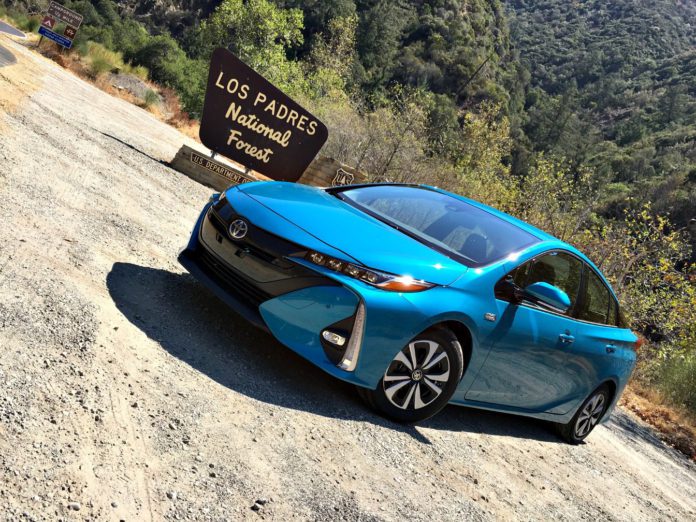 2017 Toyota Prius Prime
Gorgeous Inside and Out, This Is Best Prius Ever
This is another one of those reviews I actually kind of hate to write. You see, every now and then there is nothing bad you can say about a vehicle and you fear that readers will think you are biased or withholding information.
The new 2017 Prius Prime comes in three model configurations. I had the chance to drive all three of them during a special preview event held by Toyota. I can't say I was disappointed with any of the three. I will point out that I was especially in love with the 11.6-inch screen inside two (Prime Premium and Prime Advanced) of the three models. It's the first time I have seen such a screen and it made the "regular" (4.2-inch) screen in the base model seem small, even though it is similar in size to the navigation screens on regular motor cars. I have to say, after seeing the large screen, I now would not even consider the model with the smaller one.
Luxury & Technology For Less
Every one of these grades offers a whole lot of luxury and technological features that one might not expect on any vehicle with an MSRP under $30,000. The base model, Prime Plus, comes standard with trimmed heated front seats, power windows, Smart Key, Push Button Start, and a 12V auxiliary power outlet in both the front and the rear. Something those of us who have phones to charge and other items requiring a USB outlet will be pleased that one is included in the front.
The Prime Plus Premium model adds an upgraded 11.6-inch vertical screen with navigation, audio, air, and the entire Entune suite of technological advances. The Smart Key function is expanded to include remote illuminated entry as well as proximity opening of all doors. Eight-way adjustable power driver seat and power lumbar support join the group of amenities. Wireless cell phone charging makes life even easier for the owner of the Premium model.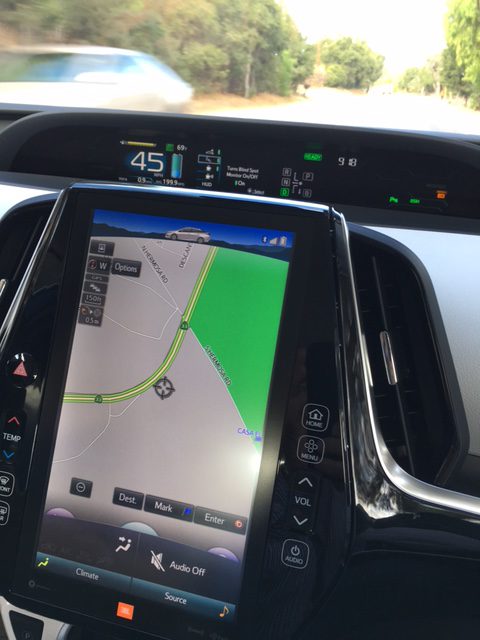 The 2017 Prius Prime Advanced adds a heated steering wheel, remote climate control, rain-sensing variable intermittent wipers, auto-dimming rearview mirror and a HomeLink universal transceiver. Visibility in the Advanced model is enhanced with LED fog lights and a color heads-up display featuring speed, battery charge level, hybrid system indicator and navigation information projected onto the windshield.
For those who feel challenged when faced with finding a parking spot, an Intelligent Clearance Sonar feature with Intelligent Parking Assist acts to size up a possible parking place and can even automatically steer the vehicle into the space.
All those features are wonderful but, the real question is: how does it drive? I took the Prius Prime models through the city, drove it up a mountain, and along a significant stretch of highway. While the 121 horses did not snap my neck when I hit the accelerator, I wasn't afraid of not being able to merge into traffic when entering the freeway.
Just as importantly, when scaling the mountains outside of Ojai, I had no problems with power in higher altitudes. I actually enjoyed curves as I accelerated through them. All in all, I was pleasantly surprised in my travels up the mountain, and later down it. I found frequent use of the brakes was called for driving down steep declines and never smelled "brake fatigue."
In terms of range, overall the Prius Prime is estimated to travel more than 640 miles in between fill ups. The strictly EV mode range is projected to be about 25 miles when traveling 84 miles per hour or below. The combined estimated fuel economy is measured at 55 city and 53 highway. Charge time on a standard home plug is about 5.4 hours and only a bit more than two hours when being charged on a 240-volt outlet.
The MPGe figures for the Prime exceeded Toyota's initial projection of 124. They came in with an official EPA estimate of 133 MPGe. This updated figure of 133 MPGe makes the Prius Prime the new industry leader for ALL vehicle types in MPGe.
The 2017 Toyota Prius Prime models will be available in late 2016 and are well worth a look, if being ecologically responsible is an important factor in your life. This, in my opinion, is by far the best Prius ever built.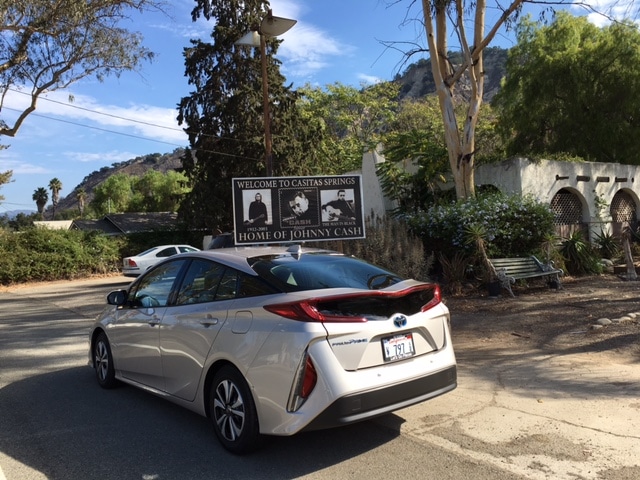 Toyota Prius Prime Advanced
The Prime Advanced vehicle is available in two unique colors – Blizzard Pearl and Hypersonic Red. I can't say they completely blew me away, but the interior in the Blizzard Pearl model is no less than simply stunning.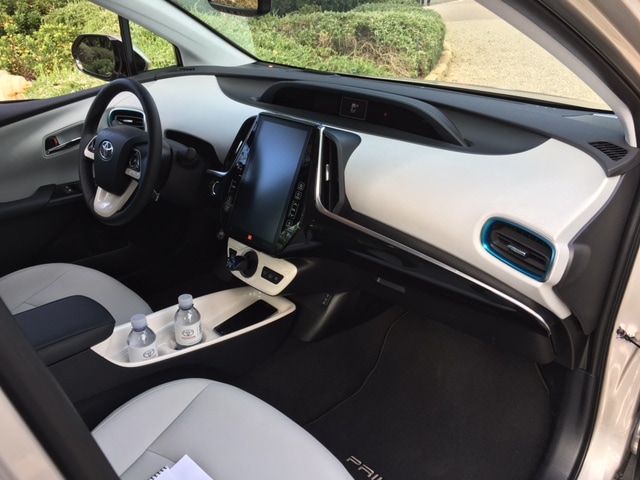 In terms of exterior colors, my favorite by a mile is Blue Magnetism. It is a shade of blue which I have yet to see anyplace else and is the color I would demand should I decide to pony up for a Prius Prime in the future. Other available colors include Magnetic Grey Metallic, Classic Silver Metallic, and Titanium Glow. Each color would make your driveway the star in the neighborhood.