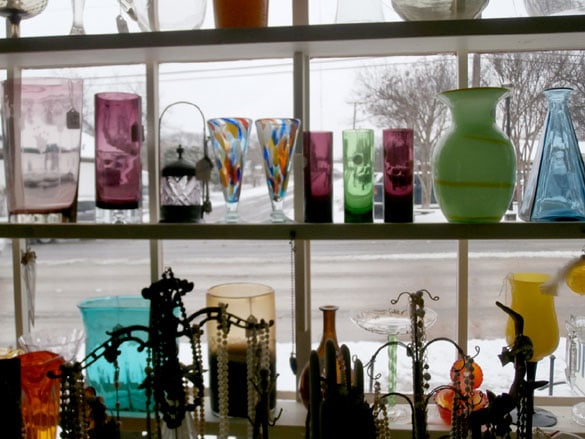 Reader's Choice Winner Best Antiques & Collectibles: Aunt Agatha's Attic Cedar Hill
CEDAR HILL – If the name Aunt Agatha's Attic conjures up thoughts of mystery and intrigue, then store owner Susie Miller got it right. She says the eclectic little shop got its name, or at least partially received it due to the Agatha Christie title.
"I made the store name up thinking about a place where you keep a lot of extra stuff – like a garage … no … oh, attic," Miller explained. "Now we need a nosey older relative … Grandma? No, not quite right. Aunt … okay. Since I had recently read an Agatha Christie novel, it became Aunt Agatha's Attic."
Walking into the shop is reminiscent of the sights and sounds and, even the smells of going to grandma's house when you were a kid. There is a good chance you might be able to find that thrill again when you visit Aunt Agatha's Attic in Cedar Hill.
The shop, which has been in Cedar Hill for 32 years – 26 at the current location on Belt Line Road, was just voted "Best Antiques & Collectibles Shop" in the Focus Daily News/DeSoto Chamber Reader's Choice Awards.
Why is Miller's Shop so loved? The secret to her success, "Just treat others the way I want to be treated." As for the personal touches around the store, Miller said the most important thing to do is just try to be fair and nice to everyone.
"At Christmas I try to have gift bags, so guys who buy merchandise will have something special to put it in," she added.
It's those special touches that make Miller's little shop stand out. There's also the fact that Aunt Agatha's Attic specializes in small antiques and collectibles; lots of glass, pottery, dishes, some art and ephemera.
"Lots of things from grandma's house," Miller said.
The shop originally opened in Oak Cliff about 35 years ago as a junk store, then Miller began adding antique furniture. When she moved to Cedar Hill, it was out with the junk, and in with a new theme! Antiques with an emphasis on furniture became the style statement of the new "Agatha".
Aunt Agatha's Attic Is More Than Just Antique Furniture
As business grew, Aunt Agatha's Attic became much more than just antique furniture. Today's most popular items are glass, dinnerware and jewelry.
"There is vintage jewelry, glass, china, arrowheads, knives, tobacco memorabilia, buttons, toys, linens, antique banks, tools. Really, I have just about any small antique that you can think of," she said.
So, how does she offer such a diverse selection and maintain reasonable prices? " I have always loved history and love doing the research necessary to price the items we buy and sell," she replied.
Customers can either visit Aunt Agatha's Attic Cedar Hill in person, check out what is being sold online by visiting ebay, etsy or Amazon.
The physical store is open 9 a.m. to 4 pm Monday through Saturday during the summer. In fall and winter the store expands its hours to 9:30 a.m. to 5:00 p.m.
New customers are always welcome, but Miller said she is proud to have many repeat customers, since that is proof she continues to provide value and uniqueness in the attic.
"There are folks who return from out of town whenever they come to visit relatives or when they are staying at the park," she concluded, smiling that she is always pleased to see them.