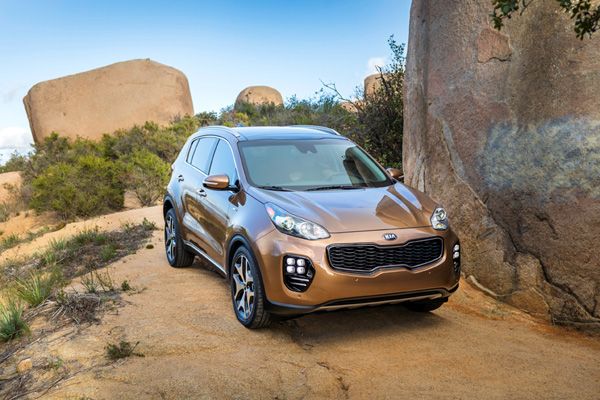 2016 Kia Sportage First Look
When I drive a new vehicle I always seek to find something I don't particularly like about it since in today's world virtually all vehicles are crafted with superiority rarely found in the cars I grew up with. When writing an article such as this, many writers often seek to find something to say is lacking so they are not accused of "being in an automakers pocket" so to speak. It's impossible for me to think of anything negative to say about the Sportage.
Driving through twisty mountain passes on roads that often zig-zagged as if one were negotiating a slalom, I found that I wanted to challenge the Sportage more with each radical zig I encountered. Not once did I find that I felt the stability slipping away from me. Not once did I have a feeling of worry that I might shoot off a cliff a few thousand feet to my doom in a valley below. Not once did I feel that my personal control of this finely tuned machine was slipping out of my grasp. Just as importantly, not once did I see my riding partner, Mark Rouch of the fantastic Auto Channel, turn blue with fear or his knuckles turn white! We were both safe, secure, and having a ball with the Sportage.
I was able to drive both the two-wheel drive model and the all-wheel drive model – the two-wheel up the mountain and the all-wheel down it. I really couldn't tell any difference in how the vehicle hugged the road at any speed and even found that on the very rare straightaways the acceleration on both models left nothing on the table. I was able to make a mockery of the California speed "suggestions" on a few occasions with nary a CHIPS officer in sight – thank goodness! Suffice to say, if you need to pass someone in a hurry, Mission Accomplished!
Advanced driver assistance technologies coupled with fantastic suspension and steering advances made Orth Hedrick's (Kia VP of Product Planning) statements during his discussion of the vehicle completely believable. "Simply put, the Sportage is a breed apart in the compact CUV segment," Hedrick said. "Instead of bland utility, the Sportage combines distinctly European and sporty styling with thoughtful design and functionality."
This is the fourth generation of production for Kia's longest running nameplate. Unlike an other leading Asian brand, Kia decided to stray from the mundane and break away with a number of dynamic styling cues with this new model. My favorite is the sexy fog light design and implementation, but chief design officer Peter Schreyer went much further than this in differentiating the Sportage from the rest of the herd of compacts.
Every body panel is new although Kia keeps its trademark "tiger-nose" grill, positioned between the now higher placed headlights (making room below for those sexy fog lights I already mentioned). There is a lower and wider front clip enabling better engine cooling. Two efficient new engine choices are available: a 2 liter inline-four with a turbo which provides 240 horsepower (237 AWD) and 260 ft lb of torque or a 2.4 liter "normal" engine providing 181 horses and 175 lb ft of torque.
A number of my favorite features found on much more expensive vehicles were immediately noticeable on the 2017 Sportage. It's hard to drive a slalom on mountain roads without straying now and then from your assigned lane and the lane-departure warning system constantly reminded me to keep my hands on the wheel and my eyes on the road. During the final leg of my journey on the freeway, blind spot detection insured that I would not inadvertently wander into another lane already occupied by some other vehicle. BSD has saved my butt more times than I can even begin to count.
I didn't have occasion to use the forward collision warning system fortunately – nor the autonomous emergency braking system and the pedestrian detection system. It is very reassuring to know it is there on a vehicle this value priced. Backing out of my parking spot after lunch at Casa del Zorro I did find that the rear cross traffic alert was alive and well. It prevented me from clipping anyone or anything by providing a warning of an approaching vehicle. Parking assist is not something I have had to worry about in my suburban Texas area, so I honestly can't say I thought about it. Press materials tell me that it has sonar built into the bumpers to warn the driver when nearing other vehicles or objects.
Kia is now famous for its advanced UVO technologies and the new Sportage has an array of technology far advanced to the rest of the segment even upgrading to UVO3 from previous generations.
LX models come standard with a color touchscreen featuring Bluetooth hands-free phone and streaming audio, SiriusXM and a rear-camera display. The EX brings a larger 7 inch screen with UVO3 telematics complete with Android Auto, Apple CarPlay and UVO eServices featuring 14 telematics services. Can you imagine 8 GB of music storage! SoundHound is even accessible through a portable Wi-Fi hotspot. SX models have all of this plus an 8 inch touchscreen and onboard navigation.
A brand new CUV with Kia's famous warranty priced as low as $22,900 MSRP? Yes, it's true for the FWD LX model. The upgraded EX begins at only $25,500 and the top of the line SX turbo weighs in at only $32,500. Kia is truly providing a CUV for all seasons in the new Sportage!! Complete with Kia's still unmatched warranty, it is impossible to go wrong with the Sportage.