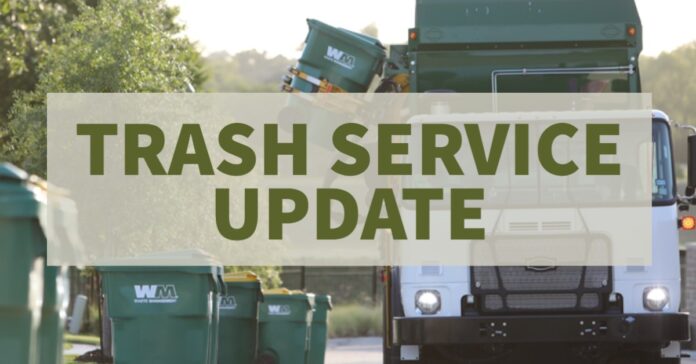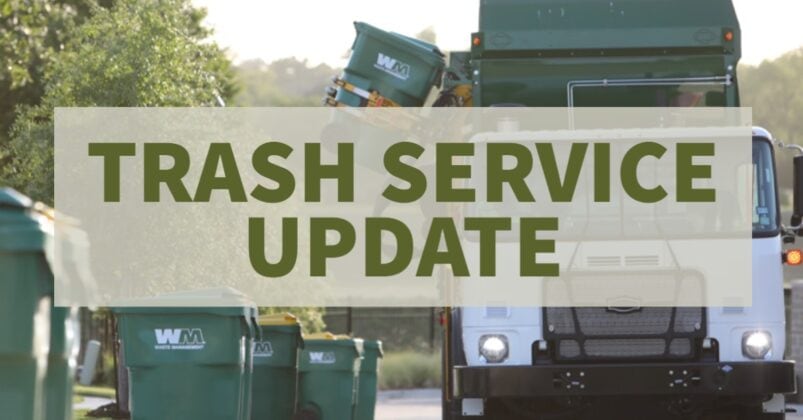 Arlington Trash Schedule
Due to the current weather conditions, Republic Services has suspended residential trash and recycling collection for Tuesday and Wednesday and the Arlington Landfill will be closed Tuesday and Wednesday as well.
Trash service for neighborhoods that were missed Monday, Tuesday and Wednesday will resume on their next regularly scheduled collection dates, Thursday, Feb. 2, Friday, Feb. 3 and Saturday, Feb. 4. Residential recycling collection missed this week will be collected on the next regularly scheduled collection date next week.
Cedar Hill Trash Schedule
Due to continued icy road conditions, Waste Management will not service any trash and recycling tomorrow, Thursday, February 2. If your regular collection falls on Thursday, it will be picked up Friday. If you have Friday collection, it will be picked up Saturday.
📍For Tuesday's missed routes, the next scheduled collection will be next Tuesday, February 7. We understand that many residents in this service area have a larger than usual volume of trash. In an effort to prioritize trash service, residents can fill both their trash AND recycling bins with household trash, and both bins will be collected and taken to the landfill.
📍There will not be makeup days for recycling service, so if you're able, please save your recyclable items for the next week's collection.
📍Thank you for your patience as we work to recover from this winter storm together.
DeSoto Updated Trash Pickup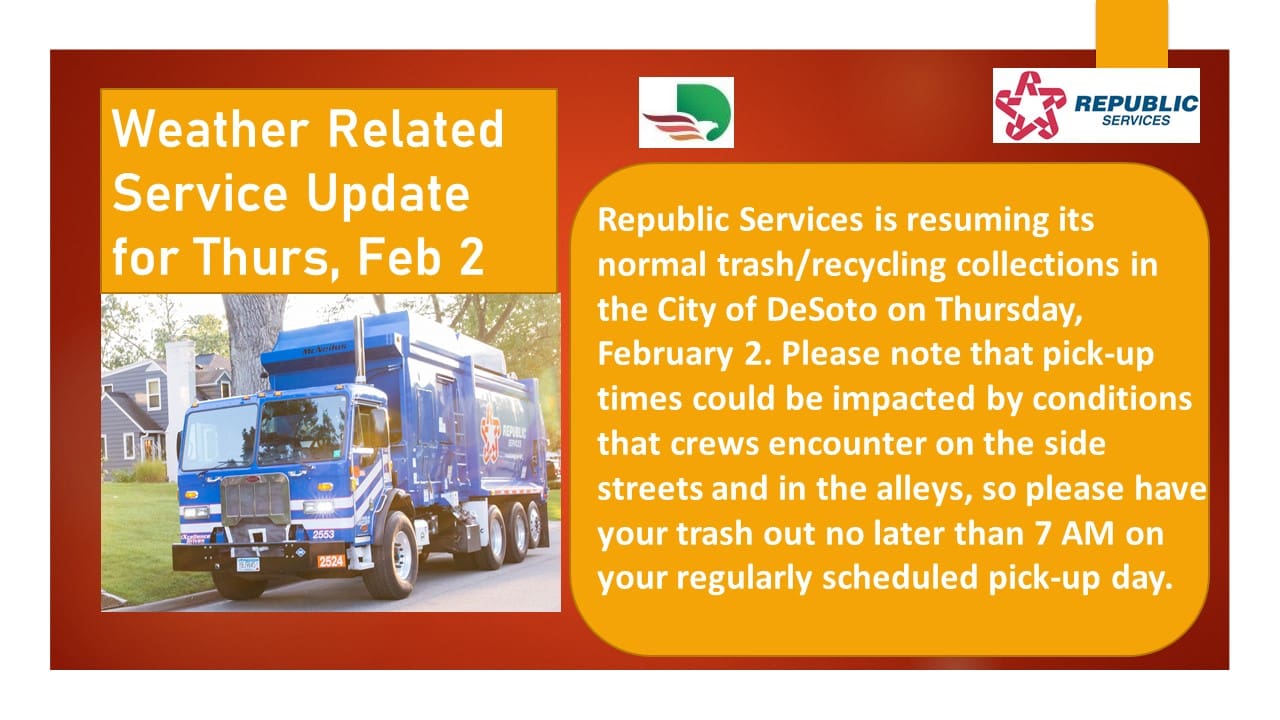 Republic Services is resuming its normal trash/recycling collections in the City of DeSoto on Thursday, February 2. Please note that pick-up times could be impacted by icy conditions that crews encounter on the side streets and in the alleys, so please have your trash out no later than 7 AM on your regularly scheduled pick-up day.
Republic Services reanudará su recolección normal de basura/reciclaje en la ciudad de DeSoto el jueves 2 de febrero. Tenga en cuenta que los tiemr
Duncanville Trash Update
TRASH SERVICE UPDATE: Due to the inclement weather, Republic Services will have a delayed trash collection for Thursday, February 2nd, starting around 9:00 AM – 10:00 AM. Residents are asked to be cautious when placing trash out due to slick surfaces and may do so between the time of this posting and the morning.
Grand Prairie Trash & Recycling Update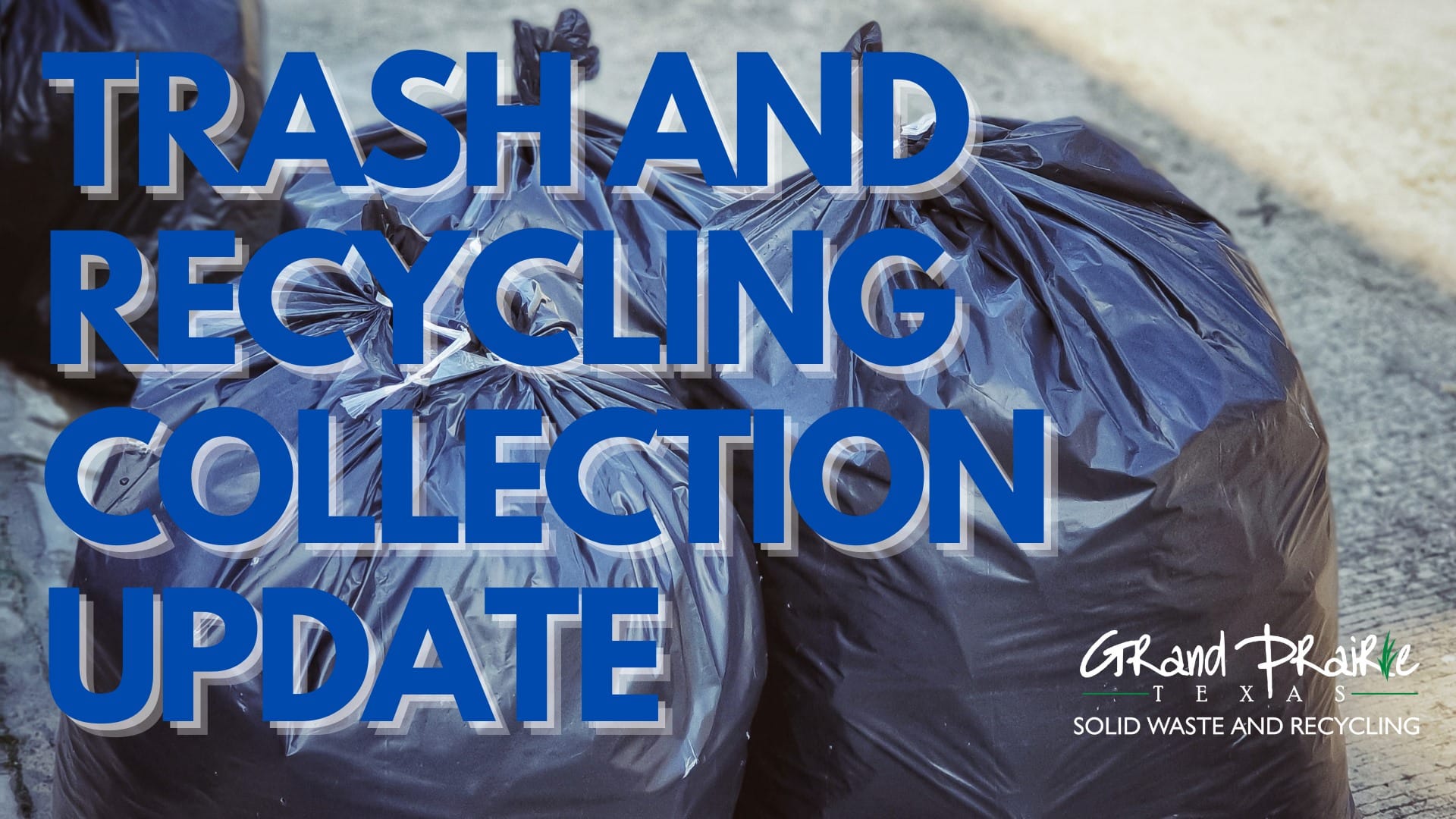 Republic has CANCELED operations for Wednesday, February 1, 2023, due to overnight/early morning temperatures and iced-over roadways.
For residential customers, garbage will be collected on Saturday in a double pull. For residential recycling, it will be collected on Wednesday, February 8, 2023. For commercial and industrial, collections will run behind until caught up.
Lancaster Trash Schedule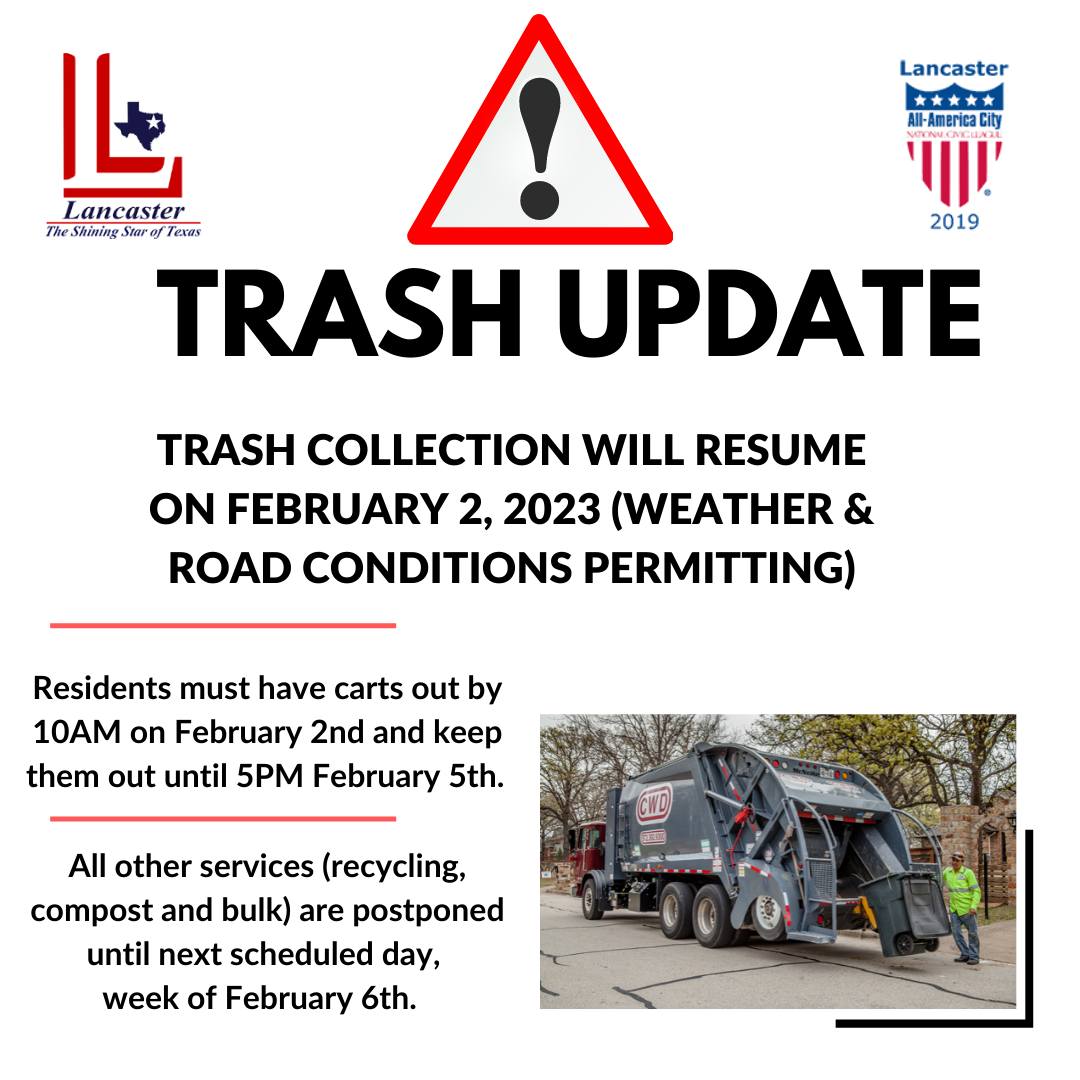 Trash collection will resume on February 2, 2023 (weather and road conditions permitting)
• Residents must have carts out by 10AM on February 2nd and to keep them out until 5PM February 5th.
• All other services (recycling, compost and bulk) are postponed until next scheduled day, week of February 6th.
For additional information please review the CWD website for continued updates.
Mansfield Trash Collection Schedule
Republic Services has notified us that unsafe road conditions continue to affect trash collection. Please look at the schedule below for the most updated timeline for trash and recycling pickup.
This is still subject to change depending on the weather conditions.
🚨PLEASE ONLY PUT YOUR TRASH OUT IF IT IS SAFE FOR YOU TO DO SO.🚨 Republic Services will run extra routes for several days to pick up any items that were missed.
🔸THURSDAY: Starting at 12 p.m., any missed trash and recycling from Monday, Jan. 30.
🔸FRIDAY: Any remaining Monday routes plus trash missed on Tuesday. Republic Services will schedule double routes and finish Saturday if needed.
🔸MONDAY: Normal schedule with double routes if needed.
🔸TUESDAY: Normal schedule plus recycling from Tuesday, Jan. 31.
🔸Missed recycling from Thursday, Feb. 2 will be collected on Thursday, Feb. 9.
Midlothian Trash Schedule
Waste Connections is planning on a delayed start Thursday morning at 10 a.m., provided the roads are not too iced over. If service is going to be delayed or suspended further, we will update after 9 a.m. tomorrow.
If they are able to provide service, they will collect garbage for those who normally have Thursday pickup tomorrow and those who normally have Friday pickup the following day. Recycling will be skipped this week and resumed as usual next Wednesday