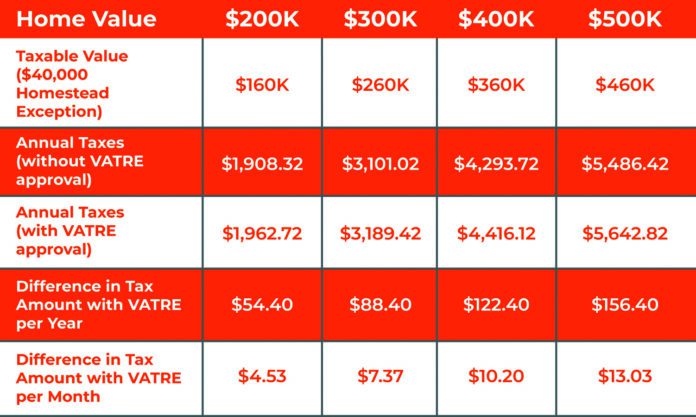 The Lancaster Independent School District Board of Trustees voted to place a Voter Approved Tax Ratification Election (VATRE) on the November 7, 2023 ballot. The VATRE would generate approximately $1,555,753.00 in local revenue annually, equating to an additional $1800 for Lancaster ISD full-time employees annually.
VATRE Priorities
The Lancaster ISD VATRE will prioritize Employee Compensation, Employee Recruitment and Retention, and maintaining Financial Excellence.
Employee Compensation: Due to a decrease in revenue, Lancaster ISD has yet to be able to increase the salaries of employees. Furthermore, inflation has risen to 14% since 2021, which has caused a significant strain on Lancaster ISD employees.
Educator Recruitment and Retention: Attracting and retaining talented teachers is essential for maintaining high educational standards. Additional funds will allow the district to continue offering educators competitive salaries.
Maintain Financial Excellence: Lancaster ISD's enrollment has decreased since the pandemic, and local funding has decreased due to mandatory lowered tax rates. However, even through the hardships of the pandemic, Lancaster ISD has maintained financial stability. With the passing of the VATRE, Lancaster ISD will be able to increase employee salaries while remaining consistent in managing its financial resources.
What are the next steps?
If you live in Lancaster, remember to register to vote for the November 7 election.
Important Dates to Remember
The last day to register to vote is Tuesday, October 10, 2023.
Early voting in the November election is October 23 – November 3, 2023.
The deadline to vote by mail is October 27, 2023.
GET VATRE THE FACTS!
Understanding the Tax Rate
School tax rates in Texas consist of two parts: the Maintenance & Operations (M&O) rate and the Interest and Sinking (I&S) rate.
Revenue from the M&O rate pays for the district's daily operations, including salaries, utilities, and educational materials.
Revenue from the I&S rate pays the district's debt that finances bonds, which fund large investments like construction projects.
Lancaster's ISD's total tax rate has declined by over 30 cents since 2018-19. On August 21, the Board of Trustees lowered the M&0 tax rate by 18.54 cents for a total tax rate of $1.1927 per $100 of property valuation. This is a total rate reduction of 18.54 cents from last year. The district is now seeking voter approval to increase the M&0 rate by 3.4 cents, which, if approved, will still result in a reduction of 15.14 cents over last year's rate