Volleyball Nations League (VNL) is bringing the world's eight best teams to compete in Arlington. After five weeks of fierce competition in six countries on four continents, VNL announced the world's best teams that will advance to compete in the Women's VNL Finals at College Park Center in Arlington July 12-16. Three-time VNL champions USA will host the Women's Finals for the first time. The reigning Olympic Champions are now in second place, just 1 point behind Poland ending the preliminary games 10-2.
VNL Game Schedule
Quarterfinals are July 12, featuring Poland vs. Germany-4 p.m. and USA vs. Japan-7:30 p.m.; July 13 Brazil vs. China – 10:30 a.m. and Turkey vs. Italy – 2 p.m. Final Rounds are July 15 and 16 with a medal ceremony after the final game on July 16.
Volleyball World will provide fans, athletes, partners, and other sport aficionados with the ultimate volleyball experience at the Finals in Arlington. It will be a memorable experience for all attendees, whether new to the sport or a volleyball pro. Tickets are available at VNLTickets.com.
Texas Players to Watch
Asjia O'Neal from Southlake, was All-American at the University of Texas and helped the team to a national title in 2022. O'Neal plays middle blocker for the U.S. team and at the Brazil match scored four points on three kills and one block. O'Neal entered the Serbia match in the first round at the start of the third set and finished the match, scoring five points on four kills and one block.
Middle blocker, Brionne Butler, also a University of Texas graduate from Kendleton, who made her VNL debut in 2022. She scored 13 points on a match-high eight blocks and five kills in the win against No.1 Serbia in the first round.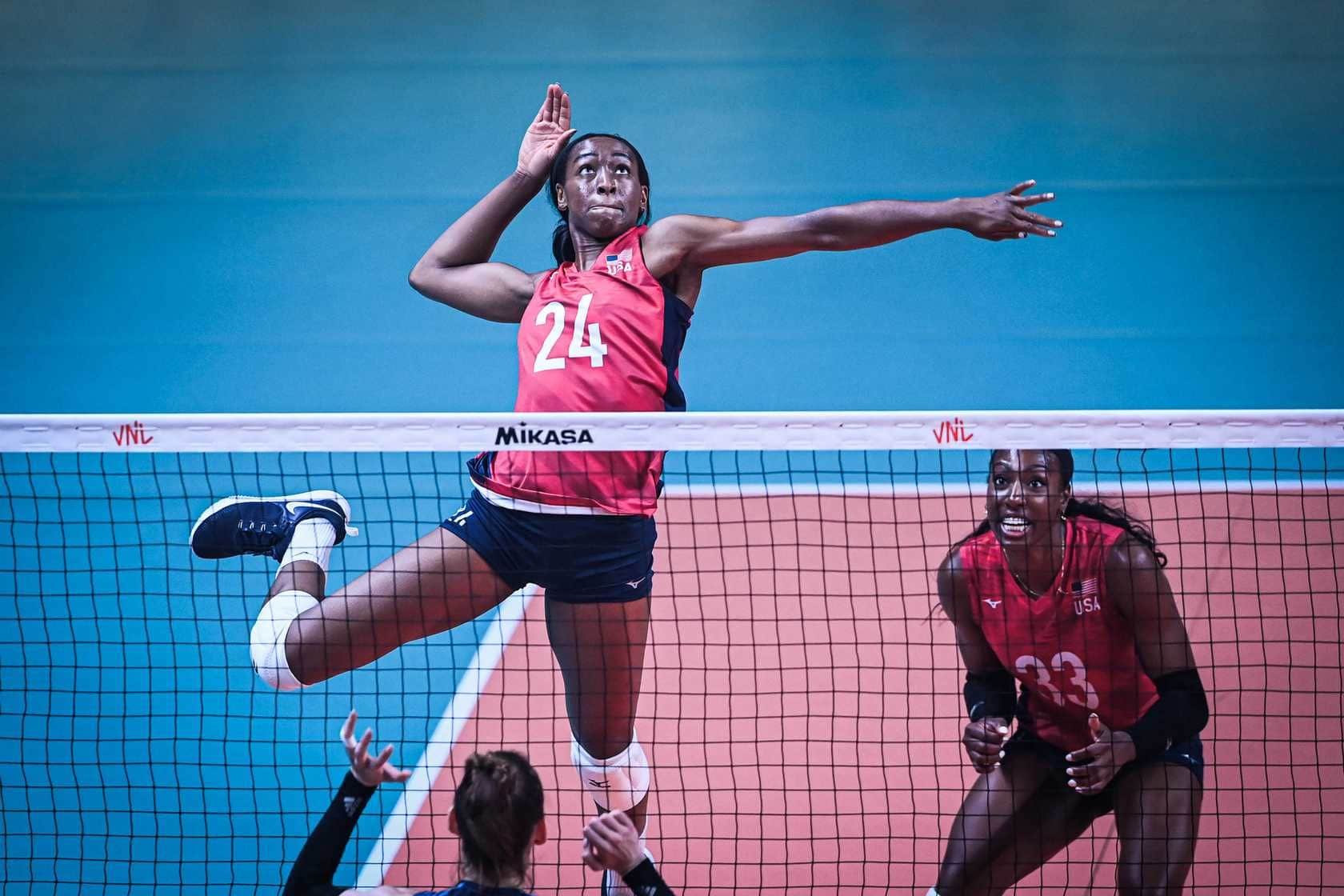 Other Texans to watch at the VNL games are Olympic gold and FIVB Volleyball Nations League gold medalist Chiaka Ogbogu from Coppell, and a graduate of the University of Texas. Ogbogu plays middle and is sure to be a star of these games along with outside hitter, Avery Skinner from Katy. Skinner was all-American at both Kentucky and Baylor.
Volleyball Nations League Team USA
Another top player and favorite on this year's USA team is former team captain Jordan Larson, a three-time Olympian, and three-time VNL Champion. Her return is creating a buzz of excitement. Larson's leadership and experience will be key in helping Team USA go for gold once again.
Among the newest talents added to this year's team, Alexandra Frantti, who made her international debut last year at the VNL 2022 as an outside hitter, will be supported by fellow teammate Annie Drews, the veteran outside hitter named MVP at the 2019 VNL edition, when Team USA won their second title. Drews was also a part of the golden squad in Tokyo 2020, and she is sure to be a force to be reckoned with once again at this year's competition.
Ticket sales are now in full swing, and we are thrilled to offer an exceptional opportunity to experience the most highly anticipated event of the year. New premium and courtside seats have been released and are going fast. Click here to access all the necessary information and purchase your tickets or visits VNLTickets.com.
Volleyball World
Volleyball World is a new partnership between the FIVB and the CVC Capital Partners aimed at driving growth, innovation, and investment in volleyball around the globe. Its goal is to create an integrated ecosystem connecting all volleyball stakeholders (fans, athletes, corporate partners) together through both digital and live events. Volleyball World is responsible for the commercial operation of key volleyball and beach volleyball international events, including: the World Championships, Volleyball Nations League, Olympic Qualifiers and Beach Pro Tour.
Volleyball Nations League
The Volleyball Nations League (VNL) is an annual international men's and women's volleyball competition organized by Volleyball World and launched in 2018. The league features the world's top national teams competing in pools across numerous weeks in iconic cities around the world. The top teams advance to the VNL Finals which always feature fierce competition and electric crowds wowed by the very best of live volleyball action. The VNL promises to bring the best live sport to volleyball's most passionate and biggest communities.