Expansive New Land Invites Guests to Step into the World of Illumination's Hit Animated Films Like Never Before and Enjoy Unique Dining Experiences like Minion Cafe, Bake My Day and Pop-a-Nana
Orlando, Fla. (May 17, 2023) – Today, Universal Orlando Resort shares new details about all the ways guests can eat, laugh and make mischief with the Minions in the highly anticipated Minion Land on Illumination Ave. – an immersive new area created in partnership between Universal's award-winning creative team and the acclaimed filmmakers from Illumination. Opening this summer at Universal Studios Florida, the new land expands upon the wildly popular Despicable Me Minion Mayhem attraction and will debut a new collection of experiences for guests of all ages inspired by the beloved Minions franchise.
As soon as guests enter the land, they'll be greeted by a fun, photo-worthy "Minion Land" marquee featuring 22 Minions before embarking on the mischief that awaits along Illumination Ave. From blasting their way to supervillain stardom in Illumination's Villain-Con Minion Blast to savoring tasty dishes at the Minion Cafe to snacking on banana-flavored popcorn at Pop-a-Nana and meeting fan-favorite characters along the way, here are details about the exciting new experiences that await in Minion Land:
ILLUMINATION'S VILLAIN-CON MINION BLAST
Guests can put their villainous skills to the test in Illumination's Villain-Con Minion Blast – an all-new attraction where guests compete against each other in a fully interactive gaming experience that's so much fun, it's a crime. Afterward, guests exit through Evil Stuff, an all-new retail location where they can stock up on Villain-Con and Minions merchandise. More details about Villain-Con Minion Blast will be revealed soon.
ILLUMINATION'S MINION CAFE
It's Minions in the kitchen, mischief in the dining room, and tons of tasty food at the new Illumination's Minion Cafe – the marquee dining location within Minion Land. This immersive new eatery offers something for every palate in a highly-entertaining dining experience that features three themed areas designed after beloved Minions Kevin, Stuart, Bob and Otto: the Kitchen – where guests will get a glimpse of the equipment and gear the Minions have used to whip up the cafe's menu; the Breakroom – where guests can dine in the Minions' break space that includes everything from "Office Safety Tips" to a vending machine stocked with mischievous items; and the Dining Room – a vibrant space adorned with colorful artwork courtesy of the Minions and more. Guests can also enjoy their meal on an outdoor patio that overlooks the fun of Minion Land.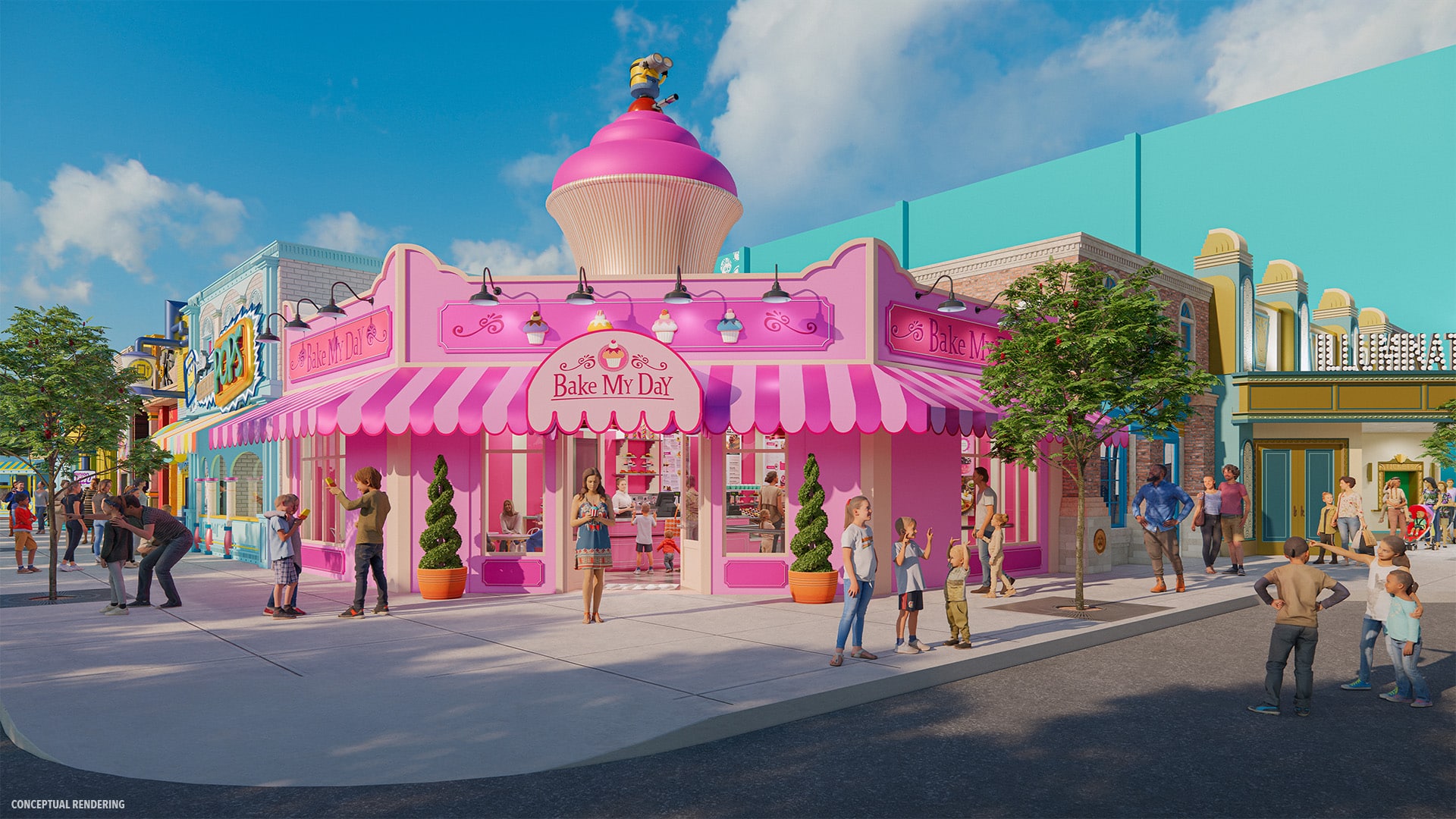 Just as eye-catching as Minion Cafe's incredibly-themed surroundings is its delicious menu – the latest example of how Universal Orlando's award-winning culinary team continues to raise the bar when it comes to theme park dining. Guests of all ages can enjoy inventive, family-friendly fare featuring nearly 20 items inspired by memorable characters and staples from the Minions franchise, including eclectic "despica-bowls" such as Otto's Noodle Bowl, Agnes's Honeymoon Soup and Carl's Crispy Cauliflower (vegan offering); delectable handhelds such as the Steak & "Cheese Ray" Sandwich; adorable desserts such as Bob's Teddy Bear Chocolate Cream Puff; a kids' menu for the "mini Minions" in the family that includes items like the Mini Boss' Mega Melt; and so much more.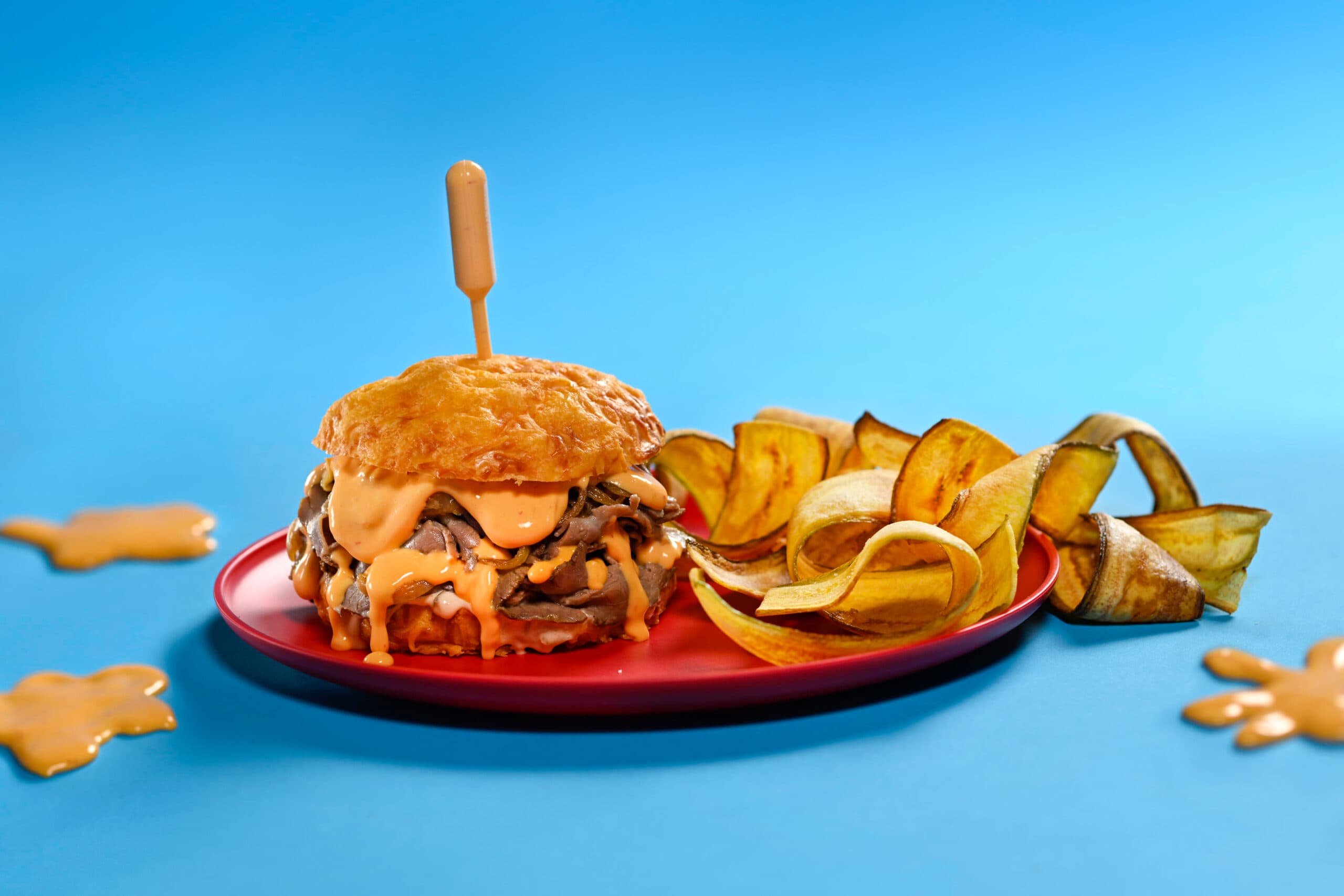 The Minion Cafe will also feature an express window with a limited menu for those looking to satisfy their mischievous cravings quickly and return to the mayhem in Minion Land.
BAKE MY DAY
Topped with a massive pink cupcake that's visible from anywhere in the land, Bake My Day is a whimsical retail location and bakery featuring a selection of Minion-themed sweet treats, including cupcakes, macarons, s'mores and more, along with exclusive Minion-inspired merchandise like apparel, plush, drinkware, accessories, keychains and more.
POP-A-NANA
Banana-flavored popcorn, anyone? This walkup location features sweet and savory popcorn inspired by the Minions' love for bananas. Here, guests may also find an assortment of cute popcorn buckets, including the Minion Selfie bucket.
FREEZE RAY POPS
Guests can cool off with a visit to Freeze Ray Pops, featuring a variety of colorful popsicles inspired by Gru, the Minions and Vector – along with beverages.
ILLUMINATION THEATER
Guests can meet, greet and interact with beloved characters like the Minions, Gru, Margo, Edith and Agnes, plus new additions from the hit film "Sing" – Rosita, Gunter and Johnny – at an outdoor Illumination Theater facade.
Guests can also discover murals, photo ops and more throughout Minion Land that celebrate additional characters from popular Illumination films.
Minion Land is yet another example of how Universal Destinations & Experiences is raising the bar on immersive storytelling for the entire family using beloved stories and franchises often seen in films.  This follows exciting news earlier in the year where the company announced plans to build a one-of-kind, original theme park for families with young children in Frisco, Texas.
For more information about Minion Land and Universal Orlando Resort overall, visit www.universalorlando.com.
About Universal Orlando Resort – Where It's More Than Magic, It's Real
Universal Orlando Resort is an award-winning theme park destination that welcomes all to truly be themselves while enjoying world-class attractions that redefine theme park experiences. Here, a multitude of authentically thrilling, exciting and spontaneous adventures await – each inviting guests to embark on whatever vacation they crave while igniting their full range of emotions like never before – from the awe of walking the streets of Hogsmeade or Diagon Alley in The Wizarding World of Harry Potter to the rush of adrenaline that takes over when coming face-to-face with a Velociraptor in Jurassic Park to the wide-eyed joy of seeing an entire slice of cake atop a delectable milkshake at The Toothsome Chocolate Emporium and Savory Feast Kitchen.
The 700-acre resort is home to three exhilarating theme parks – Universal Studios Florida, Universal Islands of Adventure and Universal Volcano Bay – that boast some of the most innovative and immersive experiences ever created, with a fourth next-level theme park, Universal Epic Universe, on the way. Guests can also relish in exciting dining and entertainment at the Universal CityWalk entertainment complex and enjoy incredible accommodations and magnificent theming across eight hotels that offer something for every style and budget –  Loews Portofino Bay Hotel, Hard Rock Hotel, Loews Royal Pacific Resort, Loews Sapphire Falls Resort, Universal's Cabana Bay Beach Resort, Universal's Aventura Hotel and Universal's Endless Summer Resort – Surfside and Dockside Inn and Suites.
For more information about Universal Orlando Resort, visit www.universalorlando.com.
About Illumination
Illumination, founded by Chris Meledandri in 2007, is the entertainment industry's leading producer of event-animated films, including The Super Mario Bros. Movie, the first film of 2023 to earn more than $1 billion worldwide, Despicable Me—the most successful animated franchise in cinematic history—as well as Dr. Seuss' The Lorax, Dr. Seuss' The Grinch and The Secret Life of Pets and Sing films. Illumination's revered studio library includes three of the top 10 animated films of all time.
In April 2023, Nintendo and Illumination's The Super Mario Bros. Movie opened to a staggering $377.5 million worldwide—the biggest animated global film opening weekend of all time—and set new records as the biggest opening weekend in Illumination history, the biggest domestic, international and global opening of 2023 so far, the biggest Easter weekend opening ever and the biggest video-game adaptation opening ever.
Illumination is now responsible for the two biggest animated opening weekends of the pandemic era, and The Super Mario Bros. Movie is currently the highest grossing film, in any genre, of 2023.
Illumination's iconic, beloved franchises—infused with memorable and distinct characters, global appeal and cultural relevance—have grossed more than $9 billion worldwide. Illumination has an exclusive financing and distribution partnership with Universal Pictures. Illumination's upcoming films include Migration in December 2023 and Despicable Me 4 in summer 2024.