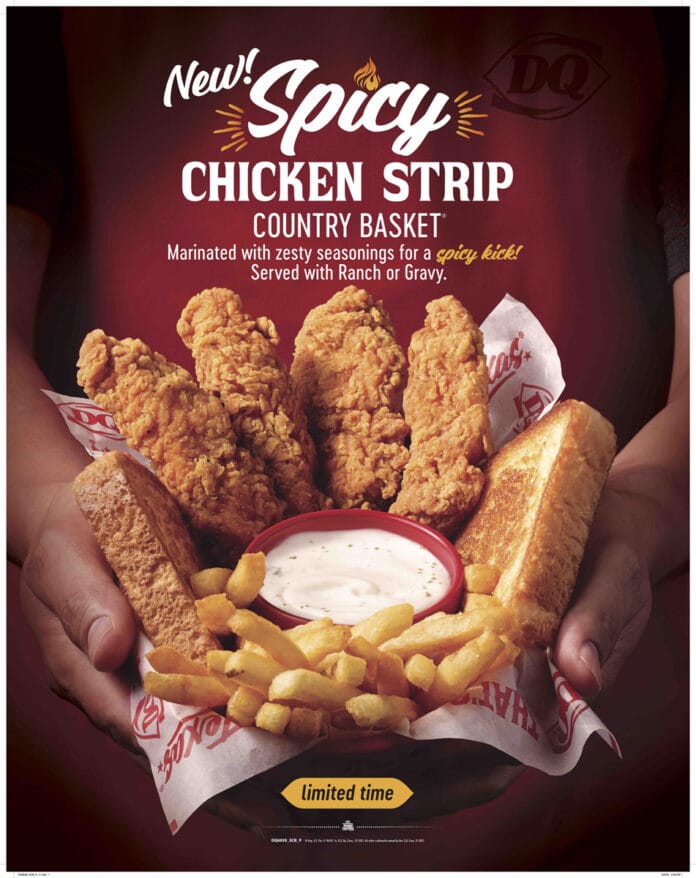 BEDFORD, Texas (October 3, 2023) – DQ restaurants in Texas are spicing things up this fall with the all-new Spicy Chicken Strip Country Basket®. The tender, crispy, crunchy chicken strips, are perfectly seasoned for a spicy kick that is sure to please all the "spice lovers."
How spicy are they? Let's just say these chicken strips aren't your regular, run-of-the-mill ordinary spicy. These delectable delights are the slow-burn kind that sneaks up on you and then wham – better grab something to cool things down.
And just in time, the all-new October Oreo® Hot Cocoa Blizzard® Treat of the Month is ready to quench those fires. Love Oreos? Love chocolate? The new Oreo Hot Cocoa Blizzard Treat is a delectable blend of OREO cookie pieces and cocoa fudge blended to Blizzard perfection and garnished with whipped topping. This one's the ultimate fall treat!
So if you enjoy the heat, put your tastebuds to the test with the all-new Spicy Chicken Strip Country Basket®. And then, cool things down with the Oreo® Hot Cocoa Blizzard® Treat or try another flavor from the DQ Fall Blizzard Treat menu that includes:
–       Pumpkin Pie Blizzard Treat
–       Snickerdoodle Cookie Dough Blizzard Treat
–       Caramel Fudge Cheesecake Blizzard Treat
–       REESE'S® Peanut Butter Cup Pie Blizzard Treat
–       Choco Dipped Strawberry Blizzard Treat
–       New! Royal REESE's® Fluffernutter Blizzard Treat
All are available for a limited time at participating DQ restaurants in Texas. Fans can order their favorite cravings on the DQ Texas mobile app for the "Best Treats & Eats in Texas" while earning rewards and learning about great deals. New users receive a free Blizzard Treat (any size) or a Hungr-Buster® just for signing up.
For more than 75 years, Texans have been drawn to DQ restaurants for the unique, Texas-centric menu featuring items that can't be enjoyed anywhere outside of Texas. There's the Dude® CLASSIC Chick'n Fried Steak Sandwich and the Hungr-Buster, the BeltBuster® with two quarter-pound patties, and the truly awesome Triple-Buster®.
Don't forget the Texas T-Brand Tacos®, the Steak Finger Country Basket with the best cream gravy anywhere and Chicken and Dumplings, based on a homemade recipe from a DQ restaurant franchise owner's mom.
But the full DQ lineup of treats has always been the sweetest of reasons to visit the restaurant with friends and family. Fans of all ages have made sweet memories while dipping into a sundae, savoring a Blizzard Treat or biting into a delicious Dilly® Bar.
There are few brands as iconic as the DQ brand. Innovative DQ treats and eats, along with the unique DQ restaurant concepts, have positioned DQ restaurants in Texas as a leader in the quick service restaurant industry. The Texas Dairy Queen Operators' Council is a nonprofit organization made up of DQ franchisees operating in Texas. The Council develops the advertising and marketing program for DQ franchisees in Texas and controls the Texas Country Foods menu along with managing supply/distribution for the nearly 600 DQ restaurants in Texas. The DQ restaurants in Texas are franchised by American Dairy Queen Corporation and the DQ franchise system includes approximately 7,000 franchised locations in the United States, Canada, and more than 20 other countries, including the nearly 600 DQ restaurants in Texas.
For more information about the Texas Dairy Queen Operators' Council, visit dqtexas.com or follow us on Instagram, Twitter or Facebook.