Let's Go Boot Shopping
A little over sixteen years ago I visited Texas for the first time. While business brought me to the Lone Star state, I made it my 'business' to buy a nice pair of cowboy boots during my trip. One trip, one pair of boots, and my love affair of wearing cowboy boots all the time was re-ignited.
Fast forward to today and my closet has more boots than sneakers, more jeans than slacks, and a few western hats, and I can throw together an outfit for a night out in Ft. Worth or a trip to the rodeo. So, if you had asked me "do you have comfortable cowboy boots?" I would have answered "YES" without hesitation.
However, after a recent visit to the Ariat brand store in Ft. Worth, I'm ready to admit I was wrong. Ariat Fort Worth Brand Shop manager Suzanne Young and Assistant Shop manager Kelly Kindig introduced me to Ariat's innovative boot technology making their boots more comfortable than some of my sneakers. While this wasn't the first time my feet encountered Ariat boots, this time was a bit like my first rodeo.
Ariat Boots Are Made With Innovative Technology
Suzanne and Kelly schooled me on the technology that makes Ariat boots different from the competition, from their lightweight and flexible Bantamweight™ sole to the ATS® lightweight forked shank which provides enhanced support and everything in between. Better than in any traditional classroom, my 14-year-old daughter and I learned by trying on different Ariat boots. We were both impressed with the comfort of the Odessa StretchFit boots with the ultralight Bantamweight sole and soft stretchfit panels.
Warning: trying on boots at the Ariat Fort Worth brand shop often leads to purchasing those boots…seriously. I don't know what kind of magical spell landed on my teen, but something transformed her. In a blink she went from all I want to wear are Chuck Taylors', to, "Mom, I realllyyy like these boots and would love to have a pair."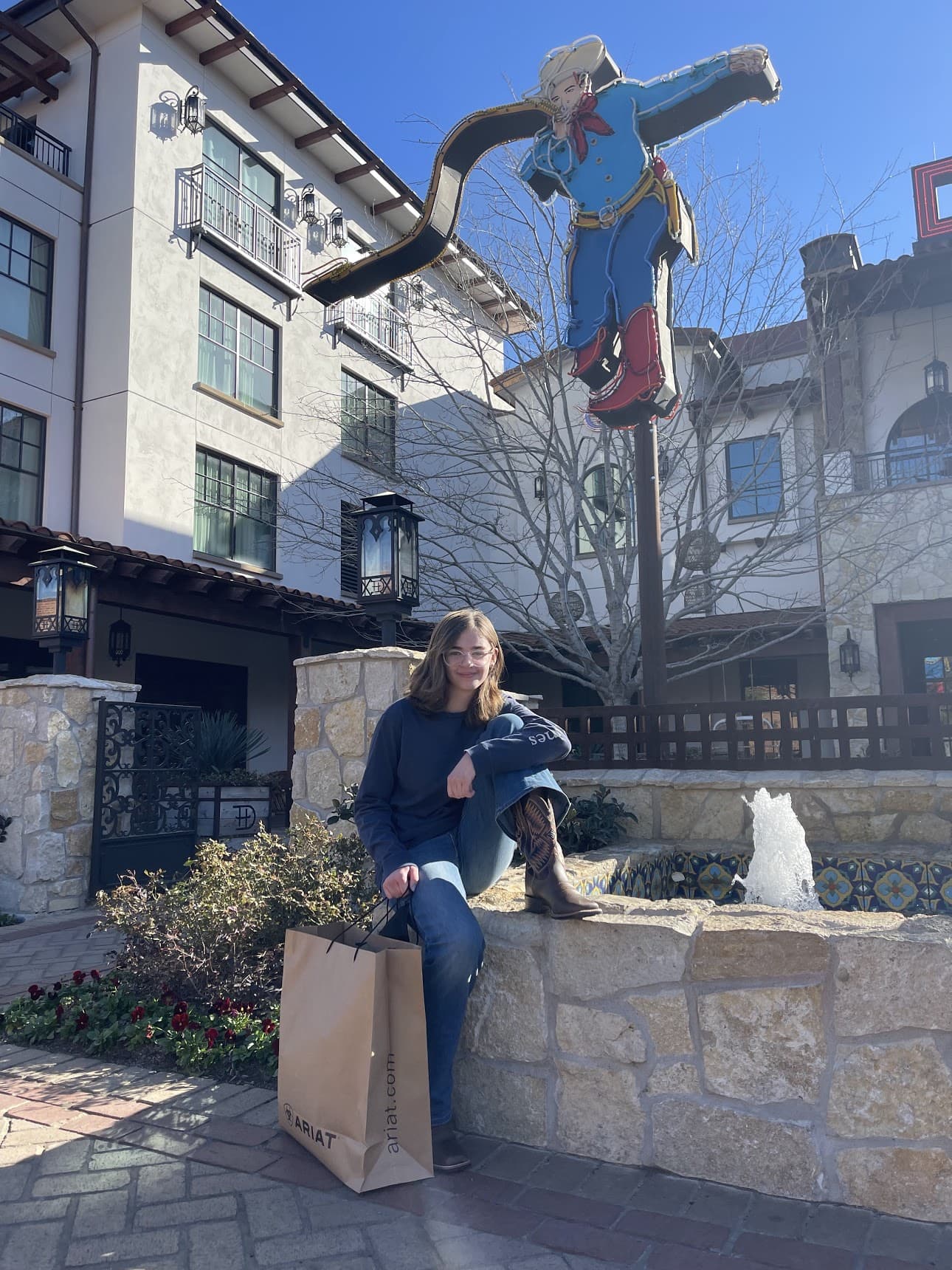 Spoiler alert: I bought her a pair of boots because every Texan should own a pair of cowboy boots.
Now that I live in Texas, I've ditched my dress shoes for boots and my feet have never been happier. This is where I admit, in my opinion, there's no such thing as owning too many pairs of boots. I have boots for business meetings, for everyday wear, for the club, and boots I like to wear when flying. I quickly fell in love with the Donatella Western Boot, the chocolate full quill ostrich caught my eyes, but the way they felt on my feet sealed the deal. The rose colored quilted upper is unique and the removable pro performance insole cushions your feet like a good pair of sneakers. Watch out dance floor, here I come!
Enjoy A Cold Drink While You Shop
And, yes, the Ariat Brand shop has so much more for your wardrobe than just boots. Along the walls, you'll also find stacks of jeans, t-shirts, baseball caps, ladies' and men's shirts, and softshell jackets. They have everything from performance shirts to retro western shirts for a night out on the town or drinks at one of the saloons in downtown Ft. Worth. Bonus: the Fort Worth Ariat brand shop is open late, so you can shop after work, and they'll even offer you a cold beer to enjoy while you browse.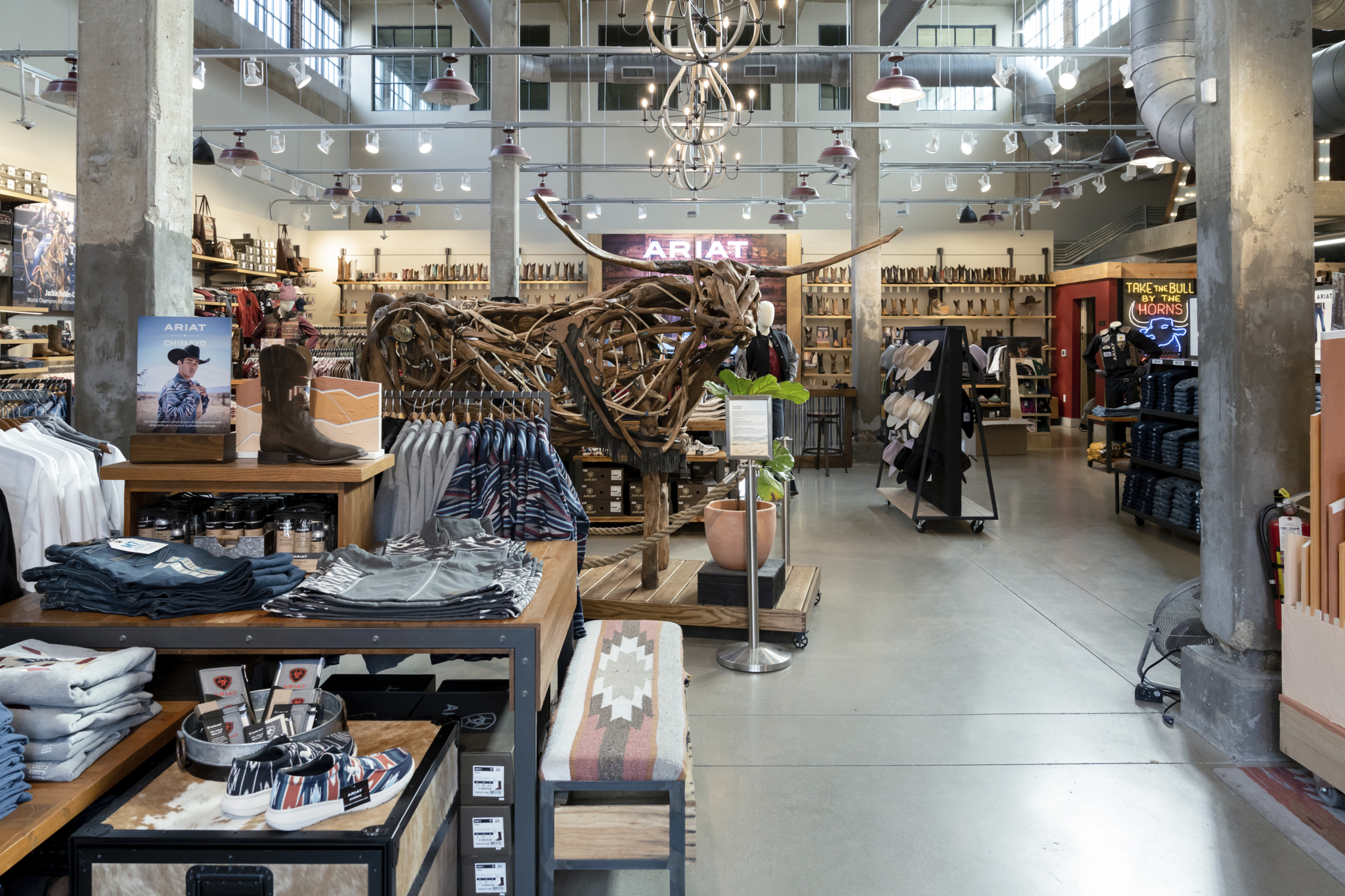 While I shopped, Suzanne and Kelly spent some time talking about Ariat's future store plans, including live music, special events and more. Suzanne and Kelly are super fun to shop with and their enthusiasm for the Ariat brand is contagious. Not only did I leave with two pairs of boots, a western shirt and a new pair of jeans, but I was tempted to apply to join their team.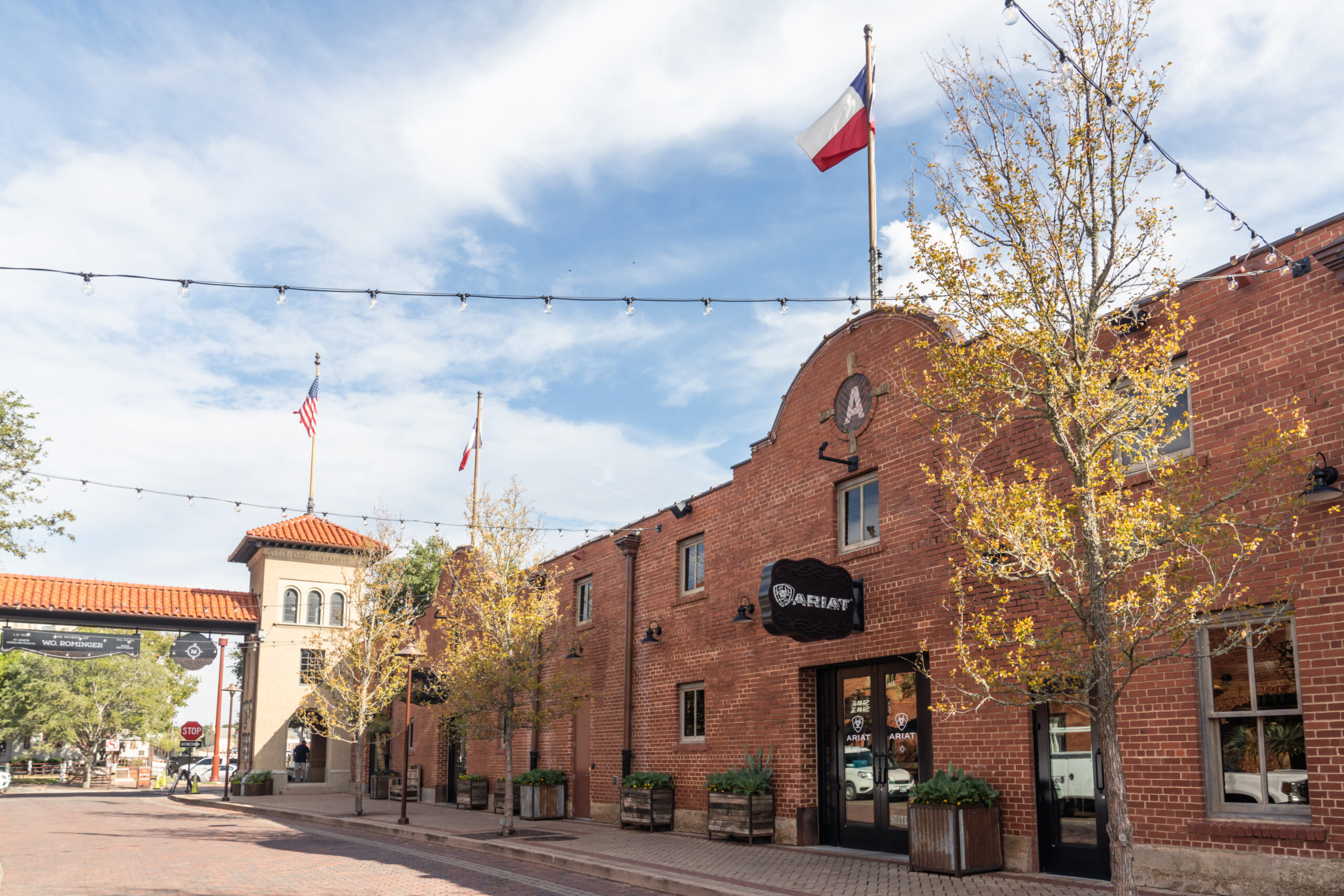 Be sure to follow Ft. Worth Ariat brand shop on Facebook so you don't miss out on sales and upcoming events. And I encourage you to swing by their store located on Mule Alley and see it in person, bring your dog if you'd like as they are dog friendly.