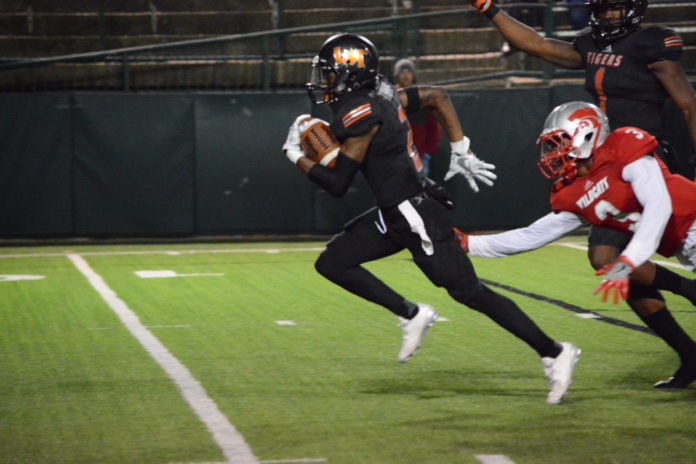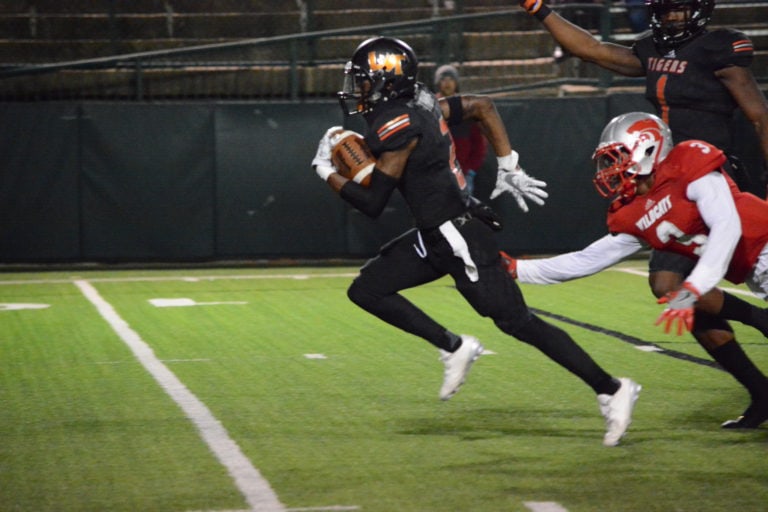 Lancaster, Wylie East To Match Running Games In Week 4 Playoffs
LANCASTER—If it's Thanksgiving Holiday Break and you're still having football practice; that means you've done something right. Week four into the playoffs is not something many Texas teams get to see.
After handing the Woodrow Wilson Wildcats permission to gorge on Thanksgiving, the Tigers prep to face Wylie East Friday.
It looks like Black Friday will be the battle of the ground games as well. Both teams surged in the Area Playoffs Round due largely to their running strategy.
Lancaster Shuts Down Woodrow Wilson, Advances to 5A Semifinals
Running Back Demadric Williams led the Tigers' receiving corps with 156 yards rushing and four touchdowns in their 58-39 win.
During the first quarter Woodrow Wilson gained a quick lead and the Tigers started off in catch up mode. On their first possession Williams fumbled and turned possession over in Woodrow Wilson's territory. Four plays later Quarterback Cade Fennegan made a short pass to Justin Cain for the First touchdown of the game.
It took Lancaster a while to warm up after the Wildcats score.
Lancaster shook it off with back-to-back touchdown drives, getting touchdown passes of 33 and 48 yards from quarterback Trevor Hatton to claim a 14-13 lead at the end of the quarter. Hatton finished with 172 yards passing and three touchdowns, with two of those scores going to Cartrell Thomas (5 catches, 70 yards).
Moreover the defense played a large factor in Lancaster's win. Interceptions helped set up two scores, including a 61-yard touchdown return by Janarieon Reynolds. Lancaster kept the pressure on in the third quarter, getting a 14-yard scoring run by Williams and a blocked punt for a safety to take a 45-26 lead to the final quarter.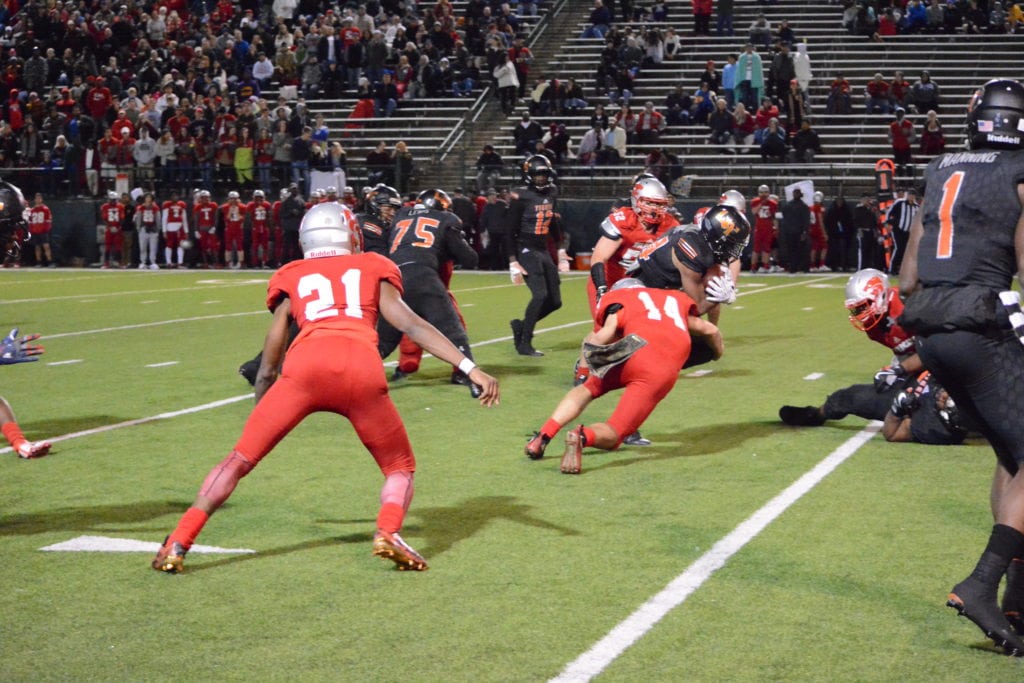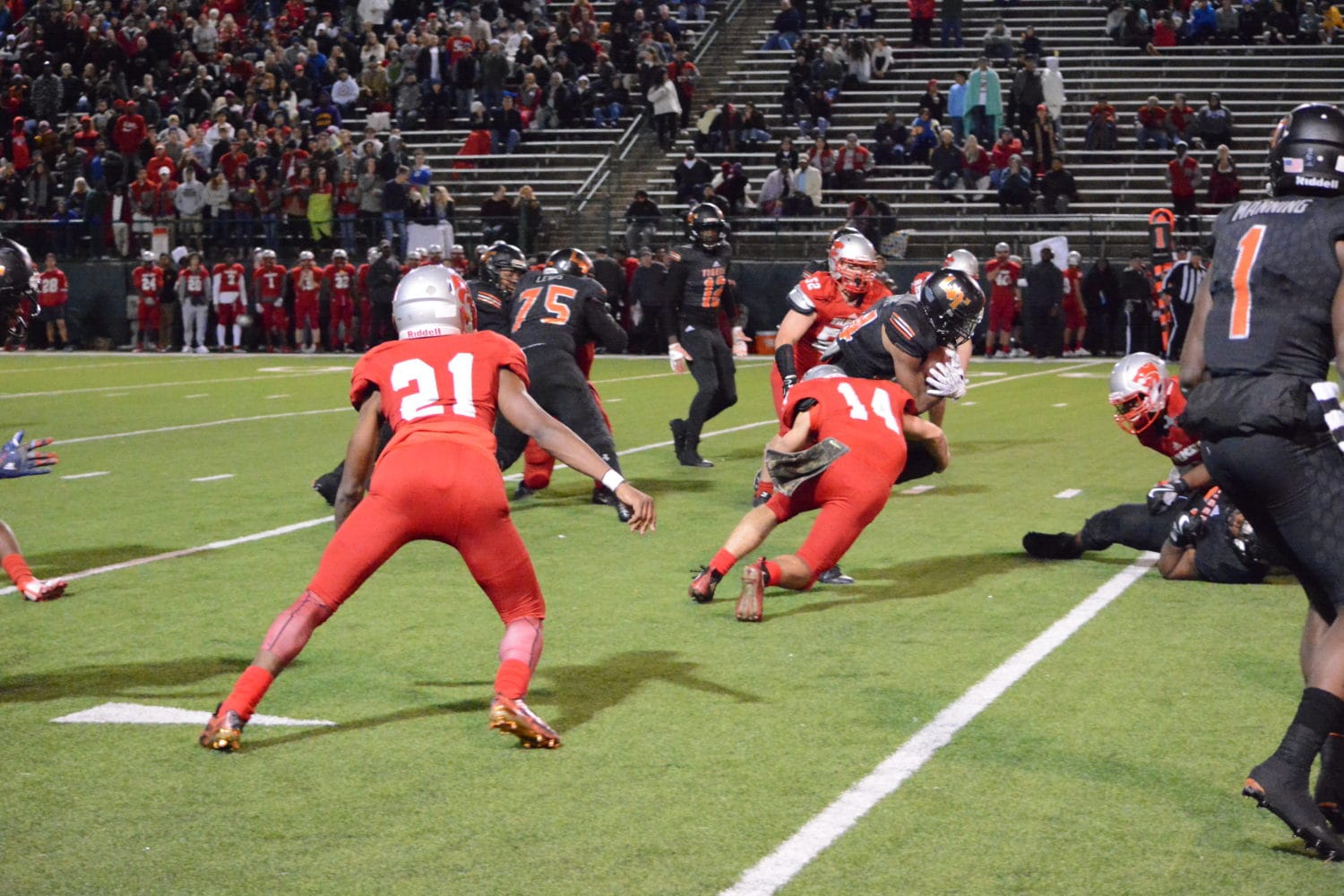 Wylie East To Make First Semifinals Appearance In History
Equipped with the nation's number 10 ranked running back, Wylie East is nothing to sneeze at. Eno Benjamin has been making headlines all season long. Most recently with his highly publicized de-commitment from Iowa Wednesday.
Together with fellow back Corbin Johnson and Corey Eggins the Raiders running backs amassed over 550 yard in their 56-28 victory over The Colony last week.
Wylie East has never advanced past the Area Playoffs Round, says Wylie East Head Coach Joe Lepsis. This is something he desperately wants to see change.
"Wylie East has never made it past the third round. This group of kids wants to be the best team that's ever played at Wylie East. To accomplish that, we know we have to get back the third round."
Chinks In Wylie East's Armour
Ironically with the control that a ground game affords yardage numbers were not as large as you would expect in a playoff game. Why you may ask?
They didn't throw the ball.
The Raiders (9-3) did not make one yard passing. They didn't even attempt a passing play until the start of the second half. But due to a penalty it was called back.
Another blemish in their win Friday was the surge of penalties in the second half. At one point after forcing a turnover the Raider failed to make good on. Bad snaps and penalties had the Raiders inexplicably facing a fourth and 44 at The Colony's 48 yard line.
"We didn't do that in the first half, and they were in the game. We've got to fix that and do a better job," said Wylie East Head Coach Joe Lepsis.
Therefore despite the high powered offense, I say the Tigers have it in them to bring home another victory.
The matchup will be held at Allen ISD Eagle Stadium at 7:30 pm.