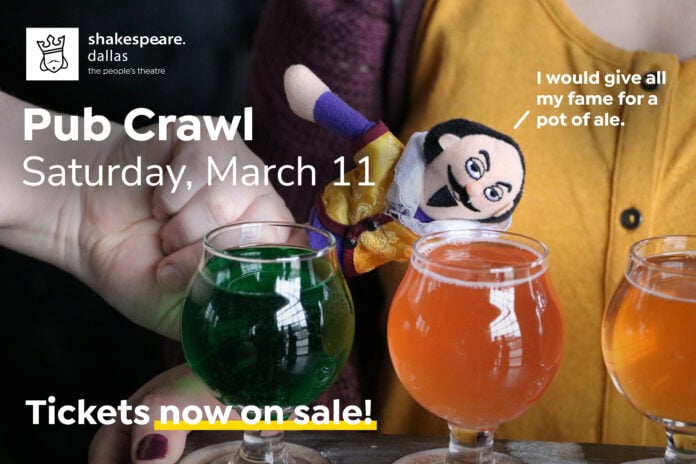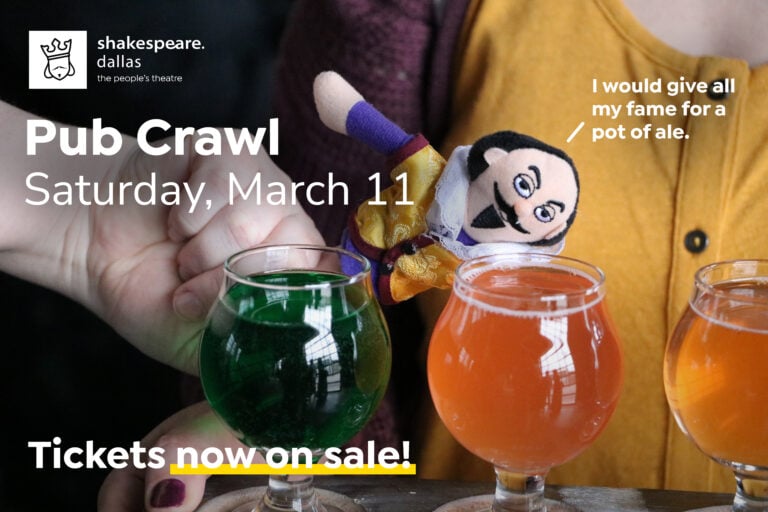 The happy hour event will take place at four bars in Deep Ellum.
Dallas, Texas – March 1, 2023 – Shakespeare Dallas is pleased to announce that its annual pub crawl will take place in Deep Ellum on Saturday, March 11, 2023 from 2:00 pm – 6:00 pm. Tickets include discounts at participating bars, a Shakespeare Dallas souvenir cup, participation in the trivia contest, live entertainment, and more. A variety of drink specials will be offered from cocktails, to shots, to ales and ciders, and more. Tickets are $20 for general admission, $15 for Shakespeare Dallas subscribers.
The revelry will begin at Twilite Lounge (2640 Elm Street, Dallas, TX 75226) 2 pm, then progress to 3 Links (2704 Elm Street, Dallas, TX 75226) at 3 pm, Trinity Cider (2656 Main Street #100, Dallas, TX 75226) at 4 pm, and Ruins (2653 Commerce Street, Dallas, TX 75226) at 5 pm. Actors will perform scenes from beloved Shakespeare plays at each location.
Wristbands will be given out at check-in, giving guests priority entry and access to specials at participating businesses. Attendees will travel as a group from place to place, or ticket holders can join in at any point. The four-hour event will conclude with a Shakespeare trivia competition, giving guests the opportunity to win prizes. There will be a costume contest with prizes. For more information and to buy tickets, click here.
About Shakespeare Dallas
For more than 50 years, Shakespeare Dallas has entertained North Texas with exciting and accessible indoor and outdoor theatre, integrated school programs, community events, and cultural enrichment. Performing for more than 25,000 attendees each year, Shakespeare Dallas is best known for the beloved Shakespeare in the Park series, producing quality works the way Shakespeare was meant to be enjoyed: under the stars. For more information about Shakespeare Dallas, visit shakespearedallas.org.