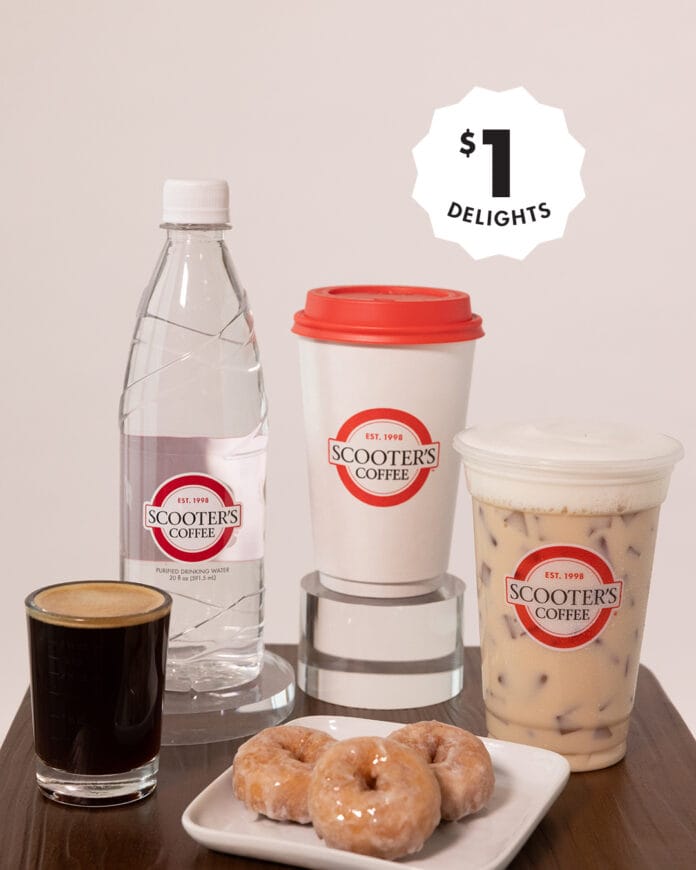 OMAHA, Neb., Oct. 2, 2023 – Delight your taste buds with Mini Donuts and more from the
brand-new Scooter's Coffee Dollar Delights Menu. Priced at just one dollar each, these new,
delicious deals feature Mini Donuts, Brewed Coffee, an Extra Shot of Espresso, Sweet Cold
Foam and Bottled Water.
"We are excited to offer our first-ever Dollar Delights Menu, which underscores our commitment to providing value along with an amazing experience," said Joe Thornton, President of Scooter's Coffee. "These offerings highlight the quality and flavor Scooter's Coffee is committed to delivering. From delicious Mini Donuts to fresh Brewed Coffee of any size, the incredible one- dollar price of our new grab-and-go items add value, convenience and delight as you scoot through our drive-thru."
Mini Donuts: A trio of classic, old-fashioned cake donuts everyone loves in
mini-sized treats. Mouthwatering, baked-to-perfection, one-ounce glazed donuts are an easysweet you can enjoy.
Brewed Coffee: Available in small, medium and large sizes. Scooter's Coffee sources only the highest-quality coffee beans from around the world. Blended and roasted with love and care in small batches, they provide a rich, smooth flavor and aroma. You'll fall in love from the very first sip.
Extra Shot of Espresso: Add some extra pep to your favorite drink with a shot of freshly pulled world-class Espresso. Arabica coffee beans are blended and roasted to bring out a rich, smooth, and flavorful concentrated coffee in the form of Espresso.
Sweet Cold Foam: Top any iced or blended drink with handcrafted Sweet Cold Foam, made-to- order with nonfat, freshly frothed milk. It's a velvety, sweet cloud that floats atop and gently melds with your drink. Try it sugar-free or infused with any combination of Scooter's Coffee flavored syrups.
Bottled Water: Stay hydrated on the go with bottled water featuring the friendly Scooter's
Coffee Smiley icon who is sure to bring joy throughout the day.
For more information, visit scooterscoffee.com/menu/dollar-delights. Visit your local
Scooter's Coffee to savor the new Dollar Delights Menu!
About Scooter's Coffee
Founded in 1998 by Don and Linda Eckles in Bellevue, Nebraska, Scooter's Coffee uses only
the finest coffee beans in the world, which are roasted by its affiliated company, Harvest
Roasting, in Omaha, Nebraska. In over 25 years of business, the key to Scooter's Coffee's
success is simple: stay committed to the original business principles and company's four core values, which are Integrity, Love, Humility and Courage.
The Scooter's Coffee Brand Promise, often recited to franchisees, customers and employees, is: "Amazing People, Amazing Drinks… Amazingly Fast! ® " It represents the company's business origins and reflects a steady commitment to providing an unforgettable experience to loyal and new customers. Scooter's Coffee, which is celebrating its 25 th anniversary in 2023, is at the dawn of a strategic growth phase nationwide. Its franchise network is approaching 700 stores in 29 states, and the company plans to have over 1,000 stores open by the end of 2024. The U.S. coffee market is an estimated $48 billion-a-year, recession-resistant industry, and Scooter's Coffee is striving to become the #1 drive-thru specialty coffee franchise system in the nation.
For more information, visit scooterscoffee.com or call 877-494-7004. To connect with Scooter's Coffee, visit Facebook, Instagram, TikTok or X (formerly Twitter) and share your favorite moments by tagging @scooterscoffee using the hashtag #ScootOnAround.