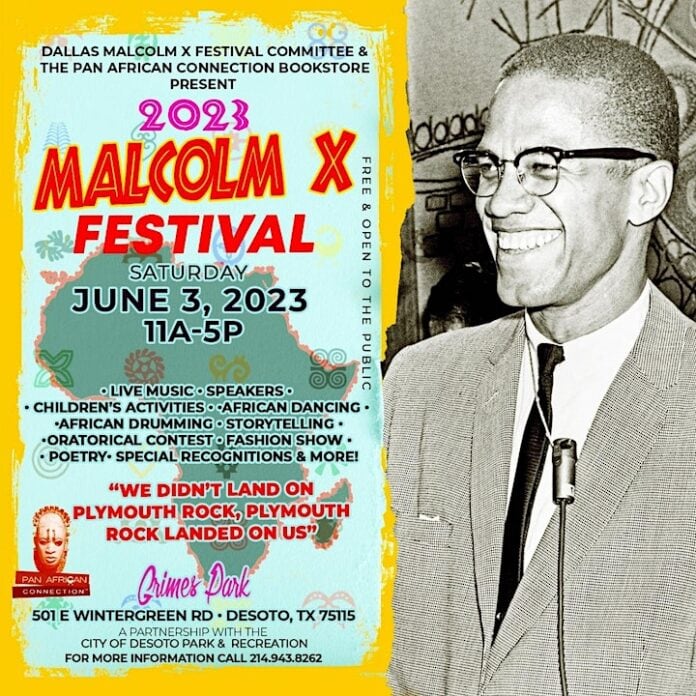 DESOTO – While not a sponsor of the Malcolm X Festival to be held in DeSoto in June, the city will be the festival's location home.
Chris Glover, DeSoto Parks, and Recreation Director, said the event will be held in DeSoto on June 3.
The event will celebrate the life of Human Rights Activist and Freedom Fighter Malcolm X. Malcolm X, also known as El-Hajj Malik El-Shabaz, was, according to an explanation by Glover, an iconic figure in African American Communities across the United States.
The City of DeSoto worked with the Pan-African Connection and the Malcolm X Planning Committee for the scheduled Malcolm X Festival at Grimes Park on June 3, 2023, from 11 a.m. until 5 p.m.
The Pan-African Connection Bookstore & Resource Center is a family-owned business under the direction of Akwete Tyehimba and is located in the Glendale Shopping Center in Dallas.
Pan-African ideology is defined as the idea to "create a sense of brotherhood and collaboration among all people of African descent whether they lived inside or outside of Africa. The themes raised in this excerpt connect to the aspirations of people, the values of European culture, and the world of African colonies," according to one source on the internet.
With this ideology in mind and together with the Dallas Malcolm X Festival Planning Committee, the festival will include activities for the entire family with an eye toward a family-friendly event celebrating the contributions of African history and culture, health and wellness, political education, and economic sustainability strategies in the community.
Speakers, Activities, & More
Glover also said Professor James Small will be the keynote speaker at the event. Professor Small is a scholar, activist, and organizational consultant who has studied extensively with Dr. John Henrik Clark, Dr. Asa Hilliard, Dr. Amos Wilson, and Dr. Francis Cress Welsing, to name a few. The festival will also showcase live bands, children's activities, speakers, health and wellness booths, food, a children's oratorical contest, and an economic marketplace.
The Dallas Malcolm X Festival Planning Committee and The Pan-African Connection Bookstore & Resource Center have held these events in years past with themes that have included "We Who Believe in Liberation Have Unfinished Business.
Tyehimba said of the festival in 2019, "This festival has always been for our young folks. They can look to Malcolm X and know that they too can transform negative or even criminal actions, to become one of the greatest leaders in world history."
The Malcolm X Festival planning website noted, "Since 1971, the Dallas Malcolm X Festival has been an overflow of Dallas Culture and Self-Determination. We gather to connect our struggles for justice, democracy, equality, and unity with other disenfranchised and oppressed peoples of the world. Unlike festivals dreamed up over corporate marketing meetings, this festival continues to swell from its community's heart, just as it did 47 years ago at Pearl C. Anderson Middle School, where it sprang from a South Dallas grassroots alliance."
Glover said of DeSoto's involvement, "The City of DeSoto continues to lead the way in recognizing one of the most dynamic organizers and inspirational leaders in World History."
Grimes Park is located on East Wintergreen in DeSoto, a 75-acre park with various amenities.
The Malcolm X Festival is free and open to the public; to date, over 2,000 people have registered to attend. If you are interested, you can register through Eventbrite. https://www.eventbrite.com/e/2023-malcolm-x-festival-tickets-615398502487