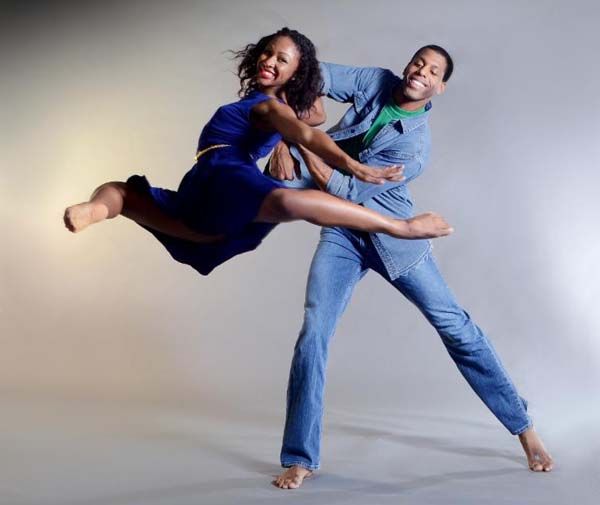 Dallas Black Dance Theatre DBDT II is presenting three world premieres on April 8-9, 2016, when DBDT II takes to the stage at the Dallas City Performance Hall with its Spring Fiesta! series. The new works are choreographed by former Ailey II dancer Edmond Giles, international award-winning choreographer Sidra Bell, and DBDT's resident choreographer Richard A. Freeman-Carter.
In Country Blues, Edmond Giles blends a modern jazz dance with the music of Dolly Parton, Patsy Cline, and Eva Cassidy to weave the story of a woman trying to keep her relationship intact. Giles danced with DBDT and Alvin Ailey II. He was also the former director for DBDT II. Giles was born in St. Croix where he studied ballet and jazz at the Pointe Dance Academy.
Sidra Bell made her creation, hymnal: deconstructed, a family affair with her father and long-time collaborator, Dennis Bell, composing the pulsating and dynamic alternative music. Sidra choreographed the contemporary piece utilizing the entire DBDT II company. This jubilant work showcases the physical and emotional prowess of the dancers. Sidra has been commissioned to create several works internationally and won First Prize for Choreography at the Solo Tanz Theater Festival in Stuttgart, Germany in 2011 for Grief Point. She is the artistic director of her own dance company, Sidra Bell Dance New York.
Unsettled Thoughts, by Richard A. Freeman-Carter was birthed out of his personal struggle over a career transition. The full-company work is in three sections and explores the anguish of making a tough decision based on your heart or head. The modern dance is set to music by Hans Zimmer, Danny Elfman, and the Kronos Quartet. Freeman-Carter danced professionally with Elisa Monte Dance and the Houston Grand Opera. He became the resident choreographer at DBDT after dancing with the company for a decade, mostly as a lead dancer. The Washington, D.C. native has choreographed works for Dallas Black Dance Theatre, Atlanta Dance Connection, and Texas Ballet Theater School. Freeman teaches master classes and workshops nationwide.
"The audience will experience a variety of styles during this performance. DBDT II is a very eclectic group of dancers that brings something very different to the stage," said DBDT II Artistic Director Nycole Ray. "As a company they work well together and they are very spirited."
Allegro, DBDT's premier academy ensemble, will perform Convergent, a modern dance choreographed by DBDT dancer Claude Alexander III. Allegro is comprised of 12 females and two males aged 14 to 18 from Dallas, Fort Worth, Lake Dallas, Plano, Garland, and Arlington. The ensemble premiered Convergent in Denver, Colorado in January during the International Association of Blacks in Dance Conference and Festival. Allegro Director is Katricia Eaglin, a former 10 year DBDT veteran dancer and an American Ballet Theatre (ABT) certified instructor, who teaches classes at Dallas Black Dance Academy.
For the 10th year, Macy's is the presenting sponsor for the Spring Fiesta! 2016 series. "We are delighted to be counted among the supporters of Dallas Black Dance Theatre," said Joe Vella, Director of Corporate Giving for Macy's. "It is a privilege to be associated with an organization that presents significant multicultural events to the region and the world."
The student matinee is supported by Katherine Carmody Trust, Bank of America, N.A., Trustee.
Spring Fiesta! evening performances will be held Friday April 8, 2016, at 7:30 p.m. at the Dallas City Performance Hall.
The Saturday night performance on April 9, 2016 begins at 7:00 p.m.
For tickets call 214-880-0202 or visit
www.ATTPAC.org
. For group ticket sales call 214-871-2390.The student matinee is for groups of school-aged students grades K-12. It will be held on Friday, April 8, 2016, at 10:15 a.m. For student matinee group ticket sales call Dallas Black Dance Academy at 214-871-2376 ext.104.
For further information regarding the Dallas Black Dance Theatre, visit www.dbdt.com.
Dallas Black Dance Theatre's Legacy Sponsor is the Harold Simmons Foundation. Season Sponsors include Office of Cultural Affairs – City of Dallas, Texas Instruments, The Eugene McDermott Foundation, American Airlines, Downtown Business News, The Dallas Weekly, and Yellow Cab.
Additional Season Supporters include National Endowment for the Arts, WRR, Texas Commission on the Arts, Black Business Directory, NorthPark Center, Lexus, The Dallas Examiner, Elite News, AT&T Performing Arts Center, OverSeeMyIT, and The Dallas Post Tribune.