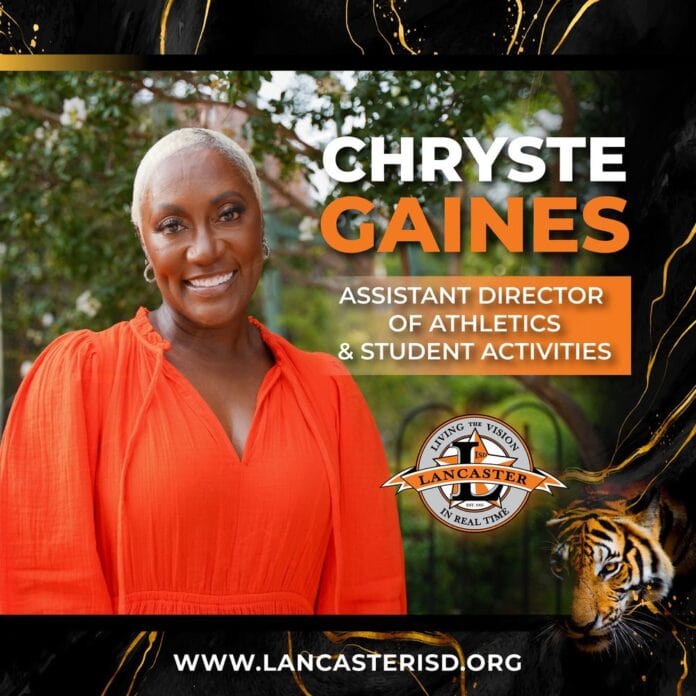 August 24, 2023, Lancaster, Tx –Lancaster ISD is pleased to announce former Olympian and World Champion Chryste D. Gaines has joined the Lancaster ISD Athletics Department as the Assistant Director of Athletics and Student Activities. In her new role, Gaines will have an active role in managing the district's athletic, JROTC, and fine arts programs.
Not only is Gaines known for being a world-class Olympic sprinter, but her experience developing successful student programs as a collegiate and high school coach is also commendable. In 2018, Gaines began leading the track and field and cross country programs at Heritage High School in Frisco. During her time as head track coach, the program produced eight state qualifiers, three consecutive district championships, two area championships, seven state silver medalists, and one bronze medalist.
Lancaster ISD Athletic Director Kendrick Brown believes that Gaines is equipped to continue the athletic winning tradition in Lancaster ISD and expand her organizational leadership knowledge to enhance all student activities within the district.
"I am thrilled to have Chryste Gaines join our athletic administration team. Her experience as a proven head coach, Olympic champion, collegiate champion, and being a high school all-American make her an outstanding choice for this position," Brown expressed. Additionally, she will be able to amplify our student activities and work with our fine arts and JROTC programs to ensure they continue to grow and flourish. Gaines' success as an athlete/coach and strong leadership and organizational skills will tremendously impact the students and community of Lancaster ISD."
Gaines was an alternate on the 1992 United States Olympic team and competed for the United States in Atlanta's 1996 Summer Olympics. In the 4 x 100 meter relay, she won the gold medal with teammates Gail Devers, Inger Miller, and Gwen Torrence. Gaines successfully competed as a professional until 2008. However, with so many accomplishments and accolades, she is most excited about serving all Lancaster ISD students participating in various student activities.
"I am so excited for this opportunity to share the knowledge I've gained from my journey as a student-athlete and coach," Gaines shared. "Tiger pride is revered in Lancaster and throughout the State of Texas, so it's an honor for me to contribute to this rich history."
Gaines has a history of personal and professional success in sports. She was the 1987-88 Gatorade National Track & Field Athlete of the Year, an award that goes to one high school girl each year from around the country. In 2009, she was named one of 10 "Women Out Front," a leadership award given by Georgia Tech, where she was an academic advisor. In 2018, she was named to the ten-person inaugural class of the Dallas Independent School District's Athletic Hall of Fame.
Gaines received a bachelor's degree from Stanford University in 1992 and an MBA from Coles College of Business at Kennesaw State University in 2007.
Source: Lancaster ISD website