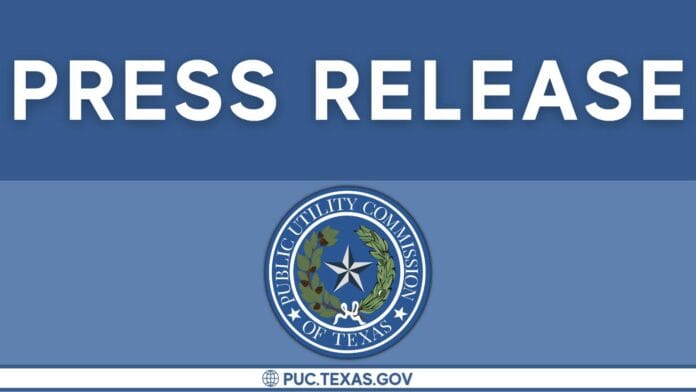 Austin, Texas – The Public Utility Commission of Texas (PUCT) today hosted a public work session to review winter weather preparedness, grid reliability and resiliency, and industry compliance with weatherization standards.
"Making sure we're ready to meet the power demands of the state is our number one focus as we head into the winter months," Commissioner Will McAdams said. "Today's work session was a great opportunity for us and the public to review the many steps Texas has taken to prepare for extreme cold weather."
Commissioners took invited testimony from the Electric Reliability Council of Texas (ERCOT), electric generators, and transmission utilities on steps they have taken to comply with PUCT weather preparedness rules ahead of the 2023-24 winter season. ERCOT, which is tasked with conducting weatherization inspections of electric facilities, provided an update on those efforts and reported that weatherization inspections are ahead of pace to meet PUCT rule requirements.
Additional topics addressed include ERCOT's Firm Fuel Supply Service, which ensures generators have back-up fuel available on site, opportunities for transmission improvements, and demand response programs in the ERCOT region.
Commissioners also reviewed ERCOT's Capacity, Demand and Reserves Report (CDR) and the Monthly Outlook for Resource Adequacy (MORA), which include scenario modeling and forecast the supply and demand outlook of the 2023-24 winter season.
The PUCT and ERCOT began implementing landmark grid reliability and weatherization reforms in 2021. PUCT rules require power plants to winterize their equipment against extreme cold and include requirements around personnel training, staffing, and identification of critical components susceptible to cold weather. Additionally, the PUCT, Railroad Commission of Texas, and Texas Division of Emergency Management have identified and mapped critical infrastructure in Texas to ensure situational awareness and coordinated response to extreme weather conditions.
Operational reforms have ensured reliability and prevented disruptions in service through multiple severe winter weather events in 2022 and an ice storm in January 2023.
PUCT rules concerning weather emergency preparedness are available here. A recording of the work session is posted here on the PUCT website.
About the Public Utility Commission
Our mission is to serve Texans by regulating the state's electric, telecommunication, and water and sewer utilities, implementing respective legislation, and offering customer assistance in resolving consumer complaints. Since its founding in 1975, the Commission has a long and proud history of service to Texas, protecting customers, fostering competition, and promoting high quality infrastructure. To learn more, please visit https://www.puc.texas.gov.