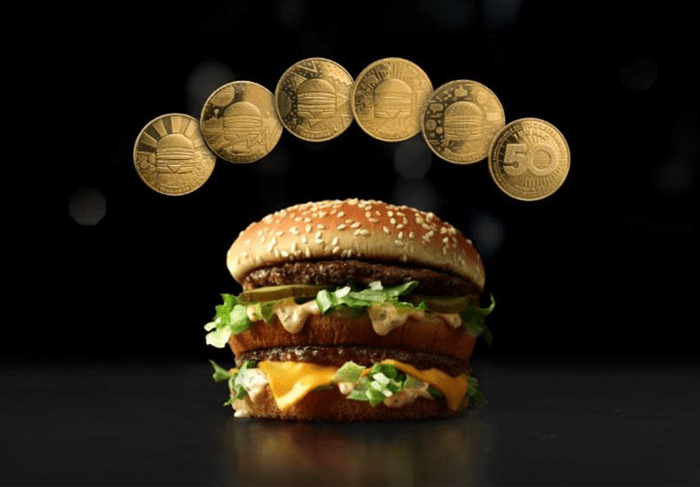 I'll admit whenever I order a Big Mac, although less frequently since I started worrying about calories, I hear the 70s Big Mac song.
Two all beef patties, special sauce, lettuce, cheese, pickles, onions on a sesame seed bun!
Last month, on a whim, I ordered my first Big Mac in over 15 years. Its one of the only burgers I'll order without making any special requests. This week, McDonald's announced they're giving away free Big Macs to celebrate the 50th anniversary of the iconic burger.
Starting today at lunchtime, when you purchase a Big Mac, McDonald's will give you a MacCoin. This limited edition coin can be redeemed starting August 3 through the end of 2018 for a free Big Mac at participating McDonald's restaurants in the U.S. and in more than 50 participating countries.
With five different, unique designs, the question is, should you keep the coin and hope one day its worth more than a free burger or redeem it for lunch?
More than 6.2 million MacCoins will be distributed globally in more than 50 countries while supplies last. These commemorative coins feature five unique designs, each representing a decade of the Big Mac. Each MacCoin design pulls in elements from that time in history, nodding to art, music and pop culture, while the front-side of the MacCoin celebrates the 50th anniversary of the Big Mac. The MacCoin highlights:
The '70s, showcasing the decade's flower power
The '80s alluding to pop art
The '90s defined with bold, abstract shapes
The early '00s specifically focusing on the technology that was at the forefront of the turn of the century
The '10s MacCoin calling attention to the evolution of communication
Oh and in case you're ever quizzed about the Big Mac on trivia night, here are a few fun facts:
Big Mac was originally sold for 45 cents
There are 385-400 seeds on every Big Mac bun (um-who had to count them to figure that out)
The first tagline for the Big Mac was 'its a meal disguised as a sandwich'
*MacCoin has no cash value and is only redeemable for one free Big Mac at participating McDonald's restaurants through 2018.