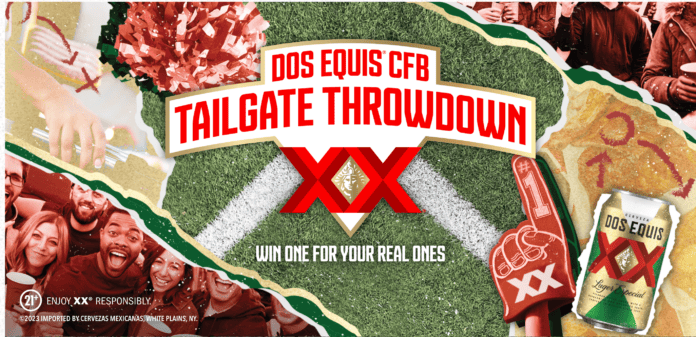 White Plains, NY, September 14, 2023 – Dos Equis® is celebrating the moments that only real friends who experience college football season together will understand. The friends who treat Saturdays like a holiday and the ones who know better than to show up empty-handed at your tailgate—your real ones. Dos Equis is launching the Dos Equis® College Football Tailgate Throwdown and asking fans to share their dream college football tailgate ideas for the chance to bring it to life as a thank-you to their real ones.**
Starting today through September 25th, enter the Dos Equis CFB Tailgate Throwdown at www.DosEquis.com/Tailgate and share your favorite college football memories with your real ones, ideas for an over-the-top tailgate, and why YOUR dream tailgate deserves to be brought to life.
Dos Equis, along with a panel of college football icons, want to know what your dream tailgate would be. A 6-foot-tall fondue fountain? A TV in every corner, so you don't miss a moment of the pre-game? A hype man to get your real ones psyched for the game? Your favorite band blasting the iconic fight songs of your team? Or a massive food truck serving up all your favorite pre-game grub?
Finalists will have the opportunity to pitch their ideas to the panel of expert judges and will be paired with a college football icon to help refine and elevate their tailgate vision. In October, the public will have a chance to vote for the most epic idea from their favorite finalist.
One winner will get to see their dream setup come to life this November at a Dos Equis college football partner game and surprise their real ones with an epic tailgate experience. Plus, Dos Equis will be awarding additional prizes and rewards for real ones all over to enjoy this college football season.
"There's no denying the enthusiasm that Dos Equis fans show for college football, and we want to make their gameday experience even more special," said Jonnie Cahill, Chief Marketing Officer at Heineken USA. "So, this year we are focusing on everyone's favorite event, the tailgate, and rewarding our fans by giving them everything they need to deliver the ultimate tailgate for their friends."
The Dos Equis College Football program includes long-term partnerships with colleges and universities in key priority markets, allowing the brand to continue to build loyalty and awareness locally. This year, there are a total of eleven school partners including: Crimson Tide Sports Network, University of Florida, University of Georgia, University of Oklahoma, University of Mississippi, San Diego State University, Texas A&M University, University of California, Los Angeles, Vol Network, University of North Texas, Arizona State University. As Dos Equis expands its presence and increases investments, the brand will continue to tap into true college football fans and their real ones who are 21+.
Submit your tailgate ideas at www.DosEquis.com/Tailgate for the chance to win one and raise one for your real ones.
No purchase necessary.  Open only to 21+ legal residents of the (50) U.S. and D.C.  Ends 9/25/23. See full official rules including prize details @ www.DosEquis.com/Tailgate.  Sponsor:Cervezas Mexicanas, White Plains, NY.
About Dos Equis® 
Wilhelm Haase founded Dos Equis® in 1897, when he brewed a beer called Siglo XX, the beer we now know as Dos Equis®. Today, Dos Equis® sees continued growth and expansion driven by a robust portfolio of offerings and new product innovations. In the past two years alone, Dos Equis® has more than doubled the size of its portfolio with several new brands leaning into top consumer trends.
The Dos Equis® portfolio includes Dos Equis® Lager, Dos Equis® Ambar, Dos Equis® Lager Lime & Salt, Dos Equis® Ranch Water Hard Seltzer, Dos Equis® Margarita Classic Lime. Dos Equis® Lime & Salt is a take on the classic Lager but with a crisp, refreshing touch of lime and salt and is also available in pineapple, watermelon, and cucumber flavors. Dos Equis® Ranch Water Hard Seltzer is a hard seltzer with country soul and is inspired by the flavors of the classic West Texas refreshment. Dos Equis® Margarita Classic Lime, the brand's first spirits-based offering, is a ready-to-drink margarita cocktail that blends Blanco Tequila and high-quality ingredients to create the perfectly mixed cocktail. In 2023, Dos Equis expanded its product portfolio once again with Dos Equis® Mango Margarita, Dos Equis® Lime & Salt ZERO non-alcoholic, Dos Equis® Michelada, and Dos Equis® Chelada Mango, making it easy to enjoy popular bar and restaurant cocktails at home.
Dos Equis® is imported into the US by HEINEKEN USA Inc., the nation's leading high-end beer importer, which is a subsidiary of Heineken International N.V., the world's most international brewer. For news and updates, follow us on X & Instagram @DosEquis, or visit www.dosequis.com.