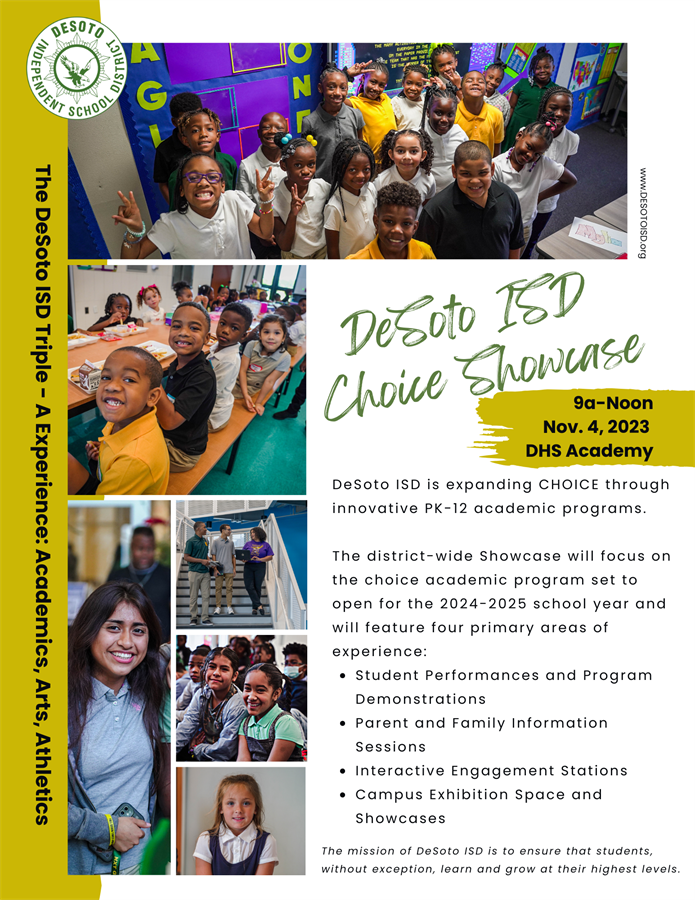 Immersive Experience to Offer Families, Students Engaging Workshops, Opportunities to Explore District Programs
DeSoto, TX — DeSoto Independent School District is announcing an exciting and groundbreaking opportunity to explore district programs and engage in workshops and interactive informational sessions aimed at helping families better engage in the educational process that supports scholars' success.
"We are so excited about the opportunity to offer a one-stop-shopping experience for families interested in exploring educational opportunities that support students' goals and dreams," said Dr. Usamah Rodgers, DeSoto ISD Superintendent of Schools. "In DeSoto ISD, there is a program for every student, for every interest, for every ability and academic level. We aim to create individualized personalized pathways through the Triple A-Experience of academics, arts, and athletics to equip students for the next phase of their lives whether that be college, career, or military."
The DeSoto ISD Choice Showcase will take place from 9:00 am to noon, Sat. Nov. 4 at the DeSoto High School Academy Cafeteria located at 600 Eagle Drive.
Showcase to Offer Experiential Sneak Peak for Scholars and Families:
The Nov. 4 DeSoto ISD Choice Showcase features vendor-style opportunities for current and prospective families and students. Attendees get to engage with innovative, available programs that are highly rigorous and academically competitive. The programs feature opportunities to explore arts, music, and tech, and more.
"We are committed to creating viable experiences for students to learn and grow through hands-on, project-based learning opportunities," said Stephanie McCloud, DeSoto ISD Chief Academic Officer. "The showcase is an excellent program that allows families and students to engage with DeSoto ISD while gaining valuable information that can inform families' decisions around planning student educational experiences."
The event will feature student performances and demonstrations that highlight the unique experiences in STEM and STEAM, Arts, Career and Technical Education, and other academic programs such as P-Tech for Nursing Science and Construction among others.
Attendees will also have an advanced opportunity to complete choice program applications of the 2024-2025 academic year.
About DeSoto Independent School District
DeSoto ISD is a public independent school district serving more than 6,100 students and 800 employees. The district is comprised of 11 campuses serving students from early childhood through graduation. A District of Innovation, DeSoto ISD's mission is to ensure students without exception learn and grow at their highest levels. The district's 2021 Be the Future Strategic Plan focuses on creating a modern and relevant educational journey for scholars and their families through the Triple-A experience–the district's well-rounded and holistic approach to student learning through academics, arts, and athletics. DeSoto ISD serves families in DeSoto, Glenn Heights, and Ovilla.