Son of Former Duncanville Council Member Showed Legal Prowess Early On
DUNCANVILLE— Judge Desmond L. Cooks, 36, was recently named a Municipal Judge for the City of Dallas. He talked about being an attorney as early as the second grade," Former Duncanville City Council member Mark Cooks recalled about his son.
"To make a long story short. He really only wanted to be a lawyer because he didn't agree with a decision the teacher made. He felt like the issue was important enough to seek legal counsel," Cooks said. "We laughed about that then, but now we've actually seen stories where families are taking issues to court."
Actually, the newly named judge had originally considered joining law enforcement after his stint in the US Navy. However, Judge Cooks decided, he could make more of an impact in the courtroom.
"Plus he would need to learn the same policies anyway," Cooks added.
With a desire to be a trial lawyer and practice in the courtroom as much as possible. Cooks said it was a natural progression for his son to set his sights on becoming a judge.
"It also could have been all the Perry Mason shows I had him watching with me," he joked.
Desmond Cooks Law Career
After serving four years in the United States Navy, Judge Cooks received his Bachelor of Science in Criminal Justice at the University of North Texas. He went on to earn his Jurist Doctorate at Baylor University School of Law.
Cooks began his legal career as a City Attorney with the City of Dallas where he worked as a prosecutor from December 2008 through 2010. He then explored other legal practices as he moved to The Willis Law Group, a civil defense law firm, to practice insurance defense and workers compensation matters.
Looking for his next challenge, he worked for Scheef & Stone where his primary focus was commercial litigation. In February 2015, he opened his own practice, Cooks Law Firm, Pllc, where he handles cases ranging from DWIs, assaults, personal injury to breach of contracts.
The Dallas City Council reviewed over 250 applicants for the position before passing their votes on 28 judges.
As for the new judge's thoughts. Desmond Cooks said, "I am extremely honored to have been appointed as an Associate Municipal Judge for the City of Dallas. There is no greater calling than to serve and this is a duty that I do not take lightly. I look forward to serving the public and ensuring that the judicial bench maintains fairness, compassion and humility."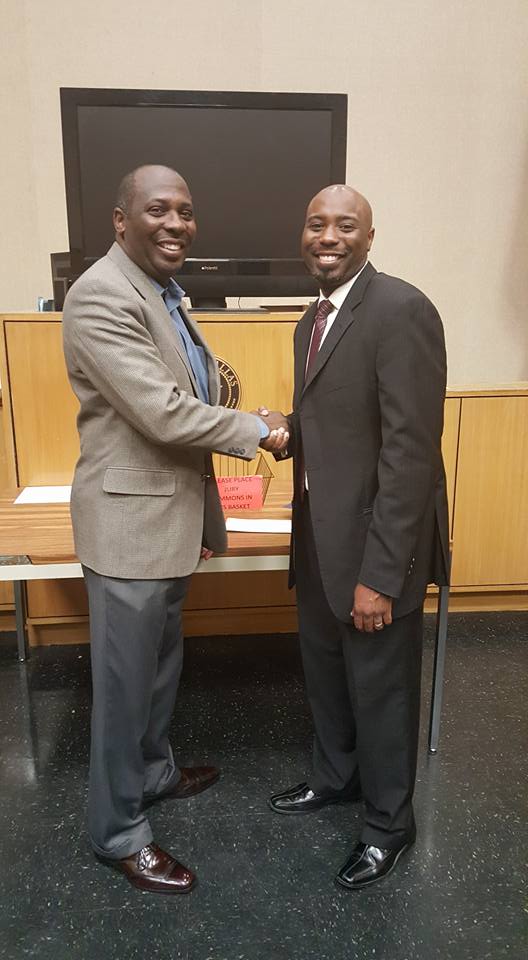 A Father's Pride
"It feels like yesterday that he called to say that he was graduating from the University of North Texas with a later call that he will be attending Baylor University," Cooks reminisced. "Over the past few years, it seems like every time I pick up the phone, I can expect to hear more exciting news. Desmond's career has had a strong foundation and I wasn't surprised to see him hang his sign for Cooks Law Firm a little over three years ago after working as a prosecutor for Dallas County and with Kirk Willis, Desmond's mentor at Willis Law firm. To know that his life has sent him on the road to public service is very rewarding."
Cooks said he is also proud that his son has taken the time to visit Duncanville and other schools in the area to encourage students to continue their education.
"I'm extremely elated with the short time he spent with me in Duncanville learning about our city and how it works," Cooks said also adding he is proud of both of his sons and that he and Desmond's mother, Frances Cooks are very pleased.
"Our entire family has various professional backgrounds, but he's the first in this field," Cooks concluded about his son's recent appointment. "I hope Desmond will inspire other younger family members to consider a criminal justice degree and perhaps follow his lead. I know Desmond will do well because he has a huge heart and a concern for others, which makes him an excellent choice for judge. He has made good choices in life and I attribute that to his spiritual upbringing and strong family values."